WHEEL OF ARCANINE WHOOP WHOOP WHOOP

...Hi. These are actually prize support for the TCG league I'm setting up in a nearby city. I thought you guys might want to see various prize cards though, so I photographed them!
CLICK HERE FOR MORE GLITTERY PHOTOS IN MY JOURNAL POST

And now I've got your attention with the shiny, I could use help with a valuation of a lot, or if you know individual prices for some of this stuff, that'd be awesome. I don't even know what some things are to start with.
Would I be better selling it as a lot, or breaking it up? I just need space right now. Any advice is appreciated.

Most of the lot (ignore background bears):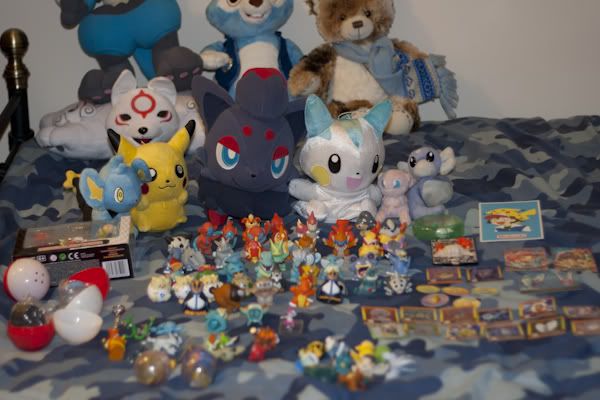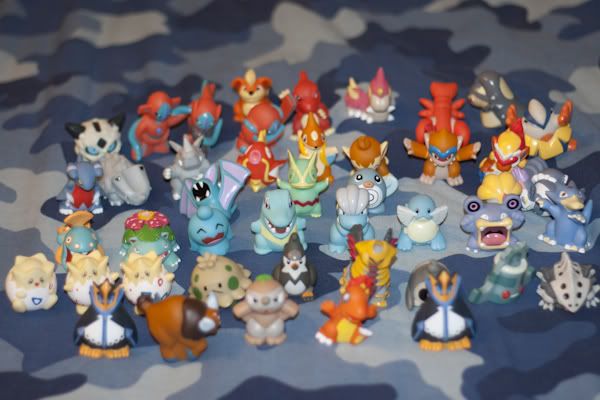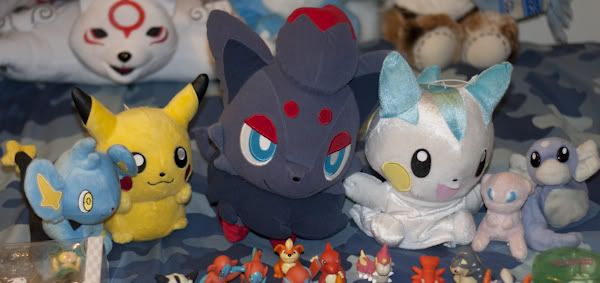 I don't know what this chunky Wynaut is: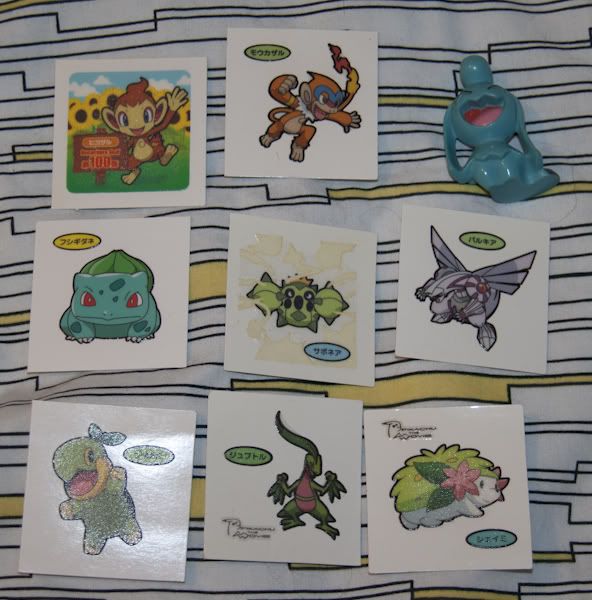 Sparky! I cleaned the dirty mark off him now: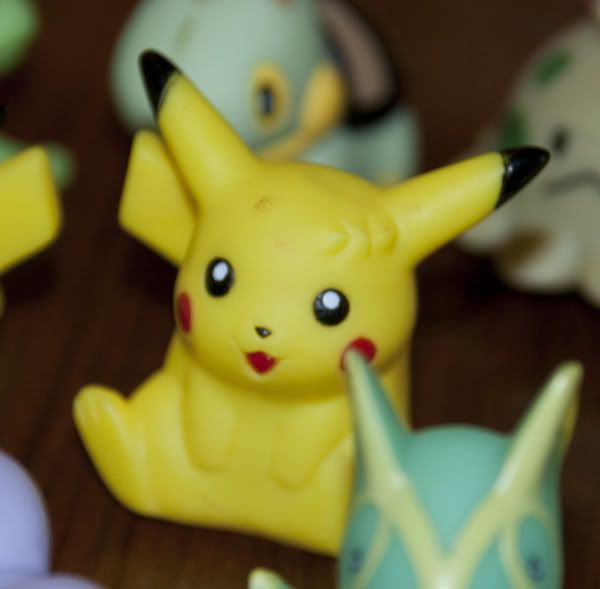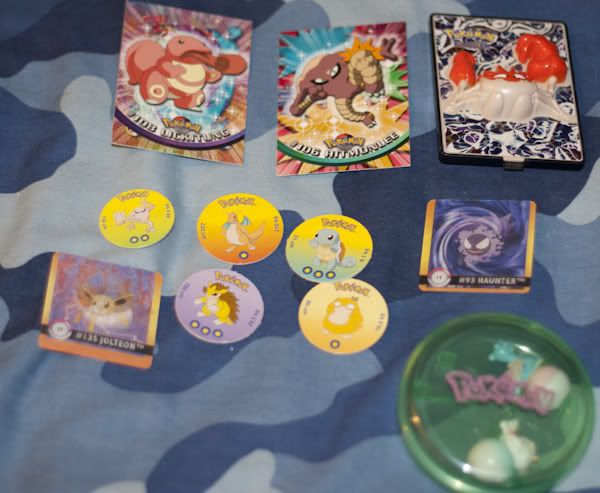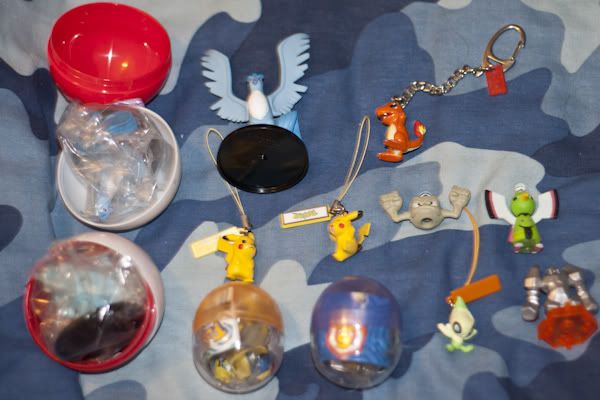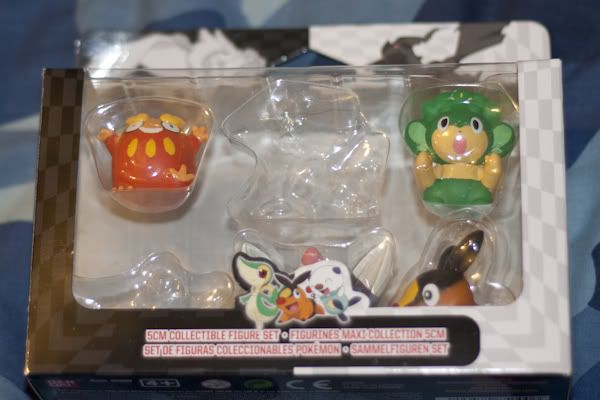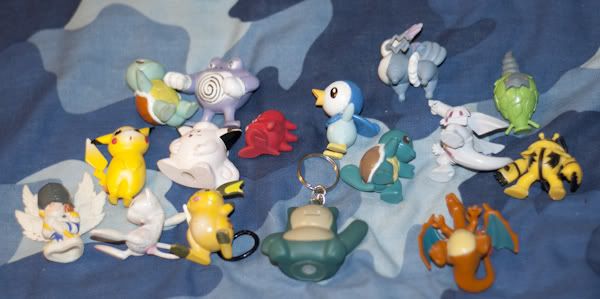 Plush:
Banpresto 12" Zorua Plush NWT
Jakks Shinx
Applause Dratini
Banpresto Pikachu (?)
Banpresto Pachirisu Handpuppet
Mew Friends Plush

Kids:
Sparky Pikachu
Glalie
Deoxys 1
Deoxys 2
Deoxys 3
Growlithe
Charmeleon
Crawdaunt
Mawile
Hariyama
Gabite
Ryhorn
Rhydon
Zubat
Magikarp
Kecleon
Poliwag
Uxie
Purugly
Huntail
Venusaur
Wynaut
Totodile
Bagon
Sealeo
Loudred
Golduck (slightly scuffed claws)
Togepi x 2
Sitting Togepi
Shroomish
Starly
Giratina
Duskull
Bronzong
Lairon
Empoleon x 2
Tauros
Nuzleaf
Charmander
Omastar (damaged)
Swampert (scuffed)
B/W Box set: Darumaka, Tepig, Pansage & Drillbur (Missing Reshirim and Sandile)

Pan stickers:
Chimchar seal, Monferno, Bulbasaur, Cacnea, Palkia, Turtwig, Grovyle, Shamin

Gachapon:
Legendary Zukan: Articuno MIP, Regice MIP
Celebi Strap
Medicham mini figure
Registeel Chou get
Geodude and Xato pendants
Pikachu straps MIP: Happy, Sulky

Misc:
Stampers: Lapras and Goldeen
Topps Trading cards: Lickitung, Hitmonlee, Foil "Goodbye Butterfree"
Paper pogo: Hitmonlee, Dragonite, Squirtle, Sandslash, Psyduck
Lenticular evolving cards: Jolteon/Eevee, Gastly/Haunter
Stat stickers (have info on the back): Arbok, Geodude, Doduo, Ash & Co, Tangela, Kadabra, Tentacool, Butterfreem Nidoking, Vaporeon, jinx, Mr. Mime
Official Nintendo Postcard of Ash with Pikachu
Misc official figures: Rayquaza, Manaphy, Medicham
TOMYS: Absol, Sneasel, Torchic
Misc damaged TOMYs and bootlegs
Charmander official keychain

TCG: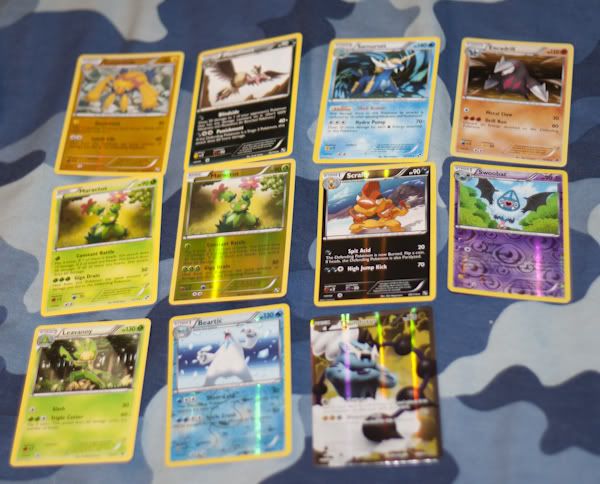 On a nother side note, isn't this the tiniest Zangoose? It is the tiniest Zangoose!