Hello everyone! I haven't been on here frequently in a while. College and life sure has kept me busy! For those that don't know me, I'm Zack. I collect Raikou/Shiny Raikou, Rhyperior, and Zangoose. I'm glad to be back on pkmncollectors. :)

Over the school year I added a few exciting custom plush to my collection, while I still haven't got everything displayed how I want (a lot of my figures and other items are still put away) Here is a small collection update until I get that done!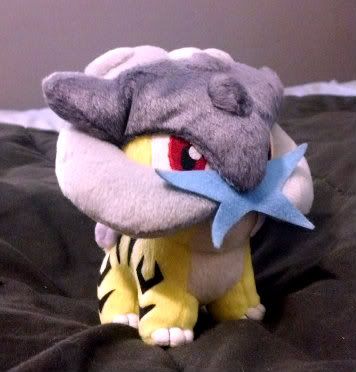 Yes! It's a Raikou Pokedoll by Baby London Star! Made before Raikou actually got a Pokedoll. I got this from
denkimouse in November. I was so very glad to give him a home, my face lights up every time I see him. He's very well made, and just a wonderful design. I find him a lot cuter than the official Pokedoll! He just makes me melt!

Who else was added to the collection? Rhyperior DX Pokedoll! One of 2 custom plush I received by
usakochan! My favorite evolution of an older Pokemon in 4th generation is Rhyperior. I already liked Rhydon, but to me Rhyperior just made him that much more awesome. As a collector, I was sad there was no official plush of Rhyperior or Zangoose. So something had to be done. Usakochan made two amazing plush for me! Rhyperior is big, cuddly, and the details, wow! *_*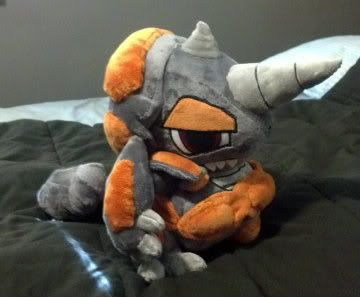 The second plush from usakochan! Custom Zangoose Pokedoll! (Sorry for the fuzzy picture, you can see him much better here! http://usako-chan.deviantart.com/gallery/#/d50yura ) What an adorable little cat ferret!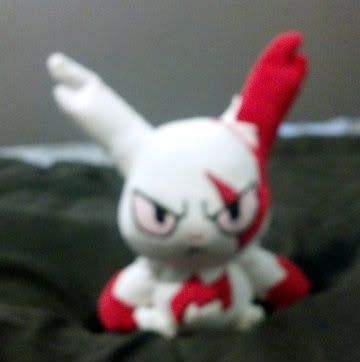 In addition to the new plush pictures, here is where my collection currently resides at home!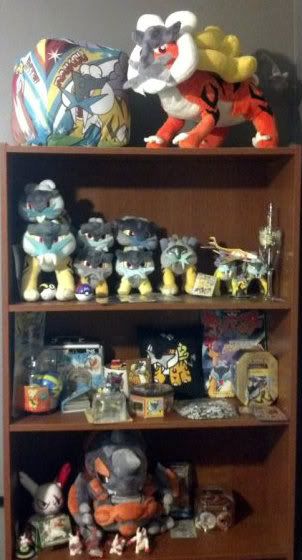 Raikou rules at the top of the shelf, and Zangoose and Rhyperior live right under. This shelf could probably be completely filled with Raikou stuff, but I just don't have the space for everything I have to fit at the moment! I'll update again later once everything is
displayed. :)

Close up of the Raikou plush family! So happy together! :) All I am missing is the Banpresto plush of Raikou that looks like this I believe. (http://i47.tinypic.com/2hquvb7.jpg - If anyone has it for sale, I'm interested!) Well, and of course the giant Pokemon Center Raikou. I don't know if I'll ever get that one, but hey! Anything is possible!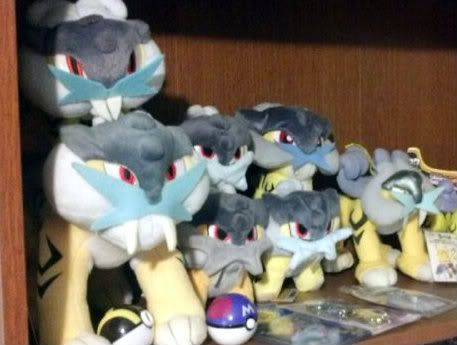 Well, that's it! This is after I weeded out my collection after returning home, so there will be a big sales post soon! Again, I'm glad to be back! Hope you enjoyed my little collection update. :D