It's that time again~ Come one!! Come All! To..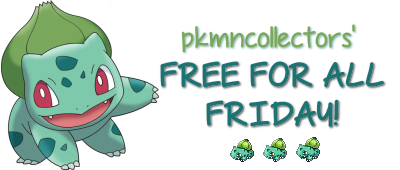 In case you missed
entirelycliched
's post
last week
, Free For All Friday is something new we're trying on the community to allow members to get to know their fellow PKMNcollectors better. Each week on Friday, one of the moderators will set up a post where members can shoot the breeze and otherwise chat about off-topic happenings.
Our other community rules still apply on this post!!
Please do not advertise, post obscene images, troll/harass, or otherwise use FFAF to get around our basic community rules. Also, due to the nature of the community, please avoid discussing financial issues. Otherwise, chat about whatever you'd like :D
FFAF was a huge success last week, let's keep it up. You guys are awesome ♥