Ok, first of all I have this Black Kyurem coin to sell. I got it as a preorder bonus in Australia for ordering Black 2 :)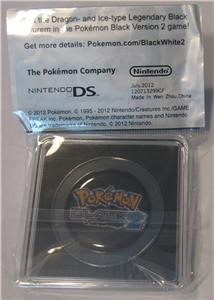 (These aren't my photos, but it's pretty much what you're getting)

The coin is still in its protective plastic case, as well as the plastic wrap. The plastic wrap is a little dusty in some places from being on my shelf, and I didn't notice before, but the plastic casing seems to have a teensy crack spot that must have happened before it was given to me.
I was thinking of letting it go for $15, and that would include international air mail shipping (I'll put it in a bubble mailer also). I will also definitely accept a trade or partial trade (where I pay the difference) for the things on my wants list.

I'm also thinking of trading my archeops portion of the pokedex charms, but I'm moreso looking for a trade for him :)

Wants

I'm trying to decide out of these two guys who I should buy next. Both are very close to my heart and I'll most definitely buy both eventually, but the archen will probably end up a bit more expensive at this point. Any swaying of my choice is welcome.


(not my pictures; if they're yours and you want me to remove them, please tell me!)

Also still on the lookout for the archen ACEN badge!!

(edit: I will also accept charizard pokemon time stuff as part of a trade)

Archdate

I got a couple of new things to my seemingly charizard/archen collection



Hooray! Pokemon time charizard charm along with a dragonair bookmark <33 I probably could have mentioned before that I'd also take charizard pokemon time stuff I don't have as a trade, I have the notebook and now this, I love them all :D




Hooray! My archen kid, I still haven't decided on a name for him, he is my computer perch :D (and yes I run windows 7 on a mac