It's about time! Apologies to everyone who has been waiting for this post - there were a lot of scheduling conflicts that made coordination very difficult for those of us who were working on these updates, and I was definitely not as proactive as I should have been.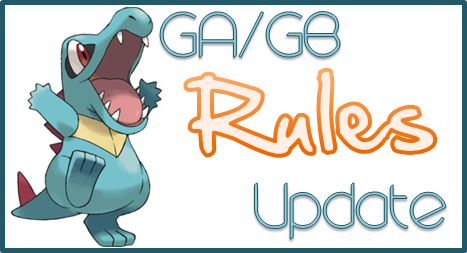 These will be added to the GA/GB rules page in the next few days as time permits (keep all those moderator applications coming!), but for now, all of the following are in effect and apply to all GA/GBs, both present and future:

★ Deputy fees will now be divided proportionately based on winning bid price. Since those with higher bids get larger discounts, it just makes sense for those with higher bids to pay a larger percentage of the fees. This means that the GA calculator can be used to calculate totals regardless of whether or not discounts applied, as it is based off proportions. Domestic shipping (from the YJ seller to the deputy) charges should be removed from the total prior to making the calculations, though, as they are divided evenly by participant. Customs charges incurred must also be divided proportionately.

★ Group Buys can ONLY be used for lots containing items of identical value or lots capable of being easily divided into two categorical values (e.g., "rares" are $10 and "non-rares" are $5). Otherwise, Group Auctions must be used to prevent travesties with claim price assignment. Exceptions to this will be made on a case-by-case basis with prior moderator approval.

★ Any visible items that received no bids must be made available to the community prior to collecting the international shipping payment (announcing available claims at the time Payment 1 is collected is ideal). GA "extras" will be offered to members of the community at the auction's start price (no GA discounts will be applied) + shipping from the GA/GB host to the person who claimed the item. The host will apply any funds raised from claims directly to Payment 2/the international shipping charge. Members who claim extras do not pay a portion of international shipping because their claims are being used to "discount" international shipping for everyone else.

For example: A GA has three unclaimed items that had a start price of $5. The international shipping invoice is $100. Two of those items are claimed by community members, so a total of $10 is deducted from the $100, making it $90. The $90 is then divided appropriately (size/weight taken into account as applicable) by the items originally won by participants. The unclaimed item is then handled at the hosts' discretion.

Other example: If you are interested in an item available for claims, once the host confirms your claim you will send the after-fee start price of the item to the GA/GB host. You will not pay any portion of the international shipping (your funds already went toward that invoice to lower everyone's portion), but will instead just wait for the "final shipping" totals to be calculated. Your total monetary obligation is the starting bid price and whatever it costs the host to ship the item directly to you.

Since any claims will save participants money, there is no need to limit claims to original participants. GA hosts are also free to make these claims themselves and deduct the amount in the same manner, of course. Point of discussion: How should extras be handled in terms of international shipping for lots on ebay that don't require deputy services?

Additional Information:

★ When collecting payment, you must list all the relevant information along with everyone's totals! Participants and moderators have to readily be able to verify your math based on information provided. At a minimum, you must include:



■ participants' items won/winning bid totals

■ actual totals after fees or discounts are implemented

■ shipping prices per item and customs fees per item (if applicable)


For lots involving deputies, domestic shipping totals will be divided evenly by participant, and international shipping totals well be divided by item, taking sizing into account as necessary. Auction totals and shipping payments can be taken as one to save on Paypal transactions, but the information must be discernible.

★ Screenshots of all invoices must be provided when collecting payment! This is not a new rule, but many hosts have been forgetting recently. Screenshots are needed for both auction and shipping invoices. Invoices for custom charges must also be shown to the community, obviously with personal information blacked out.

★ There is no need for a separate status update post for a GA/GB! Please update your original post/your reminder post with whether the GA was won or lost.

★ Everything distinguishable in a GA lot must have threads! It can discourage participants from bidding if there are not even threads made for items, and bluntly, making threads is one of the simplest aspects of hosting, albeit occasionally time consuming. Hosts don't have to be able to tell exactly what something is in order to create a thread for it - something like "Buizel figure" works fine.



-----------------------------

Like these? Hate them? Please speak up All rules are continuous works in progress. Sometimes, changes to rules designed to fix existing problems can make new ones pop up, so all opinions and insights are always very appreciated.



edit: I'm responding to things as soon as I can! Sometimes the calculation questions will take a bit longer to get to, but I won't forget anyone. :) Also, if anyone understands this stuff pretty well and would like to make guides for various deputies, you're more than welcome to!