Please enjoy another exciting installment of ShinyV's sales! C:
Last update: 3 April 2013

Interested in Ace Attorney, Sonic, or MLP stuff? Check out my general sales post HERE!


Here's my feedback! I was grandfathered into having sales permission.


DON'T DELETE YOUR COMMENT! I regularly clear out comments, but if you delete your own comment on my post, it's shown as (Deleted comment) for a long time which looks totally ugly :(



I ship from the US. Shipping usually starts at about $2.50 for figures shipped within the US. I'm happy to ship international, though prices have gone up recently and it may take me up to a week or two to have your things sent out.


I will hold items for you as long as you let me know up front that you need a hold, and as long as you keep me updated with when you'll be paying (within reason). I accept Paypal and concealed cash.


Once you ask about an item, you have 24 hours to get back to me about buying or not. If I don't hear from you, I'll be deleting your comment and selling to the next person!


Haggling and trades are more than welcome, so feel free to link me to your sales post! In general, I like Vulpix stuff, Emolga, and Portal/Ace Attorney/Zelda/Nintendo/Valve/gaming merch. You can see my wants list HERE!


My house is critter-friendly! I have two cats that are often in the same room as sales things, but sales things are generally boxed and out of the way of them. Cat hair may or may not sneak into your package, and for that I apologize. Most things I sell are pre-owned and come from lots on Y!J, eBay, etc, so I can't guarantee whether past owners were in pet-free households or not.


If you thought your buying experience with me was *~totally rad~* you can leave me some feedback here!


Right-click a picture and then view image for larger versions! Feel free to ask for more pictures if you'd like.

Most items are secondhand - expect small/minor marks unless otherwise noted. I try to mention significant condition details but I may miss something since I have so many items. Please ask for item specifics if that's a concern!

$4 Applause Snorlax and Squirtle plush
$5 throw pokeball Shinx plush with quick ball (ball has some scratches, Shinx is a bit worn), MIP KFC Zubat (plastic is pretty worn but the plush look fantastic)
$6 tomy Marill
$8 Pokecen Snivy MWT
$8 electronic Pikachu (was told he still works)



Neat little plastic standees from Argentina! A few of these guys are sold, but I have a bunch left over! (Can be shipped flat/taken apart in an envelope!)
$3 each! Available: Sandshrew, Clefable, Paras x2, Squirtle x4

Note: Many metal figures (especially the colored ones) are worn, and some of the stamps' front stickers show slight wear. Stamps need ink!
$2 Drowzee, Machamp, Ivysaur stamps
$3 Chansey, Magikarp, Scyther, Cubone stamps
All metal figures/keshimon are $2 each except Dewgong and Psyduck which are $3. Keshimon are Pidgeotto, Chansey, and Hypno.
Poliwhirl Starmie Staryu Porygon Magnemite Cloyster Charmeleon Machoke



Minimodels!! All $1.
Fearow Seaking Nidoqueen NidoranF Nidorina Butterfree Beedrill Doduo Krabby Seadra Horsea Persian Meowth Vileplume Onix Gloom Staryu Seel Omanyte

All $1.
Ekans Nidoqueen Raichu Porygon Dratini Dewgong Moltres Graveler Kabuto Magikarp Geodude Oddish Victreebel Weepinbell Venusaur Bulbasaur

Still $1!
Venomoth Hitmonchan Kangaskhan (red, clear) Venusaur Bulbasaur (clear, orange) Clefable Poliwhirl Shellder Poliwrath Starmie Metapod x2 NidoranF

$2 clear green Dragonair, clear blue Charmeleon, Ivysaur, Porygon, Scyther
All others are $1
Seadra Mewtwo Tangela Dragonair NidoranM (green, clear green) Snorlax Zubat Drowzee Ivysaur (green, clear blue) Nidorino Clefairy Jigglypuff Rattata Oddish Charmeleon Exeggcutor Psyduck Weepinbel Koffing Porygon Venomoth Bulbasaur Cubone Dodrio Mr. Mime Scyther Golem

More minimodels! $2 each (Blastoise x2, Dragonite, Ditto, Charmander, Charmeleon) Large Slowbro is available in my auctions!

Zukan!
Free: broken Chimecho, Crawdaunt (front claw looks fixable but he's missing his middle claws)
$1 no tail Aggron, no tail Raikou
$2 Medicham
$3 Wobbuffet
$5 Lucario w/ mountain (no peg), small pokemon diorama (includes Turtwig, Torchic, Chikorita, Piplup and base)

Various mini figures! I think some of the ones in the front are caseless in-case figures/stamperless stamper figures. Some have marks/look like they're meant to go on a keychain.
Free - far right sunbleached Mew
$1 Electabuzz x2, Pinsir, Nidorina, Seel, Lickitung, Chansey (marks), Kabutops, Machamp
$2 Charizard, Farfetch'd, Articuno, Dratini, Mewtwo, Ditto x2, small Mew, clear Mew, Unown, Aerodactyl
$4 in-case Growlithe x2

$.50 Charmander, back Poliwhirl, Tentacool (all have marks), Geodude, Drowzee
$1 hand up Poliwhirl, Doduo, Electabuzz, Kabuto x2 x1, Snorlax
$2 Growlithe, Mew, Jigglypuff, Sparky/tufty Pikachu, Zapdos, Articuno
$3 Raichu

$1 Baltoy, Slaking, Loudred, Celebi (marks), Marshtomp
$2 Seviper, Shroomish, Dialga, Meganium, Elekid
$3 Scizor, Slowking



Most of these have some small/minor marks - please ask if condition is super important!
$1 Meowth, both Charmanders, Psyduck, Venonat, Swellow, Meganium
$2 Suicune, Slowking, Arbok x2, Eevee, Rhydon
$4 Volcarona

$2 Exeggcute, Feraligatr, Aerodactyl, Marill, Quagsire
$3 Farfetch'd
All others are $1! Lickitung, Omastar (marks), Kabutops, Articuno, Zapdos, Snubbull, Electabuzz, Bellossom, Horsea, Seadra, Moltres, Scyther, Cubone (no bone club), Krabby



$1 bottom left Bulbasaur, Bulbasaur clip, clear Bulba, Marshtomp, Horsea x2, Blastoise, Totodile
$2 Bayleef, Bulbasaur with stand, Ivysaur keychain, Venusaur keychain, Venusaur in-case figure, Bulbasaur thinkchip figure

$1 Charmander button, Charmander clip, mini Charmander, glow in the dark Charmander, Charmander and Charmeleon footprint figures (no base), bottom right Charizard
$2 Charmander dome figure
$3 Charizard and Charmeleon thinkchip figures, Charizard plastic gameboy (sticker is worn, some marks)

$1 Vigoroth, Nidoking figure and keychain, Lairon, Dugtrio, Togepi tomy, keychain, keychain w/ red clip, and sealed figure
$3 Mewtwo keychain, Emboar bottlecap, Togepi ball, Vileplume keychain (no keyring)
$4 sealed Diglett, big Oddish

All small figures are $1! Pikachu Wailmer Zapdos Psyduck Slaking Wobbuffet Medicham Torkoal Slowpoke Cacturne Meowth Shiftry Clefable Blaziken Taillow Volbeat
$3 Scraggy, Snivy MIP wheeled figures, Totodile tile



Jakks figures! The six figures in the back row have some minor to moderate marks/damage.
$.50 Shieldon, Buizel, Tepig, Shellos, Piplup, Pikachu
$1 Wormadam, Chatot, Starly
$2 Porygon2, Carnivine, Giratina, Regice, Omanyte

Bunch of random stuff - Vulpix kid for size ref!
$1 D/P plastic cup (closeup), D/P coin purse
$3 Pikachu plush tissue holder?, Gyarados/Venusaur mini notebooks with stickers (closeup, has been opened - Venusaur half available)
$5 Arceus mini backpack/DS case (not sure what it looks like inside)

V-trainers! These are all in excellent condition (back view here). Espeon has a teeny black dot in the white of each eye, but it's hard to see unless you look close.
$3 Suicune, Phanpy
$30 or best offer - Espeon
$10 or best offer - Houndoom

More v-trainers! Excellent condition, may have minor marks. One Dragonite has some paint rubbed off of his antennae.
$1 Pichu, Heracross, Torchic
$2 Sentret, Marshtomp x2, Dragonite x2
$5 Raichu, Cyndaquil

$1 Torchic, Psyduck, Minun Peru cereal figures, MIP Golbat stamper, Raichu minimodel
$2 Charizard, James, Ash cereal figures, Arcanine minimodel, Ponyta MIP stamper
$4 Oak dome figures x2, Manectric
$7 Ash, Tracy MIP minifigures

$1 Zapdos, Mew tomy
$2 Entei penciltopper, Kyogre keychain, Kyogre with braided strap, Victini, Latios, Mewtwo (missing keychain), clear Rayquaza tomy
$3 Entei bottlecap figure, Regice, Deoxys, Mew in-case figure, Raikou tomy

Oh man I have way too many of these. Some have marks etc but they're nice overall!
$.50 each
Zoroark x5, Pignite x2, Tepig x2, Axew x3, Zorua x2, Dewott x2, Woobat x2, Pikachu x4
Zekrom, Snivy, Servine x1 each

BK figures, all in surprisingly good condition for their age. Let me know if you want a Pokeball clip with one, or if you want a launcher with the launcher figures! I'll add those in for free but they may increase shipping.
$1 each
Sold: Venonat, Snorlax, Cubone, Tangela, Jigglypuff, Butterfree, both Ditto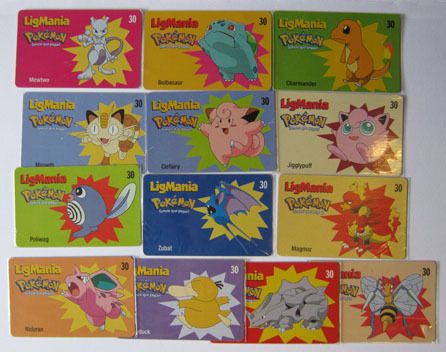 These are phone cards from Brazil! Here's what the backs look like.
All are $1 except Mewtwo and starters which are $1.50.
Sold: Nidoran, Zubat



Large info cards – Vulpix kid for size ref. All are $1!
Sold: Snubbull, Slowking, gold Pikachu, Mewtwo, Heracross, Hoppip

$.25 each or free with purchase. Assume these are missing pieces, broken, scratched up, etc. I don't do condition checks on freebies!
Two freebies maximum per person, unless you're spending over $10 before shipping.
First picture sold: Feraligatr, Zapdos, Chikorita, Snorlax, Clefable, Nidoqueen
Second picture sold: Gengar, both Wooper, Slowpoke, Nidorino, Seadra, Vigoroth, Unown, Blissey, Meganium, Sharpedo, Venomoth, Onix, Lairon, Victreebel