Hey boys and girls! Time to turn on your collector's mode!
For a limited time come get these exclusive Pokédex button badges!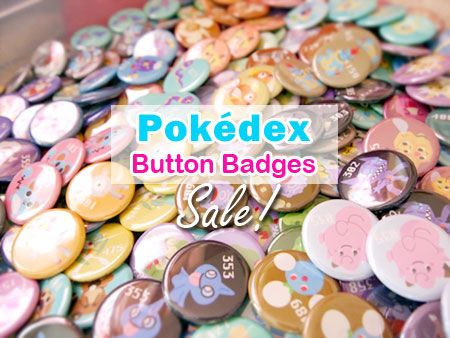 So....I am preparing my booth for Anime Expo, while I am making these badges I realized a lot of you can't attend the convention because you are too far away (or more like on the other side of the country), so I decided to offer these to all the members on here!
This is the only chance to get these button badges separately, since I always sell them as sets in my shop, and at conventions I sell the singles in a capsule machine...I am making an exception this time!
I already drew all the Pokemons in Kanto, Johto, Hoenn and Sinnoh region, I have not finished 5th and 6th gen yet, mainly because most people I met at the conventions do not recognize them, but I am still working on them! However, Sylveon is a special case; since she is part of the eeveelution I have her available to purchase this time :)
As you can see the style was inspired by Pokemon Time, I added the national Pokédex number on each one of them and they are really popular in conventions, especially the original 151.
(
Now the fun part, read it first
Collapse
)
Order Status: CLOSED
Thank you for your orders, please look forward to the Gen 5 & 6 batch!
I am now accepting orders thru this Sunday night June 15th
, and all committed buyers will need to send in the payment by then. It will take me at least 1 week to make the button badges before I ship out your orders so please be patient!
Also, please feel free to combine anything from
my shop
with your order, who doesn't love save money on shipping, right?
(
Candy like badges! so many!!
Collapse
)
Lastly! At Anime Expo I will be selling tote bags and tumbler cups, along with prints and other flats so be sure to check out my table in Artist Alley G38!