Hello everyone! I hope you are ready for the winter holidays!!
This year – you guessed it – I am giving out cards again! Yay!
This is my third year making these, so I've prepared 100 cards to give out this time, that's a lot of cards!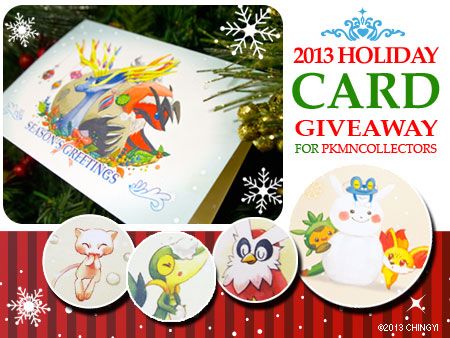 (
So put down your 3DS and check out the design this year
Collapse
)
The theme for this year is "Snow Day". It's got Xerneas and Yveltal on the cover and inside there are Pokemons playing in the snow. The art was done in watercolor and color pencils with digital touch up. It's a new style I was trying out and because I wanted to create different design each year I decided to do something more traditional this time :)
So you want a card? The rule is simple! But unlike previous years, DO NOT private message me your address in LJ, use the sign up form I created instead! It's more organized and you can tell your friends to sign up too!
(
Please read first! Very important!
Collapse
)
Sign up form here:
https://2013holidaycard.wufoo.com/forms/2013-holiday-card-sign-up/
EDIT: CLOSED!
No longer accepting submissions.
You can still purchase a card in my
shop
!
This holiday card project is my thank you to all the members and this wonderful community. Stay awesome guys! I hope to do this again next year ;-)
Ok now you can go back to your 3DS, and add my
Friend Code
because I was too late for the party :P