Hi, just unloading some of these items hoping they find better homes than here =P I recently won some old Pokemon BK/KFC items, so I'm selling my extras~

Sales Permission granted by dakajojo
I ship internationally from Hawaii
Haggling is welcomed! I'm not sure about the prices of a lot of these items, so have at it!
I have the tendency to reuse packing material for food products. I don't use boxes with any food residue, but please let me know if you're concerned due to peanut/wheat/gluten/etc allergies and I will use new/nonfood packing materials for you!
Trading is also welcomed, but I tend to be very picky about what I want/how I want it. Looking for Porygon2 PlushPlush and Natu Pokedoll (and some Sonic the Hedgehog items LOL...)
I can hold for up to 72 hours. Note that if you ask me to hold, this locks you into a commitment of buying the item(s)!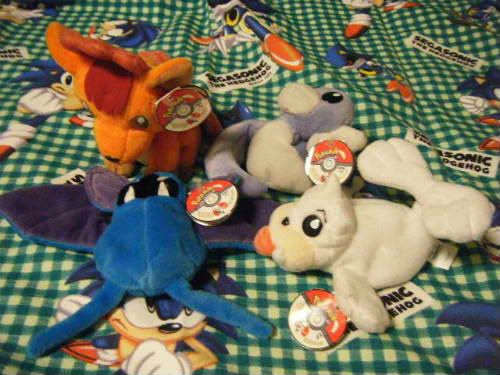 Their tags are curved with minor whiting/very subtle creasing (if any).
Vulpix - $25
Dratini - SOLD
Seel - $18
Zubat - $18
Or all remaining 3 - $55 shipped within US (inquire about outside the USA)



As far as I can tell, none of these have any food residue with the exception of the french fry bags (probably chocolate, not fries)
Togepi BK Child's Cup - $10
Meowth Large Cup - $20
Nido male line bag (2 available) - $25 each
French fry bags - $1 each (has some stains of what may be just chocolate)

(click the cut to see MORE items)




Uncut BK sheet featuring some popular Pokemon. $20 for the whole sheet, I prefer not to cut any pieces.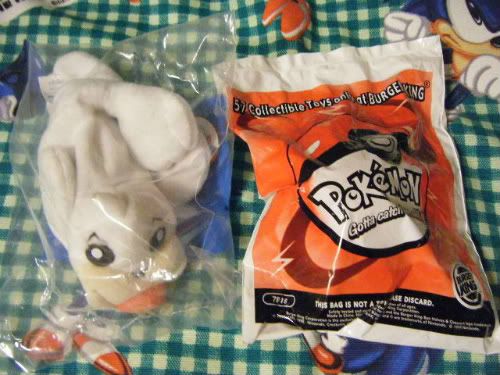 MIP KFC Seal Plush - $35
MIP BK Pokemon Mighty Kings Meal Toy. I don't know what Pokemon is inside it. This is part of the original toy run that contains the "dangerous" Pokeballs - $15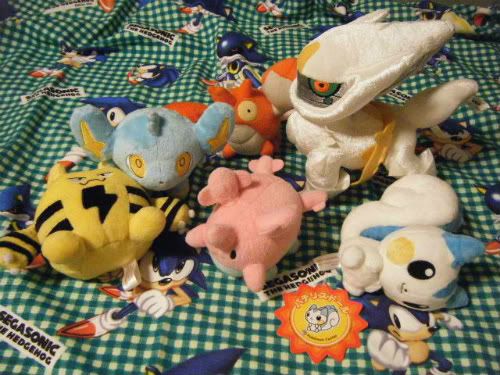 Shinx Pokedoll (Japanese, minky, tush tag only with original hang tag's plastic ring remaining) - $25
Elekid Pokedoll (American, velboa, tush tag only) - $20
Corsola Pokedoll (Japanese, velboa, faded tush tag only) - $55
Pachirisu Pokedoll (Japanese, minky, both tags, creased up hang tag) - SOLD
One of the many shiny Banpresto UFO Arceus out there @_@ - $12
Corphish with very yellowing eyes Banpresto (part of the same plush series as Salamance and Poochyena) - $30



Jakks delux Dialga plush - $50



Viridian City Gym Pin set - SOLD
Sheep Zukan MIP - $25



Axew Banpresto UFO (tush tag only) - SOLD
Cranidos Banpresto UFO (tush tag only, sorta loved) - $12
Chillarmy Banpresto UFO (both tags) - $20
Porygon - Z Banpresto UFO (tush tag only) - $30
~~~~~~~~~~~~~~~~~~~~~~~~~

Price check the following Pokemon for me~

Wishcash plush from Pokemon Center
Porygon2 PlushPlush
Psyduck PlushPlush
American Velboa Swampert Pokedoll without tag (it would have been the old Pikatag)
American Velboa Sceptile Pokedoll with old tag


I'm also looking for any information (photo especially) about the Farfetch'D plush that is NOT the Banpresto UFO. I must obtain info about this mirage plush djvoiwrovisjiowj!
~~~~~~~~~~~~~~~~~~~~~~~~~

And now for the NEW random question of the night:

Do you hug/cuddle your plushies? If so, do you hug just untagged plushies, or both newlt tagged and pre-owned/tagged plushies? What about very valuble plushies/grail level plushies? Do you prefer to hug plushies of a specific size? Are there some plush material that you enjoy snuggled your face again a lot more tan others?? What plush you noticed yourself huggling a lot?

For me, I don't actually hug my plushies because the majority of them are under 7 inches XD I do however pet or squeeze them (almost like a stress ball). I prefer to pet snuggle/cuddle plush that are not absolutely brand spanking new unless I have a duplicate =) I have a duplicate Oshawott Pokecen plush so he is often the victim of being overpetted! I love plushies made out of minky or some other soft fabric <3 I also love whatever the Banpresto UFO Farfetch'D is made out of, I find myself tugging on his feather hairs a lot!

I probably won't touch valuable tagged Pokemon plush beyond inspecting the condition/quality though~

~~~~~~~~~~~~~~~~~~~~~~~

My feedback page is HERE!
If I owe you feedback, go HERE!
~~~~~~~~~~~~~~~~~~~~~~~


And also, Noseless Pika GA