Time to make my first sales post! :D I've got leftovers from my Samurott kids set and some older clipping figures for sale!

I'm also taking claims for the Serperior kids set (I'm only keeping Tynamo, Eelektross, and Chandelure for myself), so let me know if you want one!

Sales permission granted on 09/03/11 by
dakajojo.

- This is my first sales post, so please be patient with me! C:
- My feedback thread can be found here
- All prices are in USD and do not include shipping unless otherwise stated
- I ship worldwide from Singapore. Packages sent by air mail will take about 6-8 working days to arrive in the US, and 4-6 days to the UK
- I only accept Paypal
- Please send payment as goods, and include your username and item(s) bought in the memo field
- I'd love to trade! :D I collect Aipom merch and Hoenn kids. Check out my wants list here!)
- I can't be held responsible for items lost, damaged, or stolen after the package leaves my hands
- I'll try my best to get items shipped out the next day! :D
- If you comment asking for a quote and don't get back to me within 24 hours, I will sell the item to the next interested party
- I will hold items for up to 48 hours

Extras from the Samurott kids set



$5 each

SOLD: Lilipup x1

Clipping figures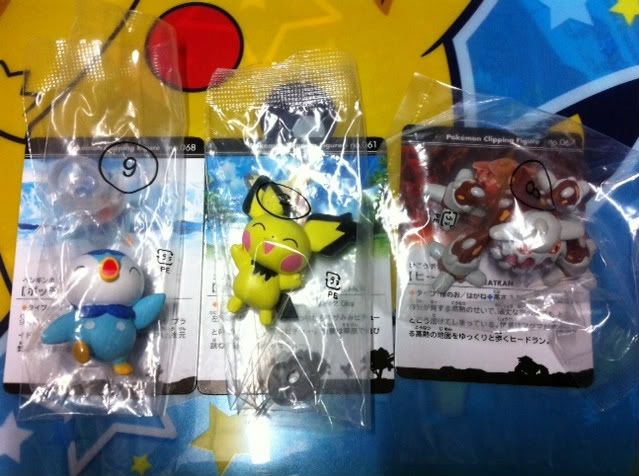 $5 each

I've also ordered a Serperior kids set (pictured below)




I'm only keeping Tynamo, Eelektross, and Chandelure for myself, so the rest are up for claims! C: I'll PM you when they arrive (most likely early November) and I'll only be collecting payment then!

CLAIMED: Deerling x1, Cubchoo x1, Beeheeyem x1, Serperior x1, Mienfoo x1, Shelmet x1

$8.50 shipped

Thanks so much for looking!