Hello everyone again!

I was wondering if anyone was interested in these...cant do anything but try!
I'm bringing you an auction for a customised item I love doing~



They're hand painted headphones! And I used the theme of the intro movie to Pokémon Yellow as inspiration for these!

Info for this set and a custom slot are under the cut (if it works!) - The auction starts at $30 for the 'Yellow' pair c:
(Please wait for threads to be posted)




I was granted sales permission on 9/03/11 by Dakajojo

Prices are in USD.

I ship from the UK!

I'm not a slow shipper!

My house has no pets, smokers or anything.


Rules for auction:-

Auction ends Tuesday 20th September 2011 at 6pm GMT (UK time)

All Pkmn Collectors rules apply, including the no-snipe rule:

Bids made within the final five minutes of the auction closing time will enable the extension of a further five minutes.

Increments of $1, please!




'Yellow' Headphones - start at $30. (you may ask for more images)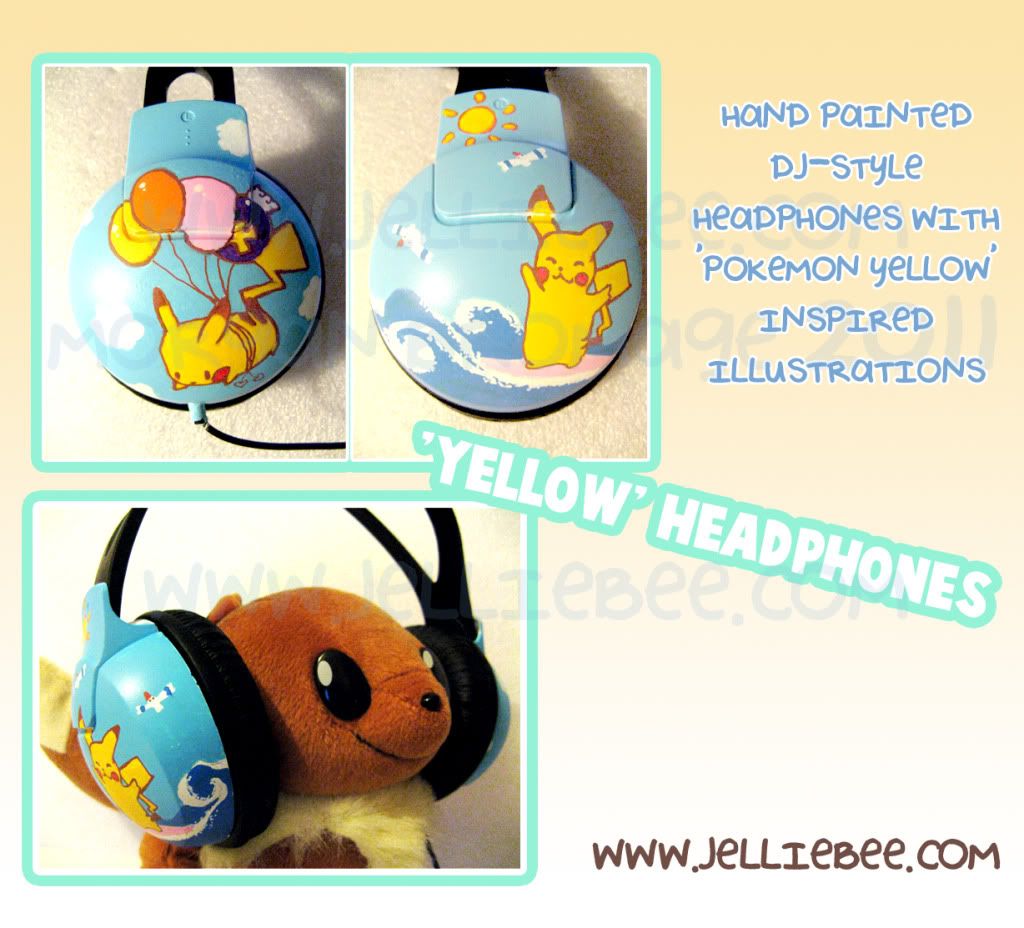 (Thanks to Eevee (not included haha) for sporting these!)

Note: these are NEW and unused!
Why haven't I used them myself? I have a pair of Masterball ones that I use instead! Also, I have Pokéball ones for cosplay (which went down a storm at the convention I visited).



Custom slot starts at $27

You will recieve these new and unused, of course. Any design of your choice but might be limited to my colours available.

Note for custom requests:
These can take weeks to make,
I like to take my time. If your design will be quite complicated, there will be an additional charge for extra paints required (not much, though, unless you request something that can use none of the colours I own!).
They could take from 2-4 weeks depending on complexity. If you wanted them within a quicker time, we would need to discuss express
shipment.


Headphones Features:

Very lightweight

Very comfy and soft, the ear pieces are large enough to cover your ear to block out alot of noise! (Handy, right?)

Great sound quality

2m long cable with regular jack input (apparantly works with iPods, but it definitely works in my laptop, PC and mp3 player)

Adjustable plastic headband (not painted)

These headphones have been painted with permanent paint and matte/satin varnished with an enamel undercoating.
There are tiny areas not covered by paint due to being really difficult to reach! They should be waterproof but I've never tested that. I would not recommend throwing them about in puddles, but they might hold you never know!





Shipping & Handling prices

UK - $4.70 (£3)

EU - $6.30

USA and Rest of World - $10

Thank you very much! The threads will be up asap!


~Ditto