MORE MERCH COMES OUT.
I'll never be able to save ever. :'D

BUT ANYWAY! Quick wants post to irritate your eyeballs. Jakks made Darmanitans, and I need them, asap. 8| I'm worried these'll disappear fast and I'll never find them again. ;_: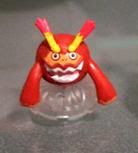 Credit to
slothyshroom for the Mini Darmanitan picture.

My priority is the regular Jakks figure, buuut I'm not fussy. 8) Is he even out yet? I haven't seen a thing about this so far. WHATEVER'S COOL. <3
Kthxluvyoubai.