Okay guys, they arrived today! Time for payment 2 and some extras!
Your initial shipping costs including a bubble mailer are here: Click!

Also extras:
Extras (prices do not include shipping costs)
First come first serve, no holds. Participants only for 24hrs.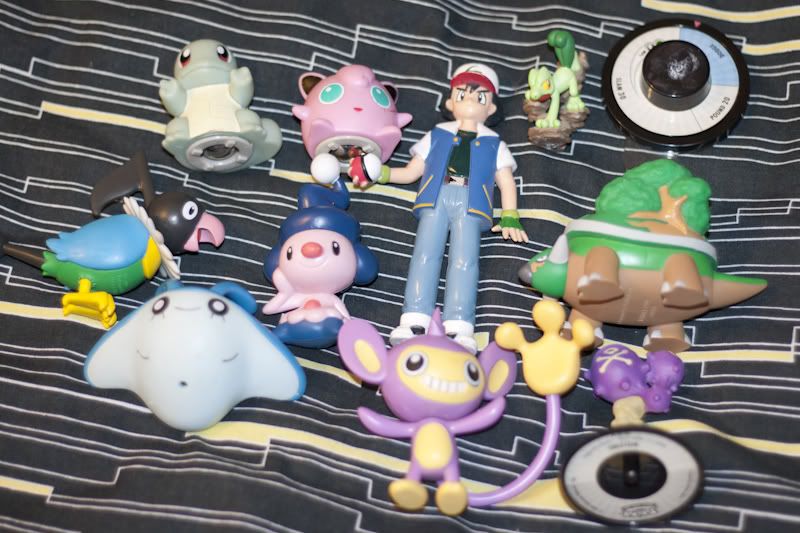 Will not change shipping cost: Broken treecko and base - $0.75, Weezing TFG - $1
May change shipping cost: Gothy's Squirtle Roller $2, Jiggly roller $1, All Jakks - $1.20, Torterra DX Kid - $1.50, Ash (Heavy) - $1.20, Grotle Pokeball figure - $2
Don't like a price? Make an offer.

Pics! Searchable by name:

Growly - Gastly Bank
Big! He is in beautiful shape, but there is a small chip to the back of his base ( 3rd picture). His purple is cool and changes like in the picture.
He is unpleasantly sticky, so I am going to wash him. Due to the very brittle nature of the base's plastic, I would prefer to send him to you in a small box, unless you want to risk a mailer. Let me know.



Gabtizzle: Big Charizard
All around he is pretty good, but has some paint marks on his tummy and under his tail. A scouring pad would take them off, but I'll leave it to you. He's chunky and heavy! His colours are lovely.



Drifloonx: Big Groudon
OMG I AM SO JEALOUS HE IS HUGE AND HEAVY *_* He's so nice and chunky to hold. He weighs close to a soda can!
A couple of scuffs on his claws and spines, and one on his man-pecs. Some citadel skull white would patch in his spines perfectly if you want me to try. His arms articulate really nicely too. They are ball action joints.



Cluw: Plush poliwag, plush squirtle
Poliwag is near mint with one thread out of place which i believe is a factory thing, not a snag. Squirtle has been played to death, I'm afraid. He's very loved, but quite clean. They are Applause beanies!



eledora: Talking pikachu keyring
He's worn and a little grubby, but he still works and his tags are good. He says, "Pikachu!" or "Pi! Pikachu! *lightening sound" each time you press. Speaker box can be removed via velcro so you could clean him in water and suds quite easily.



Acciolucious: Charizard TFG
Seems to be in very good condition. Hasn't been played with like some of the others. I'm not sure if there should be more base underneath him or not, as I've never seen a TFG in person.



Pokepalace: Squirtle and Bulbasaur keychains!
They open! They're hollow! I have no idea why!
They are in exceptional condition. Bulbasaur has a small peg missing that would clip him shut, but stays closed without it.



Lucklessprince: Blaziken
Nice, heavy, chunky figure. Hasn't seen a lot of play, as the paint is great. Hands spin, leg moves. Have fun standing it up.



Varjak_Paw: Swampert poseable and Bulbasaur plush
Bulbasaur is in greta condition, really clean and new looking. Swampert is pretty much unsed as well. No major scuffs or dirt. Creepy. Heavy. Same brand as Charizard, Groudon, etc.



My stuff:
turns out I already HAD squirtle. Oh blah. I also kept Jesse as she is incredibly heavy.