Howdy Y'all. So for a long time now i've been promising a collection update that included the groundbreakers TFG's i got from Gin, the duplicated Flaaffy i hyped up, and all the other stuff i've been getting from you guys... well here it is.

start with a wide shot: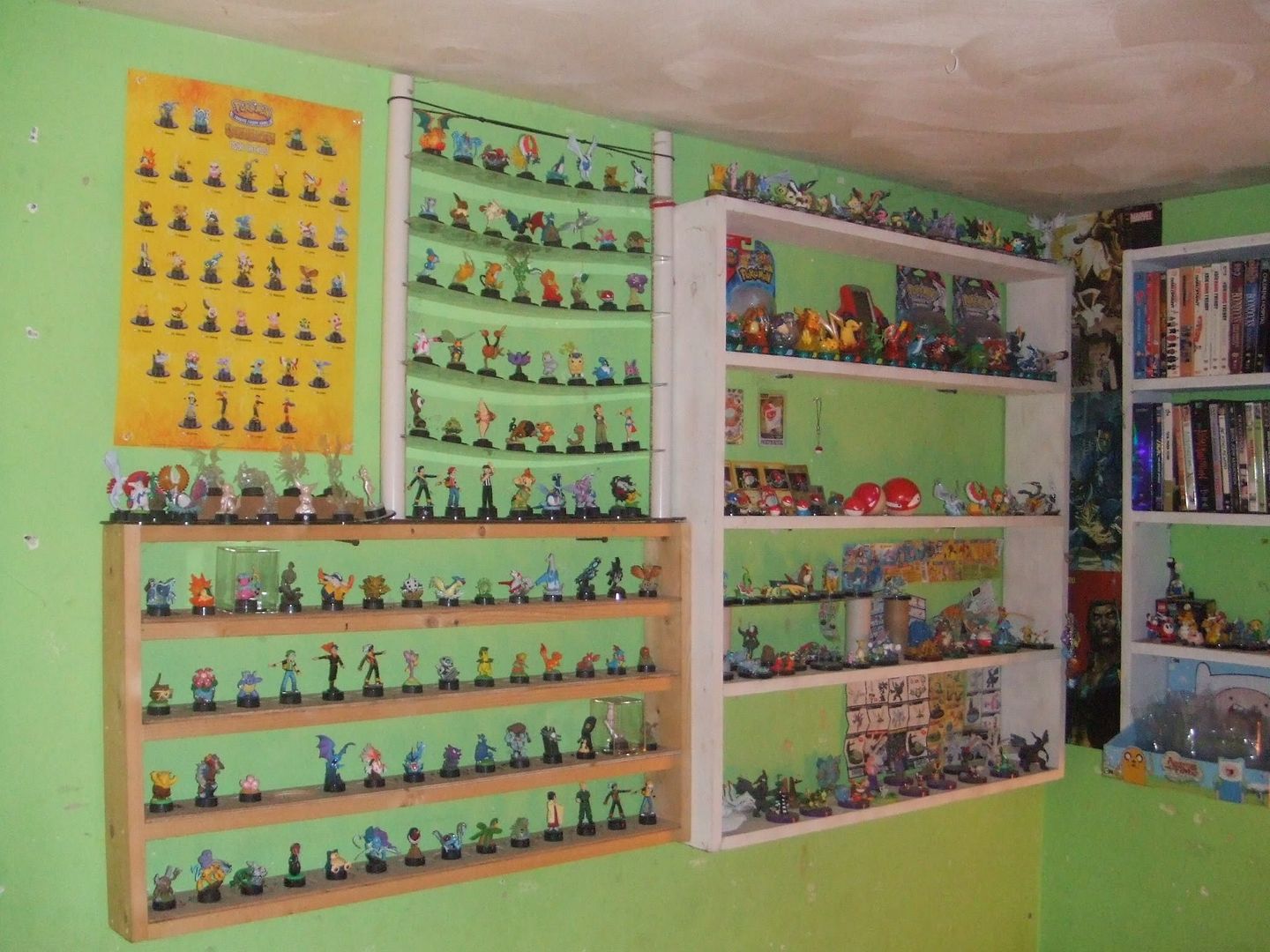 Close up on the TFG side: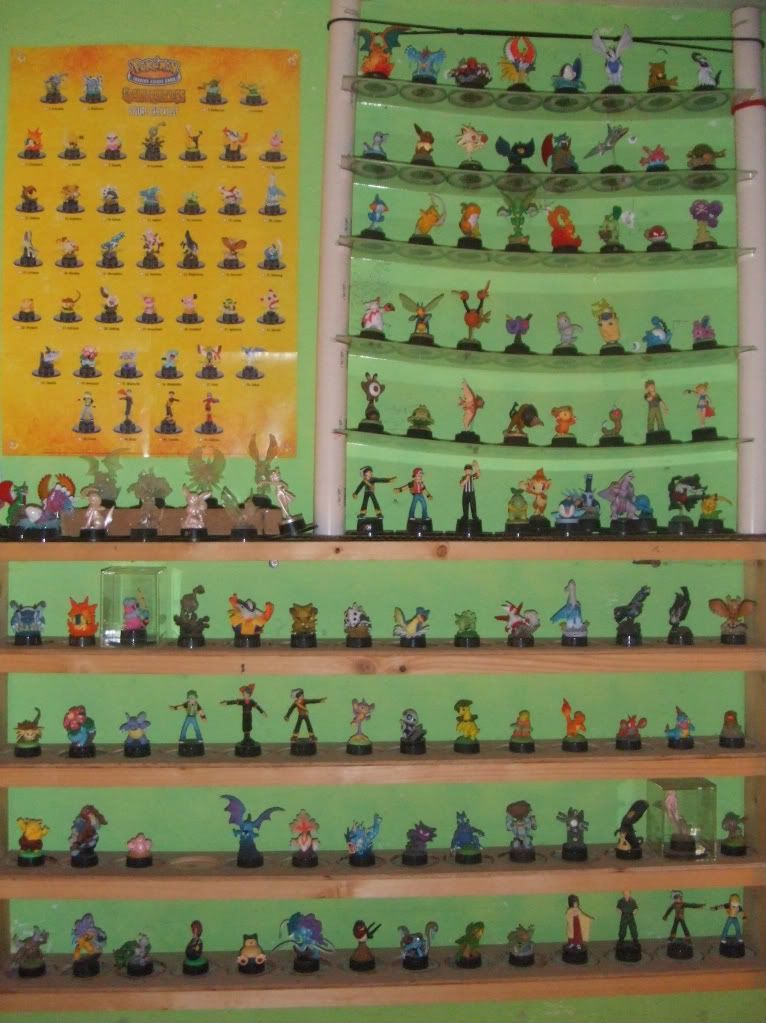 I had them organized by poke' number for a bit, but i didnt like it. also with the exception of the gap left for flareon (which i'm still hoping to find) i filled in all the gaps for figures i've given up on ever getting I.E. the unknown third wave figures / ones just zefiru has. this makes it so i can (barely) fit all figures in one nice photo shaped section of my wall. but i'll come back to these and the new ones in the middle section there.

But first




look at how much my zukans collection has grown (it's the equivalent of a 5 year old that can kind of say things and move around but still not really a real person yet)

and



VOLTORBS! some fun new stuff in here like the stamp figure and battle museum figure. the one of the far right is a custom i made, it was like a solid ceramic baseball statue or something weird i picked up out of a quarter bin at the flea market, shaved down the raised threads, sculpted on the eyelids, and painted. its not terrific but i'm fairly proud of it.

Also I got this in the mail today...




and by "this" i just mean the zek and reshi... had the others but wanted to show them together with the rest of the 5th gen bottle cap figs and a few other legends. i know a lot of people were upset with the zekrom pose, but i'm pretty happy with it. what i'm not sure about is the size ... their caps are wider, and they are overall more the size of the pre-order kaiyodo figures than bottle cap figures. either way i'm just glad that pokemon usa hasn't entierly given up on detailed display figures.

But back to TFG's, lets see how my groundbreakers set is coming along: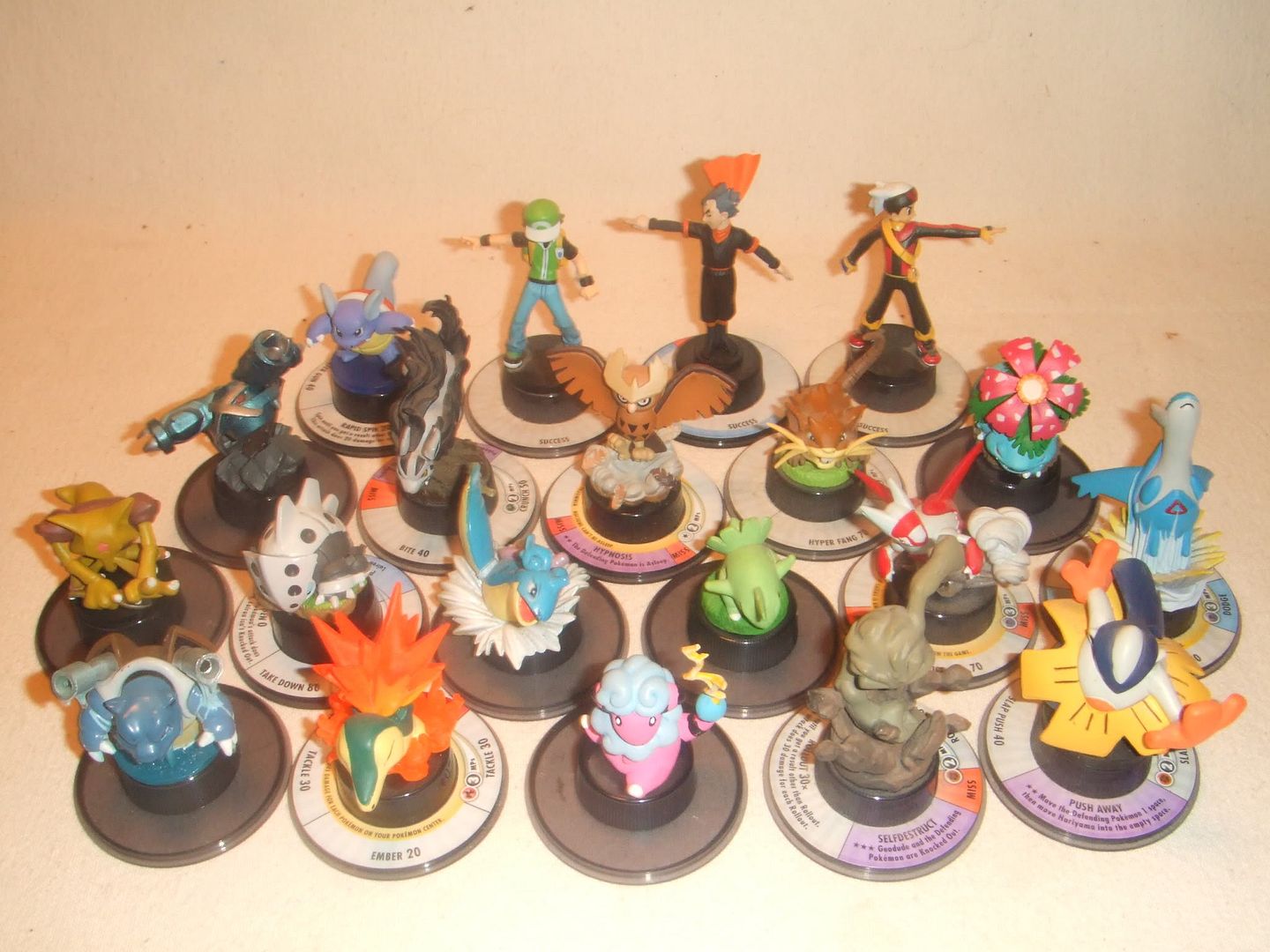 that's 20/42 (or 19 but i'll get to that) as you know i had a major find a while back which landed me cyndaquil, flaaffy, lairon, noctowl, wartortle, koga, and palkia and dailga promo figures all with their bases (a never for these figures) when the Groundbreakers group that recently surfaced i traded that Flaaffy along with some cash for Blastoise, Kadabra, and Venusaur. so thoese are new ... i wanted blastoise and venusaur so that i could get this picture: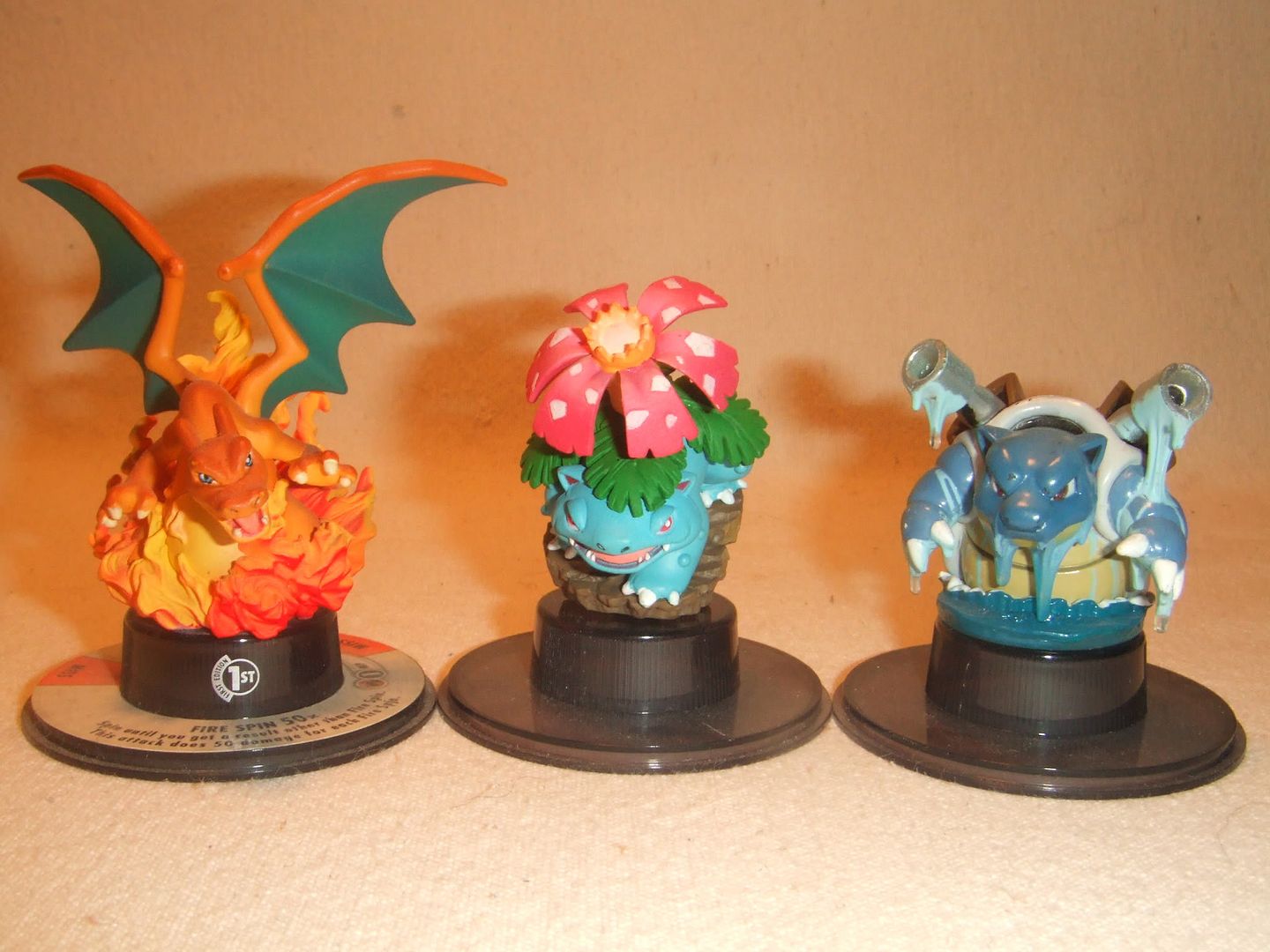 and i just like kadabra.

But as you can see there is still a flaaffy up there. well let me explain.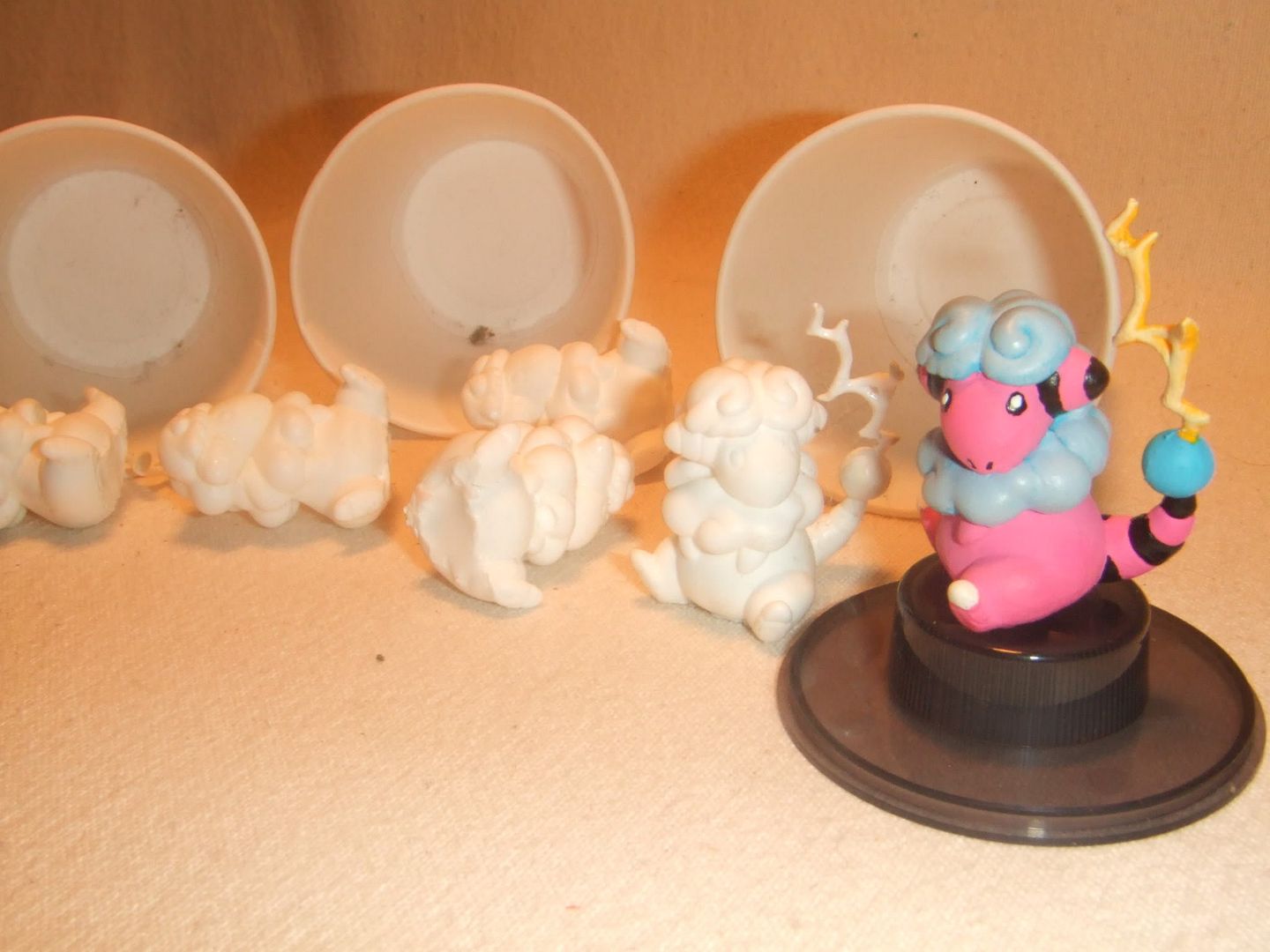 the one i have is actually a casting of a mold that i had made before sending off the authentic one.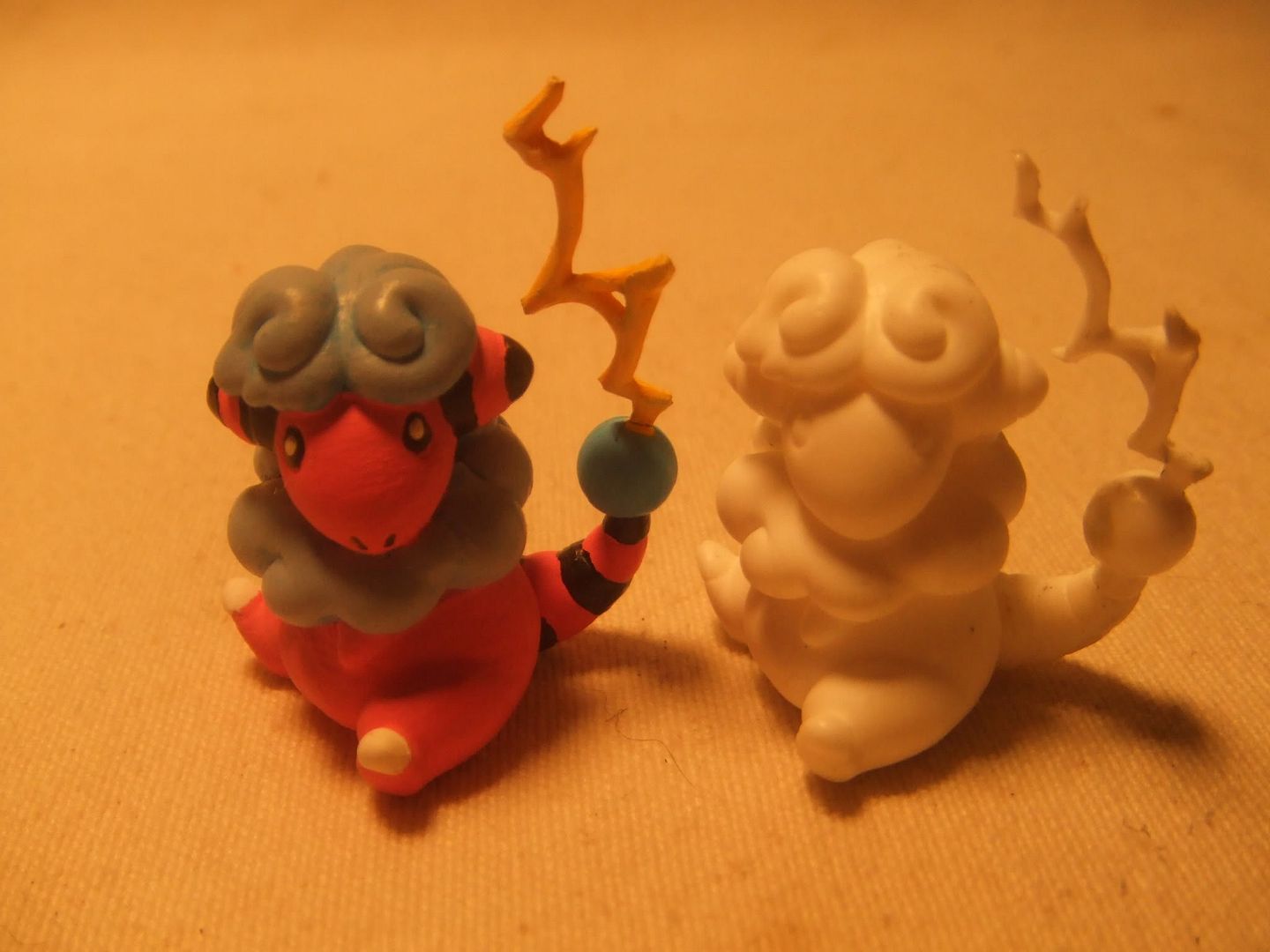 It's actually a somewhat difficult proccess, the biggest problem (and why there are a goat load of junk ones in the background up there) is that air bubles form while the plastic dries in the mold. and the tail is especially dificult since its smaller and has lots of tiny parts. but once there is a good copy of each of the two parts then its a matter of cutting them and glueing them together. and then the paint job. i know the color is off from the origonal a bit and that the botl on the tial isnt clear, but its just for me to have in the palce of the one i had.

so that that .... oh and also since i had my camera out heres a pic of whats on the bottom shelf just to the right of the first picture:


as always if you want to help me out my Wish list is here

my store is closed since i sold off most of it in an auction recently (by the way i'm sorry it took a while, but everyone who bought from me and paid has thier stuff in the mail.)

Thanks Everyone!

Oh and i also just realized Its been almost exactly 1 year since i joined this community ... wow... what a fun year it's been.