Update time! I was planning on posting on my one year anniversary but ended up thinking I'd joined in September. Turns out it was August. So I was going to post on the anniversary of my first collection update (September 15th). That went to pot. xD So here's my one year plus two months anniversary post and collection update!

Both my main and side collections have had new items added to them recently. :)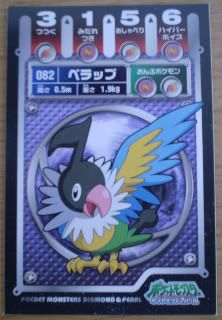 Chatot sticker from
larvitarscar

I try to limit what flats I buy of Chatot, but this is one of my favourite of his stock poses so I had to get it.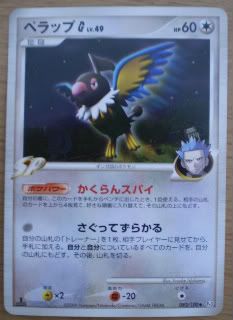 Japanese Chatot G from
drag0n_aura

When I started collecting I decided I was going to collect all of the English cards and the promo's from Japan (as a couple of these have not been released elsewhere). However, I've been re-thinking this since getting some Japanese Rufflet/Braviary cards (why not get some for the main collection as well?) so when I saw this was available, I jumped on it. :)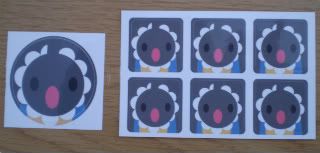 Custom Chatot stickers from
ditto9

<3 Though I actually hate using stickers even when I have multiples. xD These are in my binder now and will probably stay there for the foresee-able future!



Murkrow Johtodex charm from Y!J

I've been hoping one of these would show up and when it did, it was MIP! Which normally I'm not bothered about, but it looks so pretty that for the time being it's staying unopened. My camera was refusing to focus on the charm, though. Here's a close-up shot: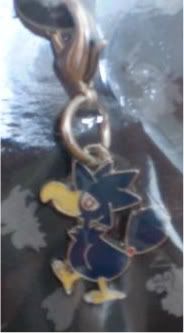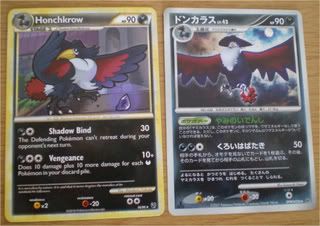 Murkrow/Honchkrow cards from
drag0n_aura

More Japanese cards! Plus a lone English one. I generally buy Murkrow/Honchkrow cards when I'm buying something else and/or need to bulk up my order but I'm slowly getting there.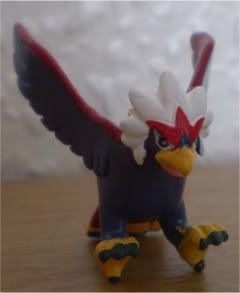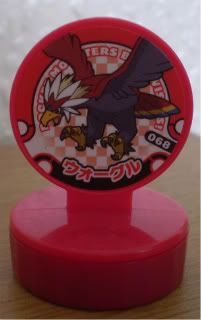 Braviary Chupa Chupa figure and Restuden Stamp from Hardrock Pokémon

I logged onto Hardrock for the first time in a while. Searching for Rufflet turned up nothing, but Braviary turned out to have two items I didn't know were actually released. xD So I jumped on them both. The Chupa Chupa figure isn't the best ever made, but it gets bonus points for being the first figure of Braviary to enter my collection.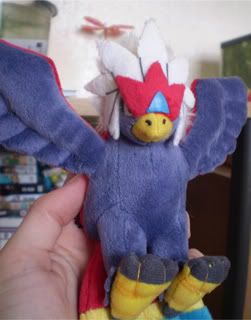 Braviary MPC from Y!J

Everybody has enthused over the MPC plush so I shall keep it short. :) I was still very surprised over how soft it was, especially the head-dress. I'm not sure which I like more, the UFO or the MPC. :)



Rufflet card from
drag0n_aura

My meagre Rufflet collection gets boosted! Even with Emerging Powers having this card in English, I really wanted it in Japanese but wasn't sure where to get it from. Glad it popped up here.

As I said initally, I've been here just over a year now. My first update was on September the 15th and consisted of this: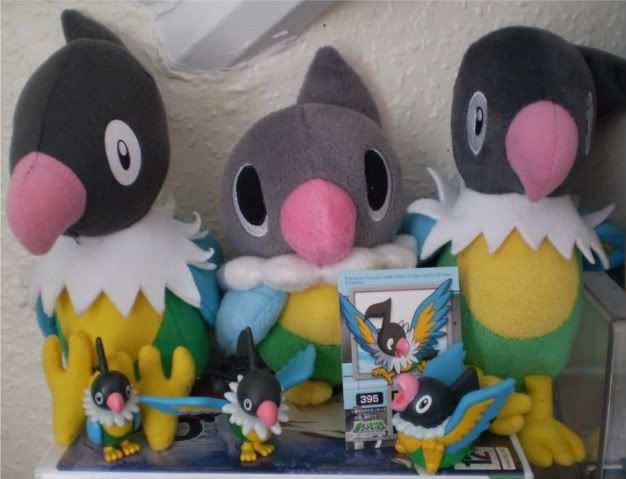 Within a few months it had expanded to this: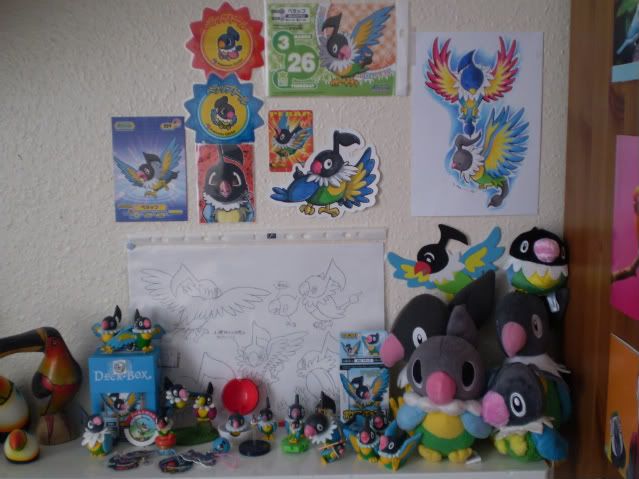 But it continued to spread (and the plush pile started to fall over and annoy me) so now everything shares the bottom shelf of my desk with my collection of Bleach manga/DVD's.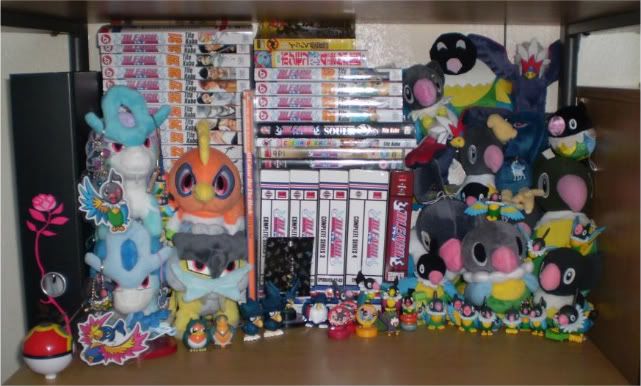 Everything in one shot!




Plush pile. :) I have grown to love Chatot's plush and hope to get my hands on the ones I'm missing soon. I need to shift these lot over a bit soon once I get the new box-set in, which could be interesting.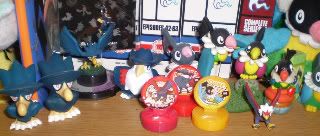 Figure shots.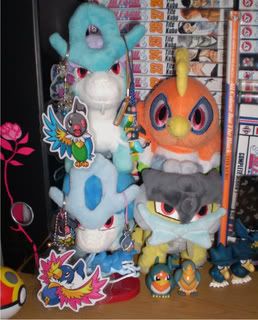 Nothing can escape the Chatot. xD Suicune has turned out very useful to hang things on.... The big folder contains all of my flats. Looking at the older photo does remind me how much I enjoyed having bits up on the walls, though. I may have to pick out my favourites and put them up above the desk. :)

That's pretty much everything! I have extra's of the PokéDoll and the round plush on my bed and the Chatot/M+H Zukan with a custom plush up on the desk top. I do need to re-arrange anyway because I'm all out of space for Bleach stuff so I'm both dreading and looking forward to that!

Thanks for reading. :)