I've gotten some really snazzy stuff in the mail within the past month, so I figured I'd share them with you guys today! :D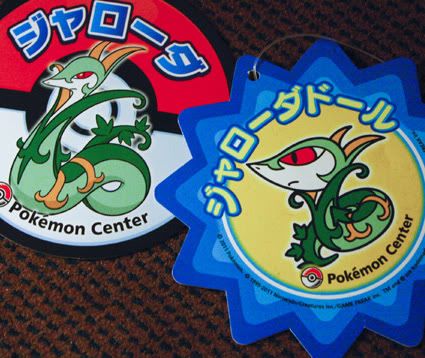 First off, some new Serperiors! I've fallen head over heels for this snake, even though I'm quite slow on obtaining merchandise for him. xD

This guy I was extra excited about:



Serperior Pokedoll!!! Ah! This plush made me swoon at first sight. I got him for quite a bargain too, which was awesome because I didn't have sufficient funds for him when he was first released. I was afraid I wasn't going to obtain him for a really long time, but I'm so glad I did. When I first got him a couple months ago, he slept with me in my bed because he was sooo cuddly. But I moved him to my display shelf so he wouldn't get all pilly xD


Next, something else I didn't think I'd get for awhile too!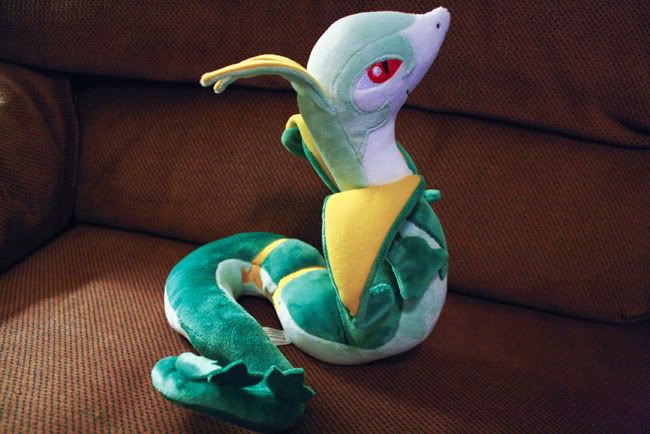 Serperior Pokemon Center plush!!!!! Oh goodness, he is much larger than I expected! He's another example of a plush that I wanted so dearly, but couldn't afford him right away. My good friend
tyltalis offered me hers and sent him to me with a box of other goodies! Everything about him is perfect. His shape, his fabric, his swirls, his expression. If you were to choose one Serperior plush to own, I would highly recommend this guy. :]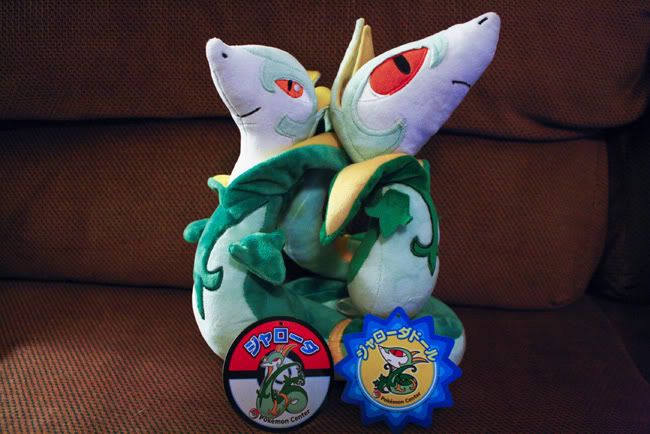 Here are the two new swirly green snakeys pictured together! I'm normally a stickler for MWT plush...but I seriously could not resist with these two. Just as long as the tag comes with it, I'm happy! And thank goodness these two came with their detached tags...the art on them is so beautiful.




Here's a family photo of the Serperiors :D I so can't wait for the MPC.


Next up, this little guy!



A teeny tiny Serperior Keshipoke! This photo does not do it justice whatsoever, Keshipokes have always been difficult for me to photograph, haha. Even thought he's really small, he's extremely detailed and awesome. I lovelovelove it :D


Even though green swirly snakey has me entranced, I still have been obtaining merch for my first true love!



Pictured above is a bootylicious clear Arbok Tomy, a purple Ekans Mini Model, three awesome shiny Ekans Metal Collection figures, and two super shiny Arbok coins!




Close up of the coins! I'm not entirely sure where they came from, but I've always seen the circle one in sales posts, but would unfortunately miss them. Another friend of mine,
99reddrifloons, sold me that coin and the three metal Ekans figures! The hexagon shaped on the right is from a recent GA. I'm not sure if any other Arbok coins exist, but I know I've seen star shaped coins of other Pokemon. If you have anymore info on these coins, or perhaps any other Arbok and Ekans coins, let me know! <3




Here's a closeup of the booty Arbok from the first GA I hosted! :D Although he is super derpy, I think he's fabulous.



His colors are just too cool! 8D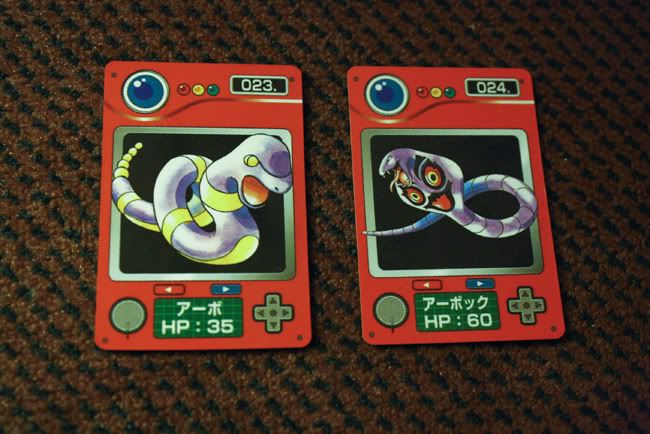 Awesomely sweet Pokedex cards from the amazing
caffwin! Apparently all 150 Pokemon were made into cards like these. Any new 150 merch is perfectly fine by me!



Also, these cards were adorably small! Here they are compared with the clear Arbok booty [who is the size of a normal Tomy].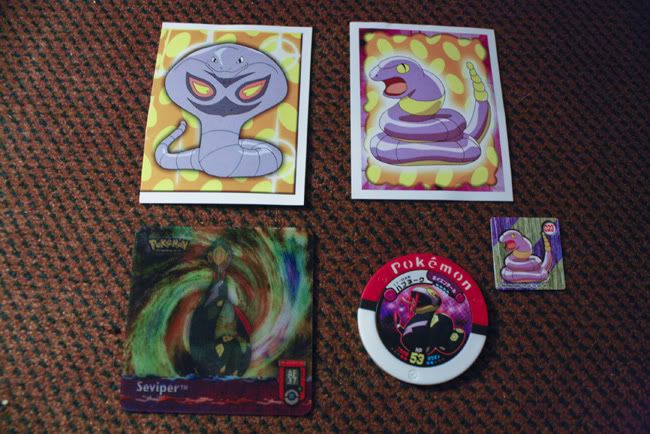 Snakey flats! Some stickers, a Seviper holo thingy, a Seviper battrio [that my dear friend
feraligroggles surprised me with!] and a super small flat Ekans.




Perhaps we should renovate your space soon, what do you think snakeys? xD


Here are some more gets from my side collections!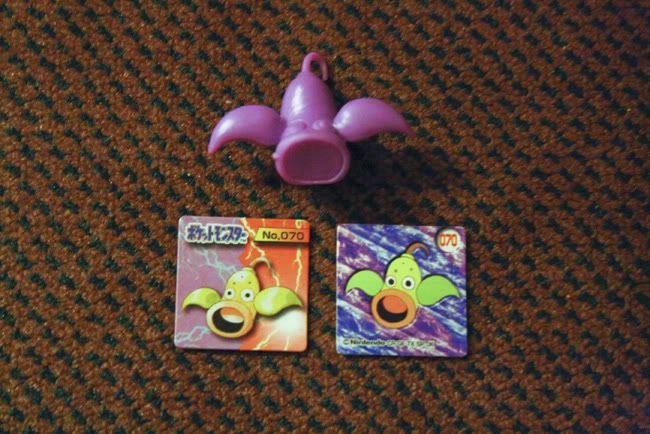 Yay, more Weep Mini Models and small flats!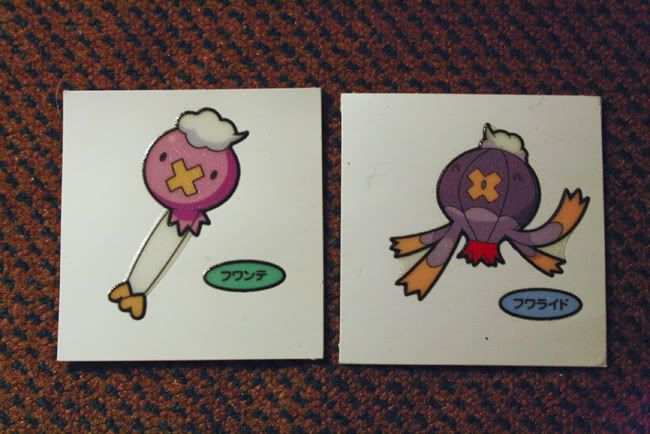 omgomgomg I've wanted these babies FOREVER!! Floon and Blim pan stickers! :D Look at that happy blim, oh gosh.




Oh yeah, I also got this little happy guy! :D


Last but not least, some super sweet settei:


tyltalis sent me some swagtastic settei in that box of goodies that had the Serperior PC plush in it! Above are some Sceptiles :]



More Sevipers!!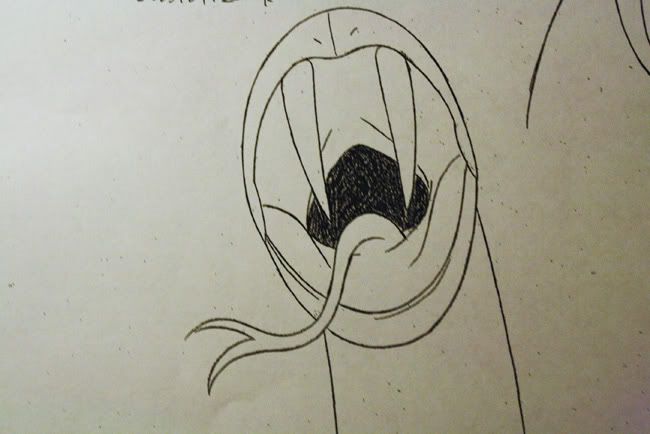 Yes I know Seviper, we all know you have a big mouth.



Size reference sheet! With none other than....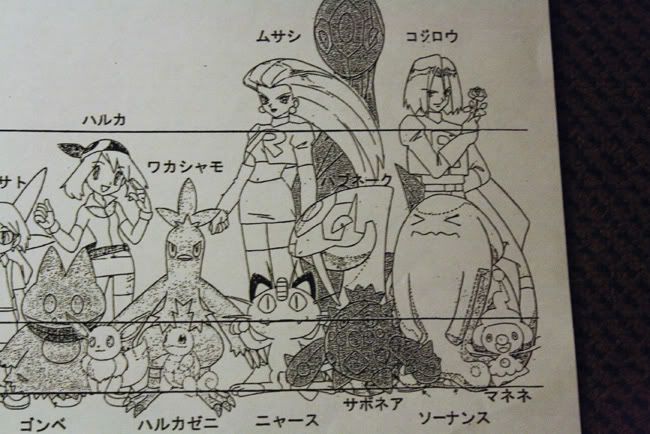 A Seviper on it!! <3



And that's all for today! Here's my website plug, which will have everything pictured here [minus the flats] in the next day or so :] Also feel free to trade and swap links! :D

http://snakeghosty.weebly.com/


Also one more thing, does anyone have any information on this Seviper figure right here? [the one that's circled]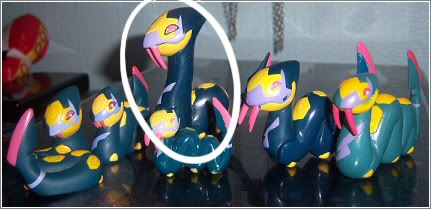 I didn't even know it existed until a couple months ago! x) Any info on this guy would be wonderful! <3