Hi community, it's been a while! Stuff happened. XD

First, a question~

My family will be leaving for a trip to Korea on Thursday, and I remember someone here saying that there is a Pokemon Center-like store there! Unfortunately, I can't understand the map, and I can't seem to find anything else about it besides being inside a department store. I will only be around the Myeongdong area (the top map with blue line, I believe) for an afternoon, so does anyone know the exact location of this store? It's been a childhood dream to visit a PC, and while this isn't the Japan ones...it's close enough. XD Any landmarks I need to look for, the name of the department store, floor, etc would be super helpful!

I'll be bringing my travel buddy Cubchoo, so there might be a photostory coming if I find it! :3

Next, some sales!



1x Axew sold, 1x Axew on hold



I completed my dot sprite tin collection by buying lots, so I had some extras arrive. I'm asking for $11 shipped each to anywhere in the world! ^^ Since I am leaving for a trip soon, I won't be able to ship these out until the first week of November. ;A; I'll let you know though!

To end this post, here's a preview of my collection progress with the dot sprite series~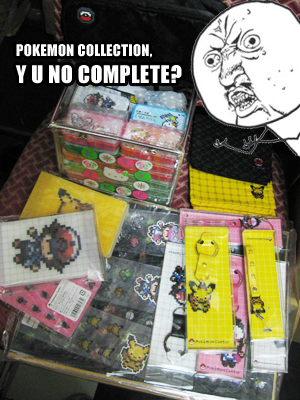 Right when I thought I was almost done, my savings started to cry over the dot sprite series getting a part 2 soon. XD I'm super excited!

Thank you as always, comm~ ♥