Heya community! I have some amazing updates comming your way, with a new re intro, and massive photos! But first I have a lot for sale on ebay:



http://cgi.ebay.com/ws/eBayISAPI.dll?ViewItem&item=280769370736

Pokedolls:
Munchlax
Elekid
Eevee (2007 red tag)
Zorua (minky)
Zoroark (minky)
Jolteon (2007 Red tag)
Flareon (2007 Red tag)

Pokemon Center Plush:

Snivy (American edition)
Deerling Spring (Japanese)
Deerling Summer (Japanese)

Other Plush:

Custom shaymin beanie by draggycat

Figures:

Suicune Tomy mint in package
Eevee chibi stamper
Snivy McDonalds
Tepig McDonalds
Deerling Spring Japanese strap (has shikijika name)
Charizard Bell Keychain
Shaymin Sky keychain
Zoroark McDonalds x2 (one is MIP with Zorua card)
Tomy DX Houndour (is scratched)

**Also a note. I WILL ship internationally, just let me know if you want it. I'd rather not for random ebay people though.

Photos: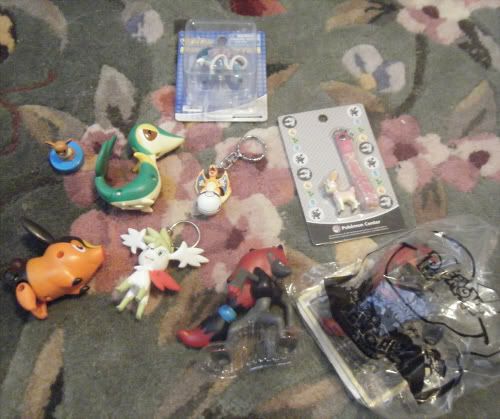 And a teaser for upcoming things ;D

My beloved Umbreons will have a grail joining them soon!




Thanks for looking :D Cant wait for my next post!!