Hello, I came across some Gen V Tomy plush in my local supermarket today and picked some up for you guys. Plus all kids in this post are just $3 (minus p&p ofc).

Click the banner or the cut to take a look!



Sales permission granted by dakajojo on September 3rd 2011


RULES AND POLICIES

- PAYPAL ONLY
- All prices are in US Dollars
- I ship internationally from Ireland via An Post. My shipping prices are for Standard Airmail. If you wish to avail of other services (such as Express or with tracking), just ask, but remember it will cost more.
- My usual mail days are Monday and Wednesday, 90% of the time all orders payed for before I walk out the door will be posted on one of these days.
- I will NOT do business with anyone banned from the Pokémon Collectors community Nor with anyone previously banned from my sales, for whatever reason.
- Please try to keep threads on topic. Excessive spam will be deleted and authors possibly banned.
- Similarly, no time wasters. If you request an item do it because you genuinely want it. I don't want my sales getting clogged with needless strings of requests and backouts.
- Please check below to see if I am currently doing trades/holds. Based on how much I need money I may stop accepting such requests at any time.


Currently accepting holds: Yes, for up to 1 week
Currently accepting trades: Right now the only thing I'm really looking for is the RAICHU KFC FIGURE. If you have this item I'll gladly trade you anything!



**Mint** GEN V Tomy plush: $20 each




All kids here are just $3 each! Please take them away from me! (or 4 for $10!)



Pokedex figures are $5 each (pikachu and meowth are sold)



Bootleg pikachu keychain: $2 (from Portugal)
Chikorita cloth/bandana: $8 OBO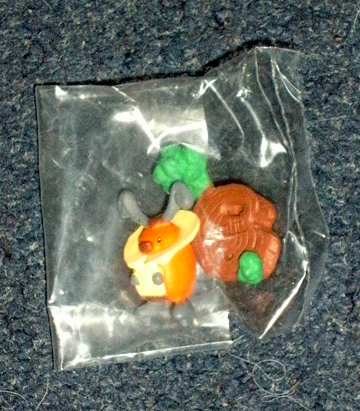 Kricketot mini diorama -thing- is $2


OH and I have to enquire about this guy~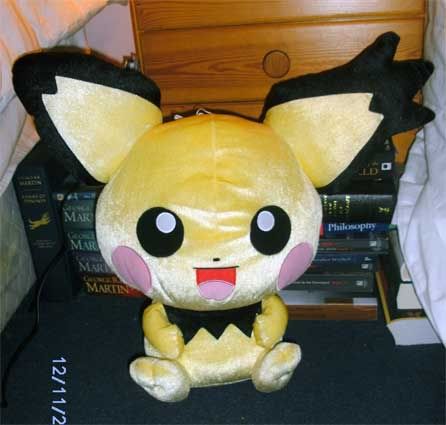 I bought him on impulse a couple of weeks ago and am regretting it. At almost 2ft tall he's just too big for my room! He's made by Banpresto; he has a tush tag, no hang tag and he's in excellent condition. How much might he be worth? Is anyone interested in him?