Hello everyone. Just joined today and I'm loving this community already. I thought I'd introduce myself before engaging in conversation, so people know who I am. Anyways without further ado:

My name's Aaron. I've been an avid Pokemon fan since I was introduced to the franchise in the late 1990's (I believe the year was 1998). I was young and I didn't really understand the meaning of collecting things and usually threw away my things without much of a care, however just recently I've started collecting (March 2011) Pokemon plushies and such. I don't really have a specific thing I collect, so my collection consist of my favorite Pokemon. It's not very big compared to a lot of you, but I think it's a sizable amount.

I started off my Pokemon collecting with the launch of Black and White Tour introduced in North America. My friend has been a lurker regarding plushies and wanted me to snipe her some, so I thought might as well buy some for myself. I went to the tour both days they were hosting it near my area in South California so I managed to get plenty of things (to my standards that is).

I currently own a few Pokemon merchandise I thought I'd share with the community including a Pikachu cup that I haven't seen a lot of:



I bought this Pikachu cup during a trip to Japan with my family in which I believe the year was 2005. It could have been 2006, but I distinctly remember Gale of Darkness just came out for the Gamecube in Japan and Sinnoh was yet to be on Television so it's more likely from 2005.

Day One's results and the start of my collection:



I managed to bring in my results on the second day and this was my total lot for the Black and White Tour:

Excuse my horrible voice and dialogue as this was kind of made for a different audience in mind xfd.

My plushie collection (mainly Pokemon, but mixed with a few others):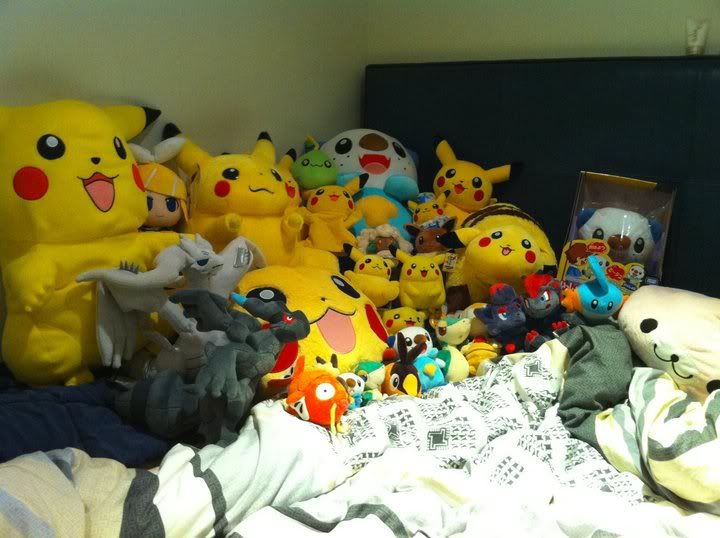 A lot of my plushies came from the Black and White tour in America. Basically the 6 inch start tour plushies, the 10 inch Zekrom, and the 12 inch Reshiram indicate the start of my collection. A lot of the Pikachu plushies, pillows, and etc. were bought by my mother, so I'm not entirely sure of their origin. Everything else mainly came from vendors at Anime conventions I have attended consisting of Pokemon Center Poke' Dolls and little keychains from unknown brands.

I guess this concludes my introduction. I hope to becoming friends with you all and prosper in my Pokemon collection.