Hey, everyone! I am about to put in an order of beads so I figured I would post to see if anyone else was interested in ordering a custom Pokemon sprite from me so I could pick up any necessary beads!

Sprite prices depend on size and complexity, but generally are(Not including shipping/fees):
Small/One Plate: $5-8
Medium/Two Plates: $8-15
Bigger: Depends on what it is!

Please click the link below of my examples!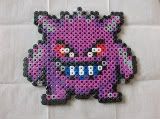 http://s61.photobucket.com/albums/h48/remderosier/Perler%20Bead%20Examples/

Sales permission from dakajojo 12/04/11

(Also, sorry if I've been posting too much lately! ^^;;)