Hi again! Let's try to find these guys new homes! and work on my poketat!




OMG RULES:
*All pkmncollectors rules apply
*Sales permission granted by dakajojo 09/03/11
*Old feedback (here), new feedback (here)
*I ship from California, USA
*Prices DO NOT include shipping/fees
*Once your item leaves my hands to ship, it is no longer my responsibility.
*I will provide a mandatory tracking number for orders over $30 (US only)
*Items come from cat and dog friendly home.
*Haggling is fine!
*Trades are VERY accepted!!!!

-------------------------------------------------------


Wanted Trades: plush, figures, flats, or TCG:
Any Mews
Any Oddish
Any Bellossom
Any Wooper
Customs or art of above pokemon (no sprites plz.)
Or 1st/2nd/3rd gen holiday merch (any holiday)
-------------------------------------------------------





Pikachu Banpresto Plush (left) $10
Pikachu Fuzzy-Wuzzy Purse $15
Pikachu tiny probably bootie and a little scuffed figures: free with either Pika Plush or $3 for the lot



Igglybuff larger $10 sold
Igglybuff smaller $6
Chansey friends (???) $8 sold
Chansey rev. pokeball $5 sold
Clefable friends $10 sold
Cleffa figure $6
Happiny Canvas $30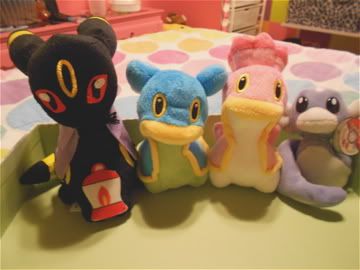 Umbreon (possible reject, don't know! looks fine, but got for a fair price, that's why I question it) $15
Shellos East and West $12 for both
Dratini KFC MWT $25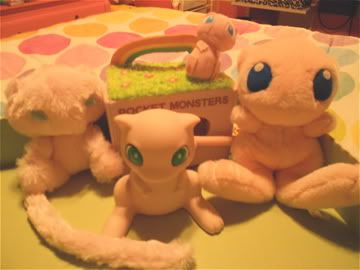 Custom Fuzzy Mew (made by DA mysteriousmage) $15
Mew green eyed bank $20
Mew tissue holder $15
Mew w/navy blue eyes $25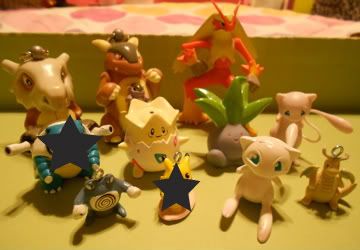 Back row $5 ea.
Middle row $3 ea.
Front row $2 ea (Dragonite is $5)
*Blastoise and Surfing Chu sold



PINK THINGS OMG
I dunno, offers? (looking to get at least $3 ea.)
*all Chanseys sold



Lucario Stylus $10
Pikachu Stylus $10
McD's Zekrom $5
Deoxys mini Pez dispensers: $8 ea.
Deoxys gachapon strap: $3
Teenytiny Meowth: $1




Pokeballs $3
Pikachu (has green mark on leg? wtf? will probably come off w/ magic eraser) $3
Eevee $15
Charmander $10
Jynx $5


Remember, I love trades!!! And will probably accept a little haggling ;)

And I still have lots of Gen 1 base/fossil/jungle cards in my normal sales (here) and some manga and flats (here).
Thanks guys!