A blatant reminder: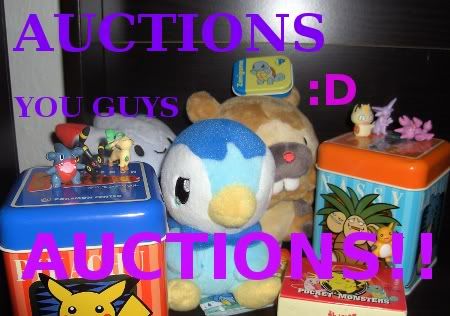 My auctions for the featured items end in less than 26 hours from now! So get your bids in now if you don't want to miss out!

Sure would suck to miss out, wouldn't it? Sure, at first you probably wouldn't mind. "I didn't have the funds", "I'll find those items on my own eventually", "I don't collect those Pokémon".
But you know deep down, it's a lie. Day after day you'll mentally kick yourself for missing out. Maybe you'll find comfort in wearing heavy makeup to compensate for the empty feeling of not getting the item you missed out on. Your taste in clothing, style, music and food will drastically change. All care for the world dwindles in. You'll start to think the world is boring and redundant, there's nothing exciting anymore.
Eventually, you're reduced to spend the days laying in fetal position on your bed, writing "forever alone" on the wall while listening to Justin Bieber.

Is that what you want? IS IT?!

THEN GOOD LORD, HURRY AND BID ALREADY!

While I have your attention, please do go ahead and take a look at what I've accumulated this past year. Mind you I didn't bother to dig out my cards and most flats because deep down, I'm a very lazy person.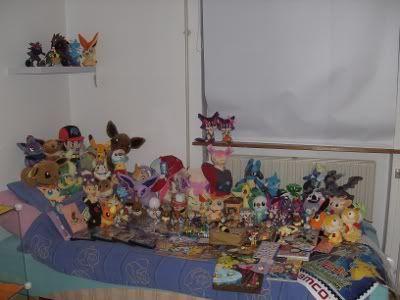 The photos behind the cut have a dimension of 800x600. For best viewing of details without getting *too* overboard.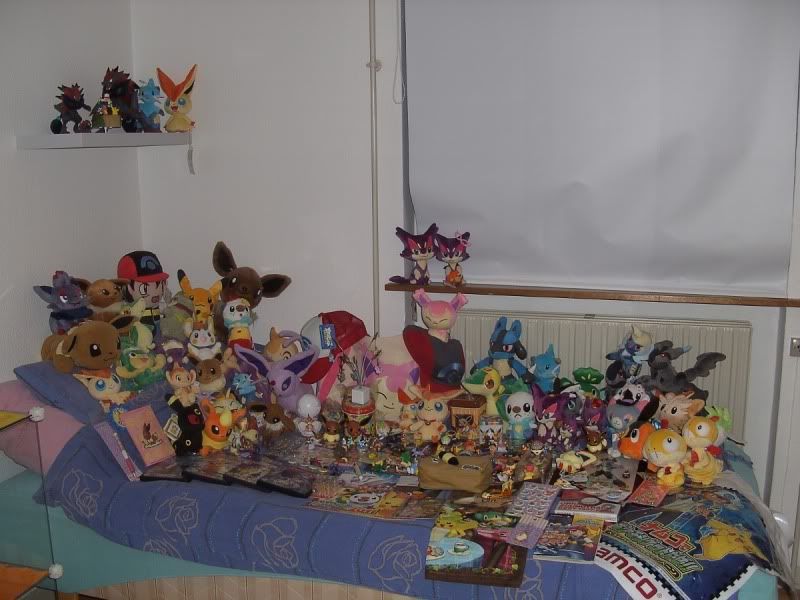 My poor bed has been taken over!
After I found all those things, I REALLY hated myself for starting this project shortly before bedtime.

Some (read: many) close-ups: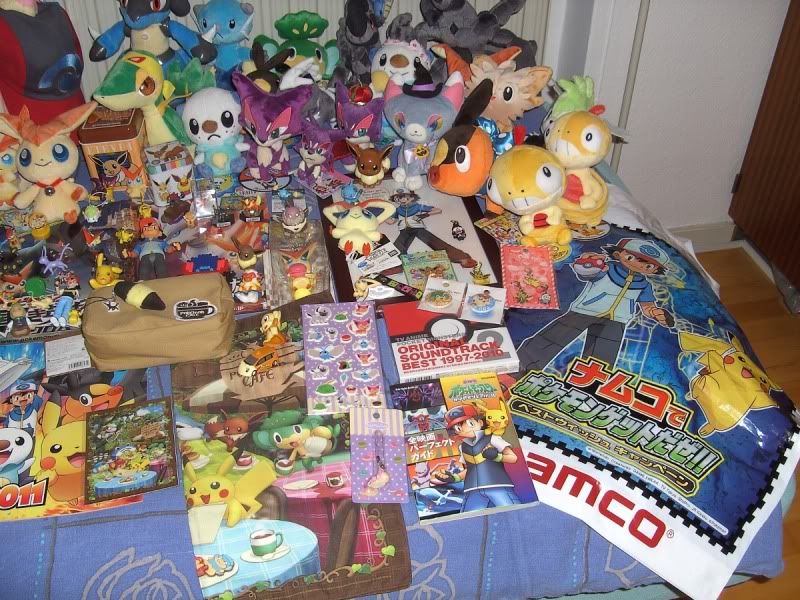 Good luck spotting everything!




I think even Waldo would say "Woah now"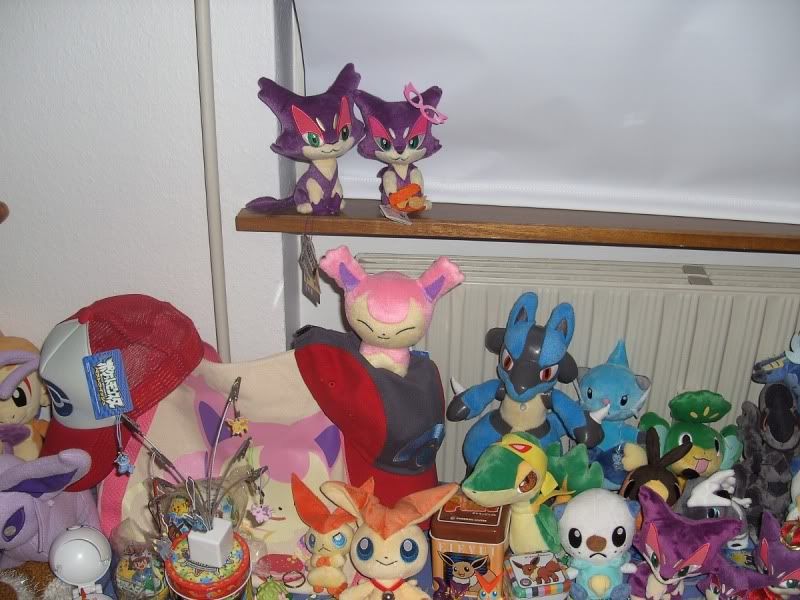 Kitties belong on the windowsill. It's an unwritten rule among them.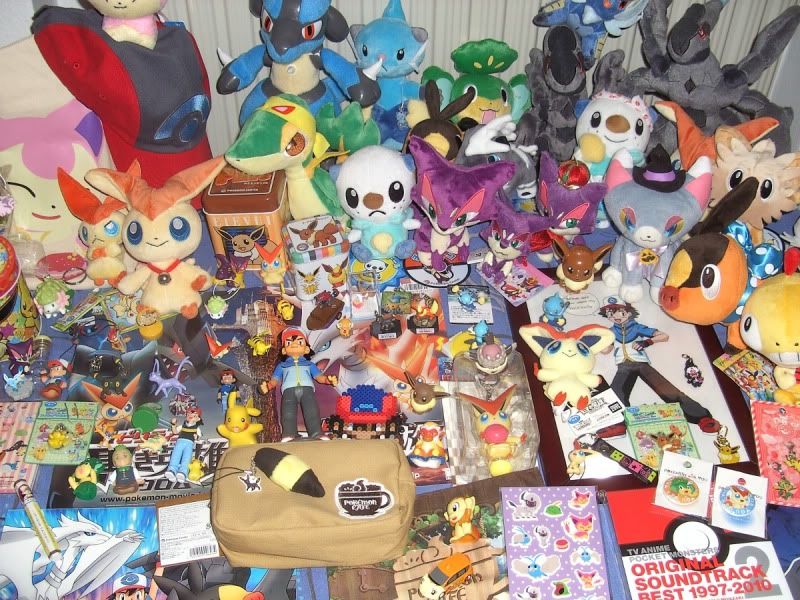 BAM!




Try and count how many things there are.




Sooooo much stuff.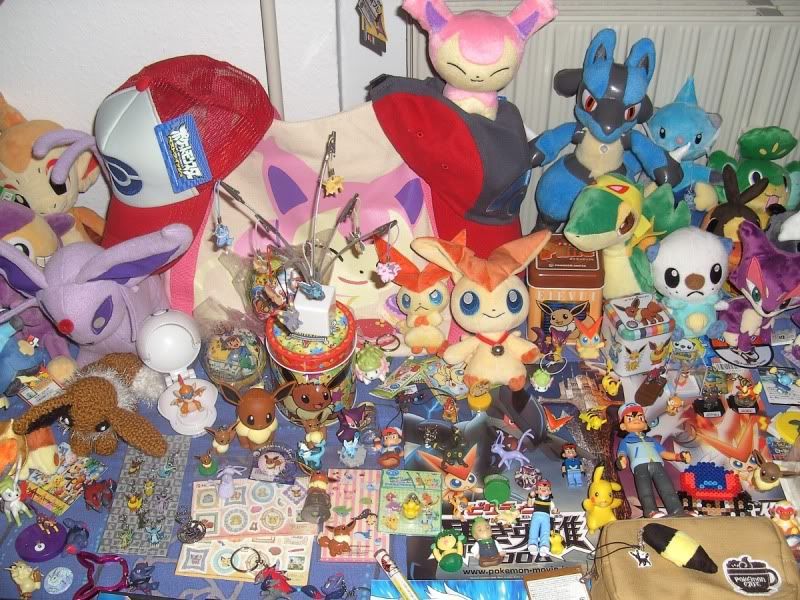 If you count the items, I'll count the money I've spent :D
[/lie]




It's hard to think of more stuff to write.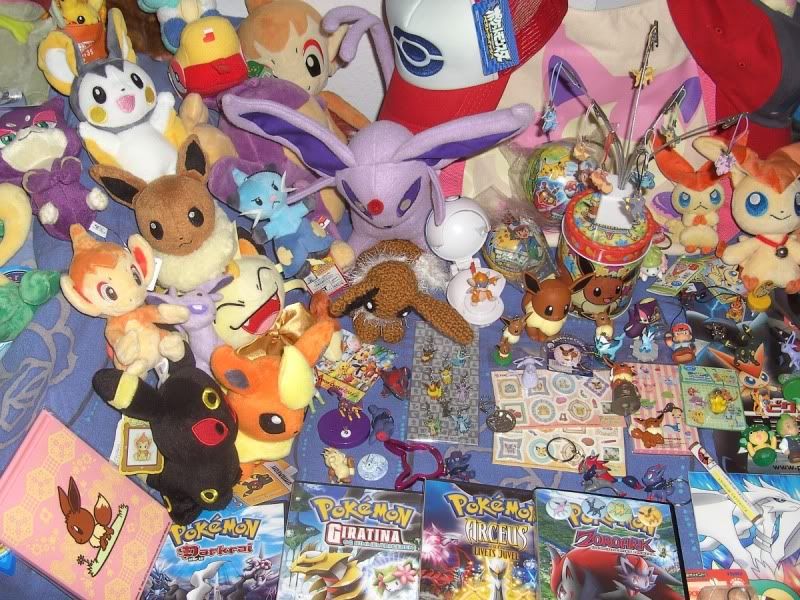 PAY ATTENTION TO THE ESPEON AND EEVEE CUSTOM PLUSHIES
THEY ARE AWESOME AND AMAZING
Thanks blackdog333 and Kassia9 for the Espeon and Eevee respectively :D
YOU'VE GOT SOME MAD SKILLS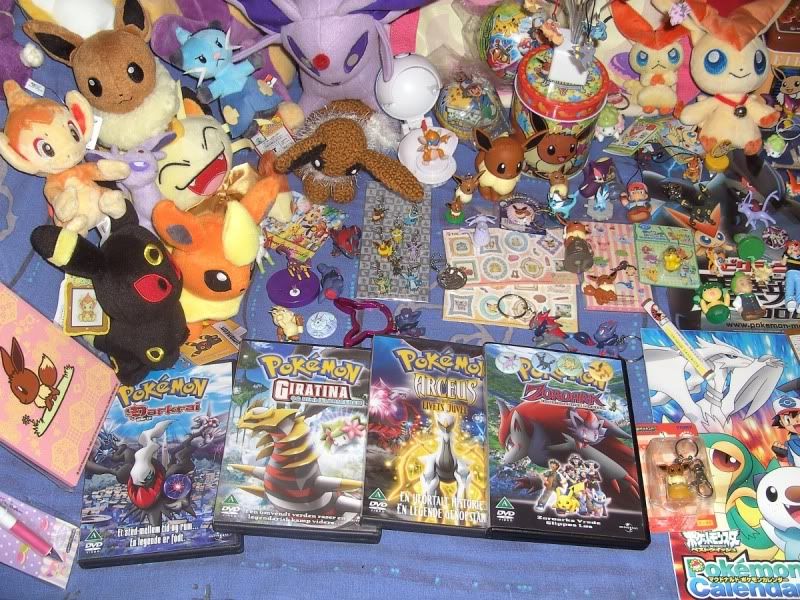 MAD SKILLS I SAY

Also, Danish DVD's. ahahaha, why do I buy them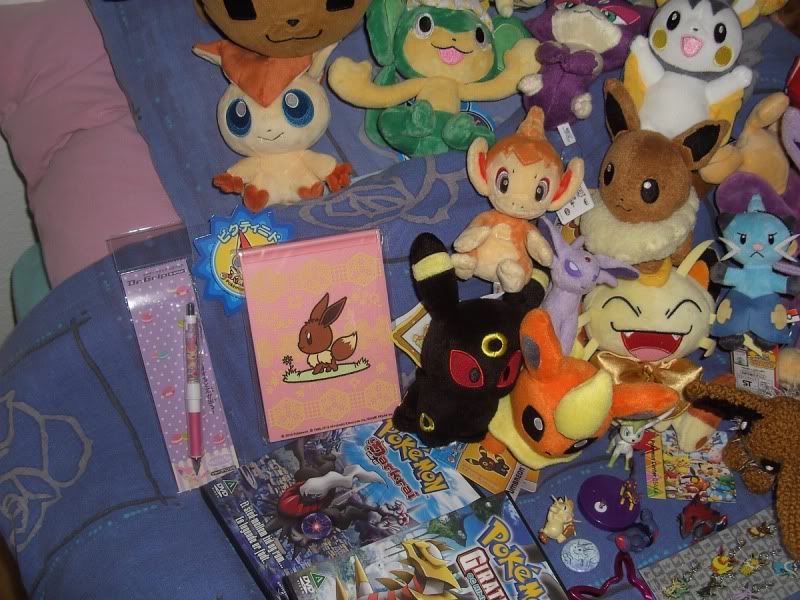 Oh hey, Eevee mirror! Much bigger than I first thought!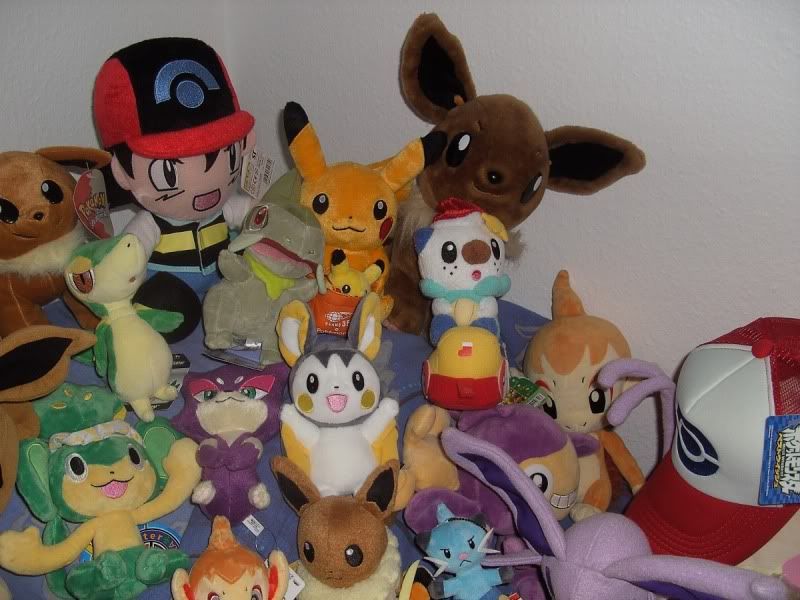 Dewott is staring into your soul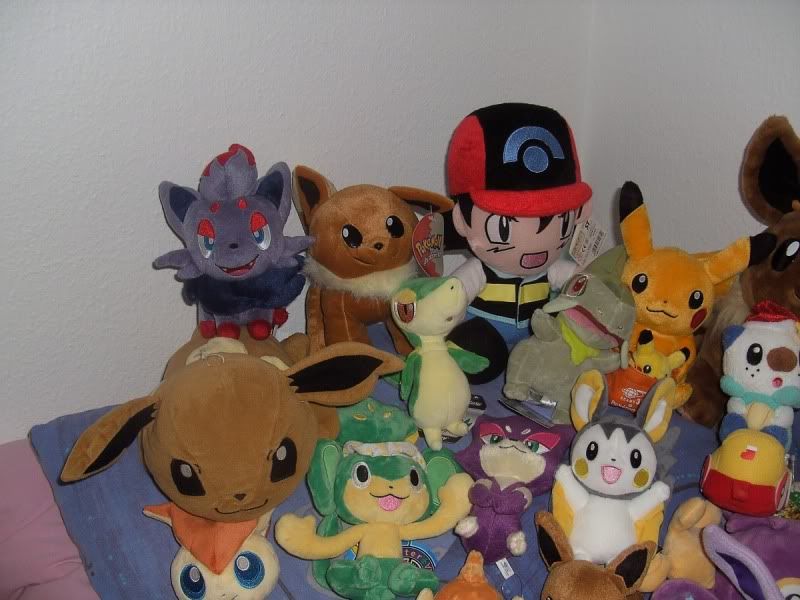 And I got the laying Eevee I've wanted for so long! So happy - anyone else try to let laying plushies rest on your head?

PLEASE don't tell me I'm the only one ._.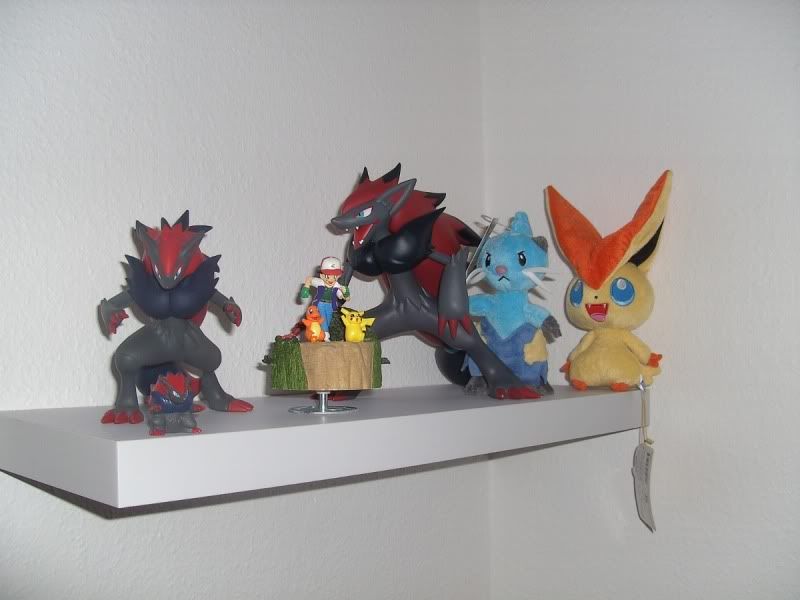 Epic gets on a shelf!

That should be a new saying. "HOLY EPIC GETS ON A SHELF! THAT'S AMAZING!"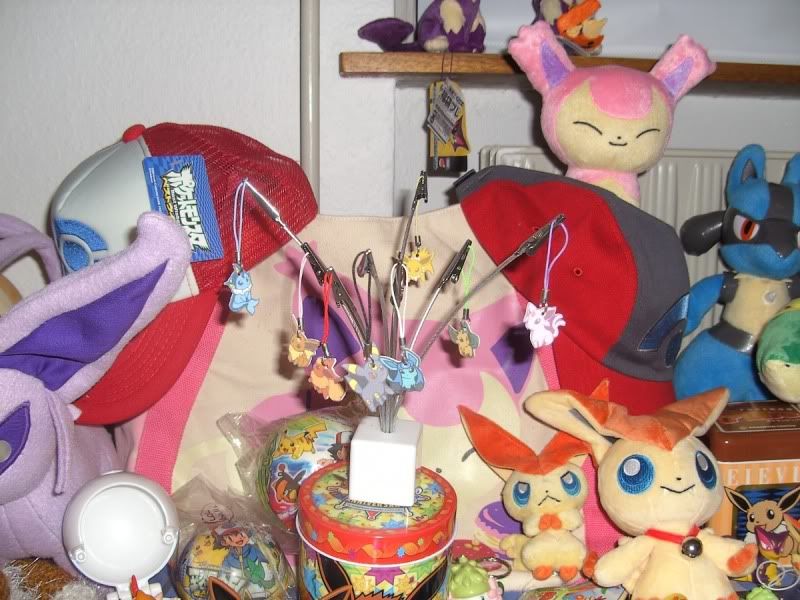 These charms are made by Hazuza. I decided this was the best way to display them all.

Normally they're on my glass shelf beside my bed: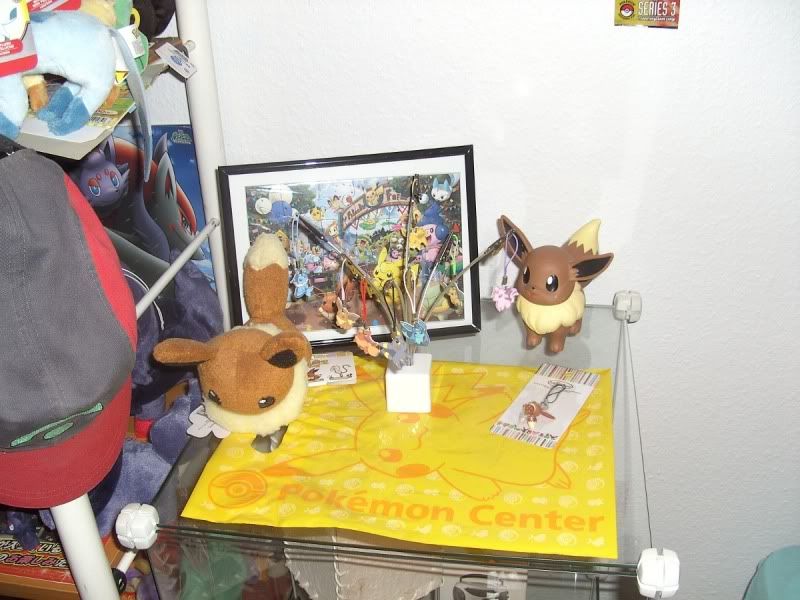 A very Eevee-rific setting.

After taking all these photos I realized I forgot to include some of my monkeys! Doooohhhhh.

So here they are instead!




MOAR MONFERNO PLUSH >:U

I'm sure some of you are thinking "Gee Chatsy, how on earth could you remember all the stuff you've bought this past year?".

Well, little Jimmy, it's because I keep a list of my purchases, including whom I've bought it from, mark when I've paid for them, mark when they've been shipped (if I'm informed) and then sign them when they've arrived. Being a shopping-maniac like I am, I can easily have 10+ packages on the way so this is a very easy way to keep track. Although, being secretly lazy, I never delete my purchases in the document which came to my advantage now - so I printed out my looooong list and starting finding everything.




FOUR PAGES, PEOPLE

FOUR PAGES

Anyway, special feature of this update: Pokémon Center exclusive plush!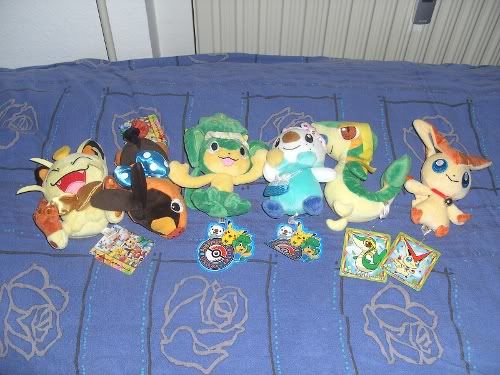 It wasn't my intention but I have all of them EXCEPT for the Pikachu's XD Whoops!

Instead I've completed my set of Unova starters!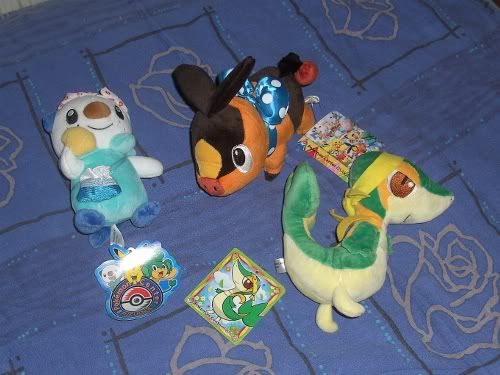 Most special set of starters eeeveeeeerrrrr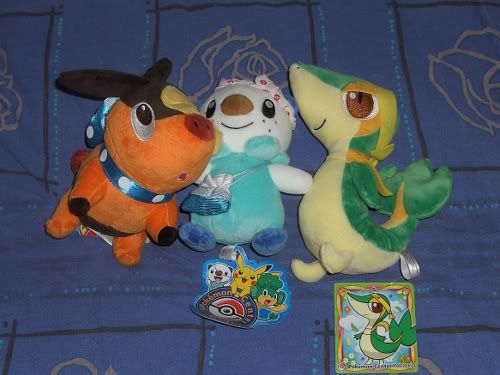 YEAH!!



Thanks for watching! ♥