I'm new to the community as I just joined yesterday =] I normally go by Karma online but you can also call me by my real name too, which is Danni. I'll be turning 20 in february and I live in the UK =D
I've loved Pokemon ever since I was a kid mostly because of the merchandise you could buy and the movies/tv series. I didn't start playing the games though till SoulSliver came out >< But I was instantly addicted, especially with Black XD
I joined the community not just to help my collection grow but to also meet wonderful people such as yourselves you share the same interest as me. I'm new at "officially" collecting so my main target pokemon havn't got much in them yet.

My favourites tend to lead more towards electrics and fire types. But as you can guess by my username I'll definitly be collecting Joltik and Galvantula. Other pokemon I'm hoping to collecting is the Deino line as well as various items for the Cyndaquil evolutions, Growlithe/Arcanine, Blitzle/Zebstrika and a few other favs on the way. As well as trying to maybe get some eeveelutions and the legendary beast merchandise, though it will be few, I really want to try and fully collect the Muskedeers!!!. I think their new plushes that are coming out is what did it for me XD

Ok now that I've bored you with that long introduction, I'll get to the interesting part.... My collection!.... Or the tiny amount of stuff I have so far anyway XD

Warning! It's pretty long!


I'll start with the desk part of my room. I don't have any proper collections at the moment, so excuse the randomness of it all XD




Just lots of figures and deck boxes here really =/ With my more fav pokemon at the front.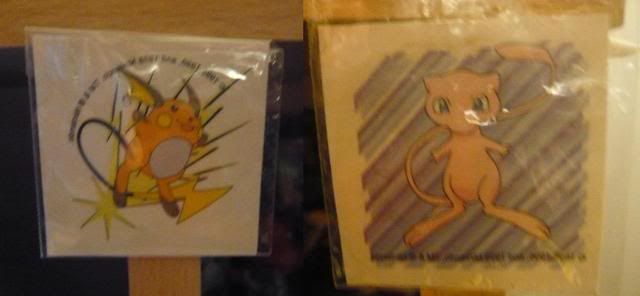 As they were cut off I took individual photos of what I have stuck either side of this bit of my collection. Which can sort of be seen in the previous photo. Their transfer tattoos of Raichu and Mew that I got as a kid from the dentist for having sparkly teeth =D




Here I have my small starter area with some lovely chess peices. I really want to get more of these guys as I think their so nicely sculpted. Also my only zukan, which I love <3 Along with an awesome luxray kid who was a gift from a friend and my very loved jolteon tomy is there too.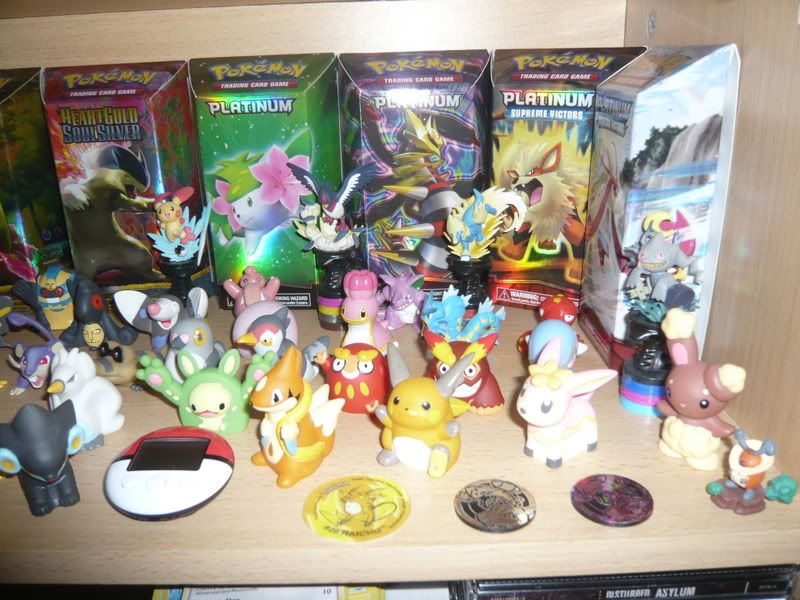 Other half of it which contains some of my other fav pokemon, including floatzel and raichu. I think the banette chess is my fav of them all so far. So detailed!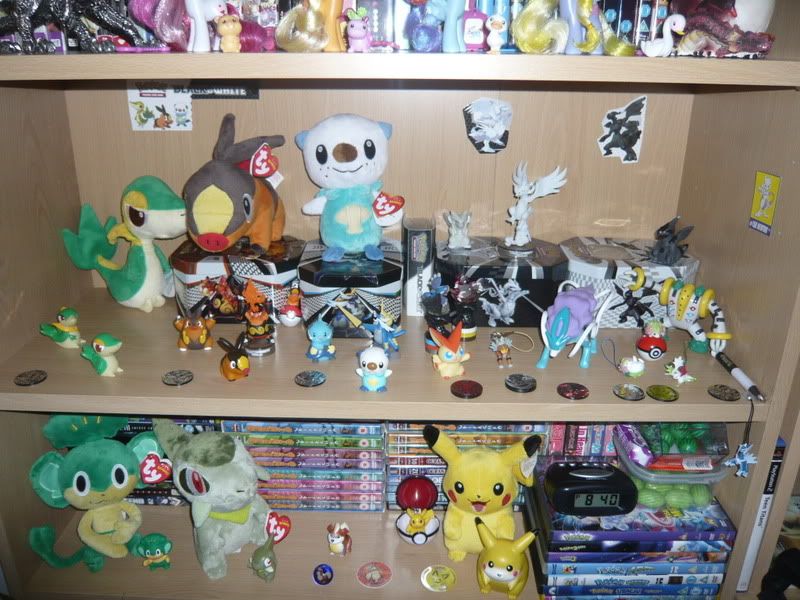 Onto my bookshelves =D




Half of the TY's that came out in the UK along with their kids and other figures. They sold out so quickly in the supermarket called Tesco's that I never thought I'd get all 6 ;w; But luckily I have one of those unique department stores where they still have tonnes in stock. Was shocked to see them there.
With them is my measly growlithe collection so far >< I really want to get his canvas, charms and the arcanine tomy. Then maybe I can add the other Arcanine things I have with them~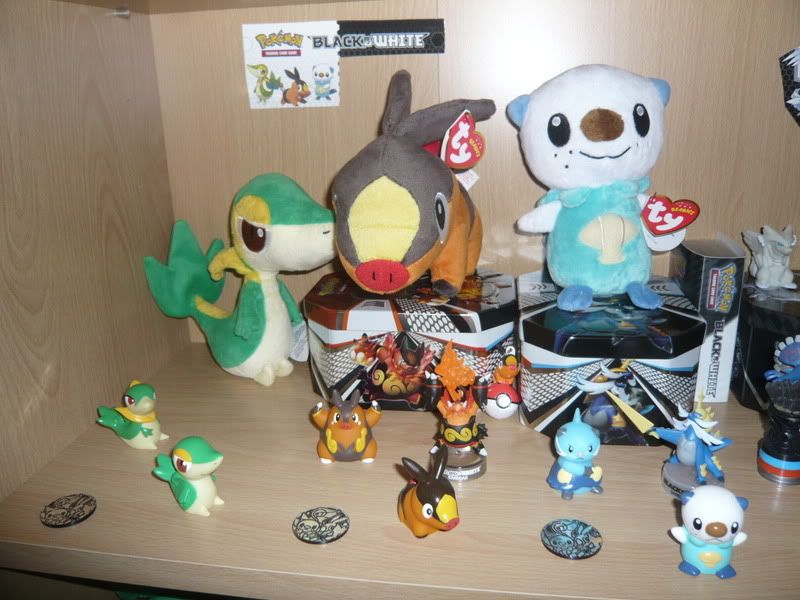 Above them we have the small Unova starter area =D As you can see I'm still missing the serperior tin but he shall come =] Also planning to get the Super Pack sets of all 3 so I can get their first evo figures.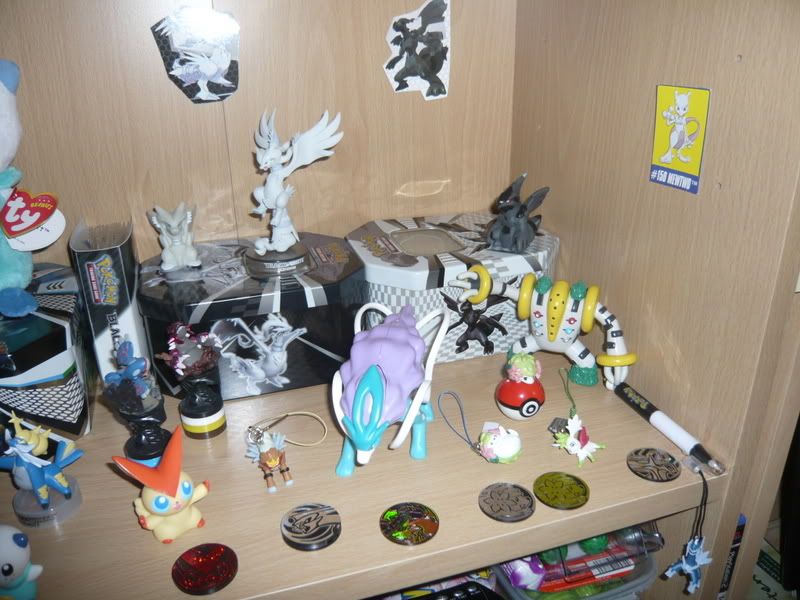 Here we have all the legendaries. Suicune will of course join his brothers when I get them >< And I still need to get Zekrom's figure to go with Reshi's.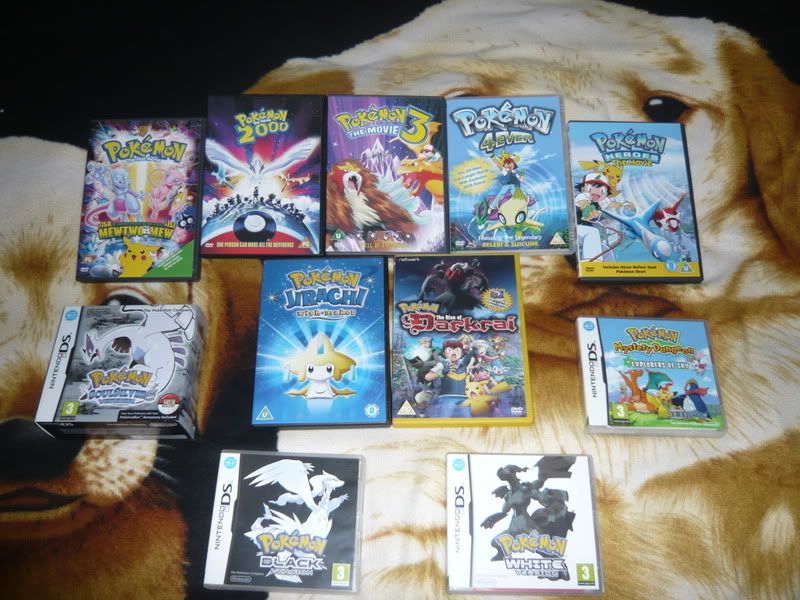 All the DVD's and games I have. Planning on getting HeartGold also. And as far as the UK goes I'm still missing 3 movies (Just hope amazon isnt lying when it says giratinas and arceus' movies have been released here ><).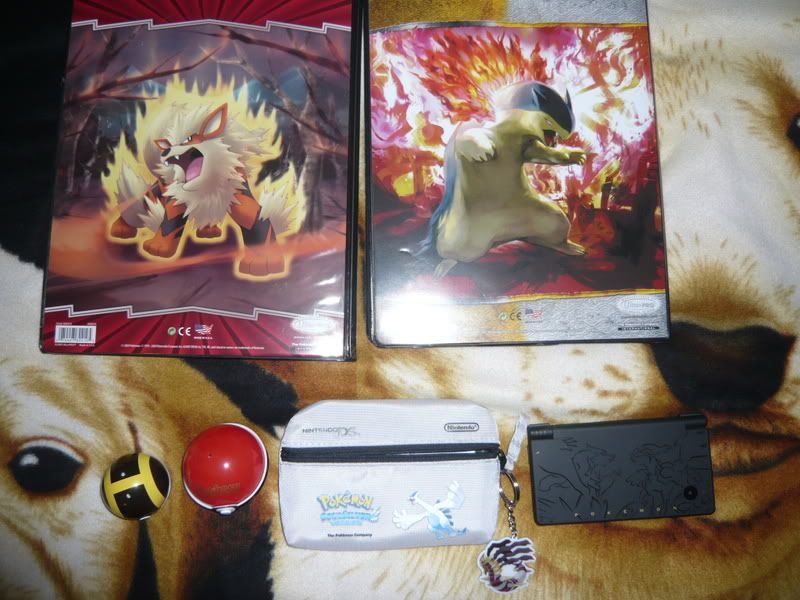 My two card folders which are full. My DS along with its SoulSilver preorder case and the nintendo rewards Platinum version Giratina keyring. And some pokeballs too of course XD




Pikachu DSi charger stand, legendary beasts and zoroark bag, pokedex book and poster. Oh and a year 2000 calender. If you want to see pics of the inside, just ask =] Even if it's for a specific pokemon!




Card playing mat along with a magazine, sticker book and japanese colouring book. Burger king toys, booster pack foil cases and two pikachu game systems (Can't remember what their called ><) and box!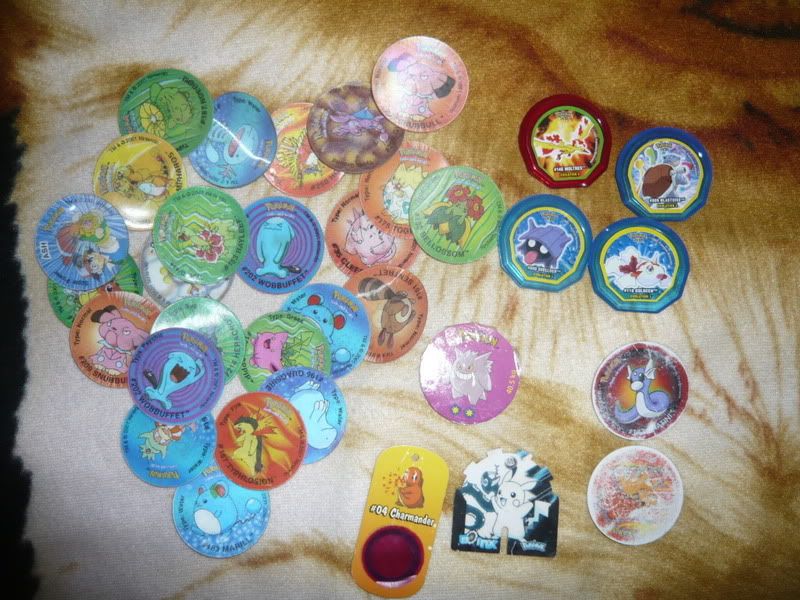 Tazo's and other round things.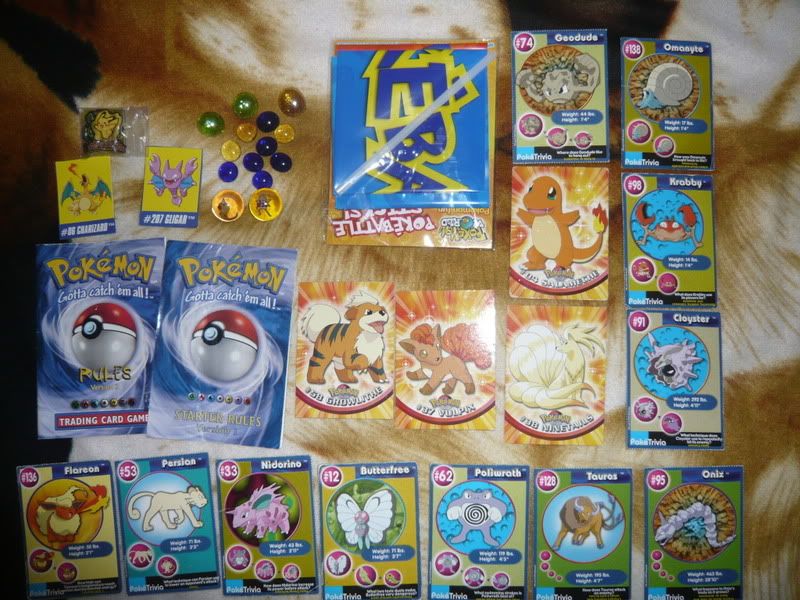 Flat's and other random things~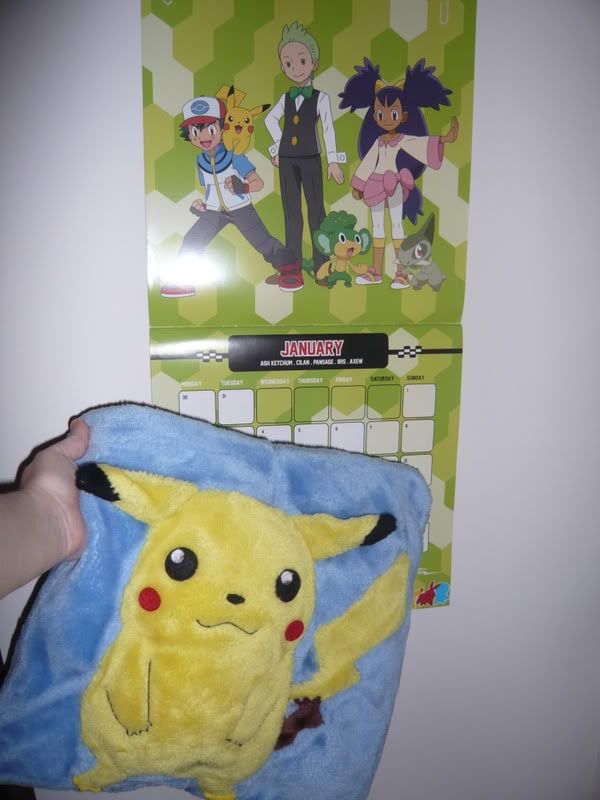 Pikachu pillow and 2011 calender. Excuse the hand, it was the only way I could show the calender at the same time XD I look so pale in it ><


Now for something I thought was quiet interesting when my mum brought it home from work with her. So back when Black and White was first coming out other here we actually for once had billboards with pokemon on it announcing it as well as in those movable billboard things. They even had it in a local newspaper which I cut and and kept and thought you guys might like to see it too =]



Complete first for us lol

Then not sure if you want to see this but I guess it can be added. Just ignore my rubbish crafting skills lol




Luxray <3
I made this a couple of years ago so it's a little old now XD


And that's it. So sorry it's so long ;; I wouldn't blame you if you only looked at the pics XD But a cookie for those who did <3
Guess I'm a little excited to finally be on here!!

Last of all I was wondering if anyone could answer a few questions of mine. If you could thankyou so much your too kind =)
-First is about paypal. I really want to buy from you lovely people but I've never used it directly to send to adress. I've been looking at some of its functions but I was wondering if someone could be kind enough to maybe PM me and give me a little run down on it and which option is best to use when sending others money. I'd be so grateful in advance =)
-Second is about ebay sellers. Is there a list anyone somone knows of that tells us who sells booties etc as I'm kinda paranoid about ebay with that lol Also has anyone ever brought from the following buyers and gotten really good service and know they are legit: mina-green2008, poly_100, magbshoop, animeraro_com (I think this one might be)

If you answer those questions thanks so much in advance <3
I'm still organising my wants list so I won't spam you with that till at least a month's gone by lol
Though I can easily say I'm bummed that I missed that lovely halloween promo. Baby joltik will one day be in my arms soon ;w;

I hope I didn't do anything against the rules, if I did just say and I'll sort it out =) Thankyou for reading and I hope to get to know all you wonderful people in the future and thanks for having me ^^