So i've finally got into gear to do a collection update due to the fact one of my Longest wanted grails has arrived! and also i've been on the comm for over a year now!! So i've gone and takes photos of everything i consider part of my collections!

Reintro: My name is Spideyroxas! But people can call me Spidey! I'm a 21 year old (soon to be 22) guy! who works full time in a boring ass job, I love collecting, it's a great hobby! I collect alot more than just Pokemon, Like Resident Evil, Dragonball Z, One Piece, Kingdom Hearts, Final Fantasy & Video games/Video Game Merch. I'm a very easy going guy most of the time so i enjoy talking and chatting to other collectors alot! I live with my partner who couldn't care less about Pokemon or collecting XDD but he doesn't mind me collecting, which is good! I even use the spare room as my collection room =P, but enough about me now onto my collection... WARNING There's alot of images! so it's not for the Faint of heart/People With Heart conditions/Pregnant women/Pansies...

Teaser!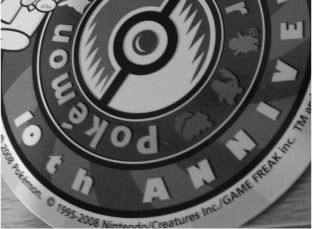 So i'll start off with my main collections first! Starting with my favourite of all! My Cyndaquil line collection!

1st up though! Is my Grail update! which is this little guy! I've wanted one for ages.. and i know one was auctioned off on the comm awhile back.. but it's condition wasn't what i was after.. and then it was claimed in a GA so i didn't get a chance to bid, but then
oi_m posted a GA lot which included him! Which i co-hosted! It was so lovely having to not Battle for him! and he's in mint condition!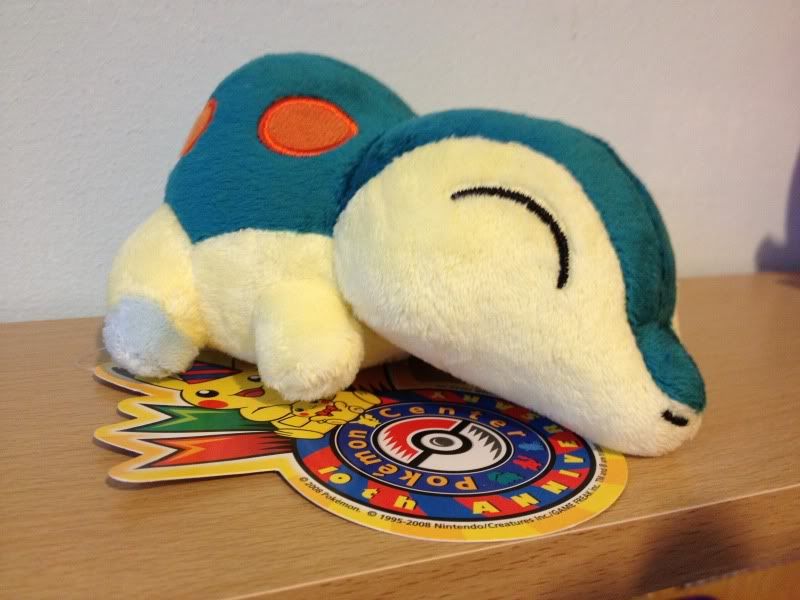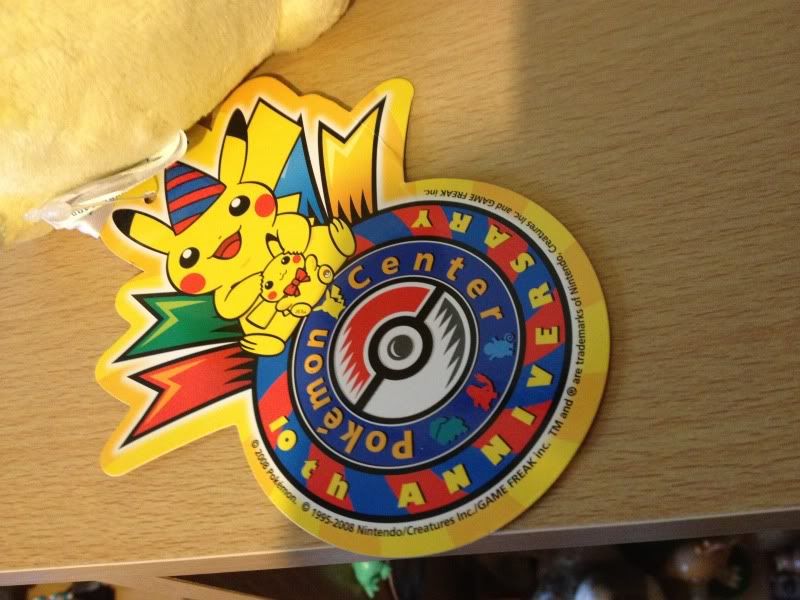 One of the cutest tags ever <3 So happy!! Minky goodness ;___;

Now onto my Cyndaquil collection, It's been moved about since my last update! and now sits nicely inside my new bookshelf! The only things that don't fit are larger plush like both DX banptesto, 1:1 Cyndaquil & Talky Takara Tomy!


Here it is together! (Some of the plush like Super Pose Banpresto are buried under the others ;__; oh well XDD all my favourites are on top)


Plush pile! and various figures/Flats! I adore my Pokedolls <3 i want to try and get every year of release, The Walky & My custom Typhlosion <3 super cute! Favourite figures are the Zukan & Charabottlin'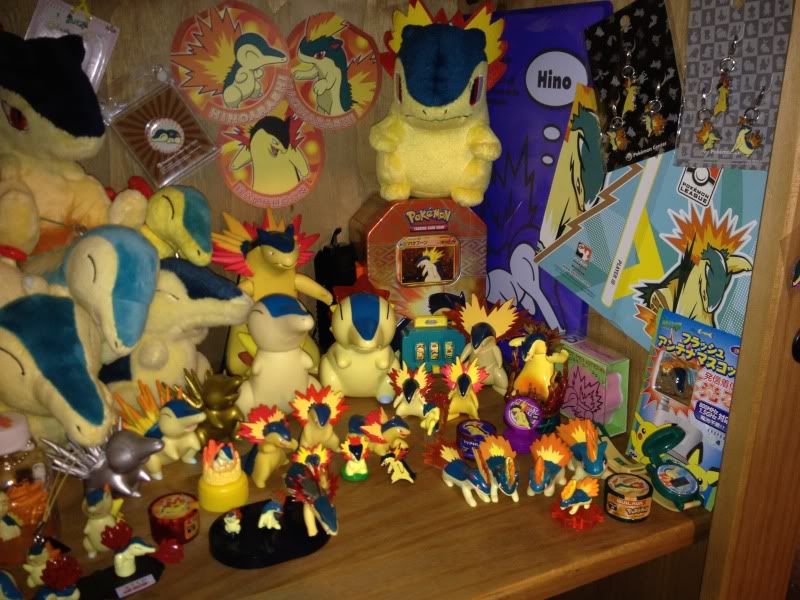 Other side of the shelf! I love my Pokedoll Pin badge so hard! & my Clearfile (Which i've found its matching Mug on Y!J which i won ;___;)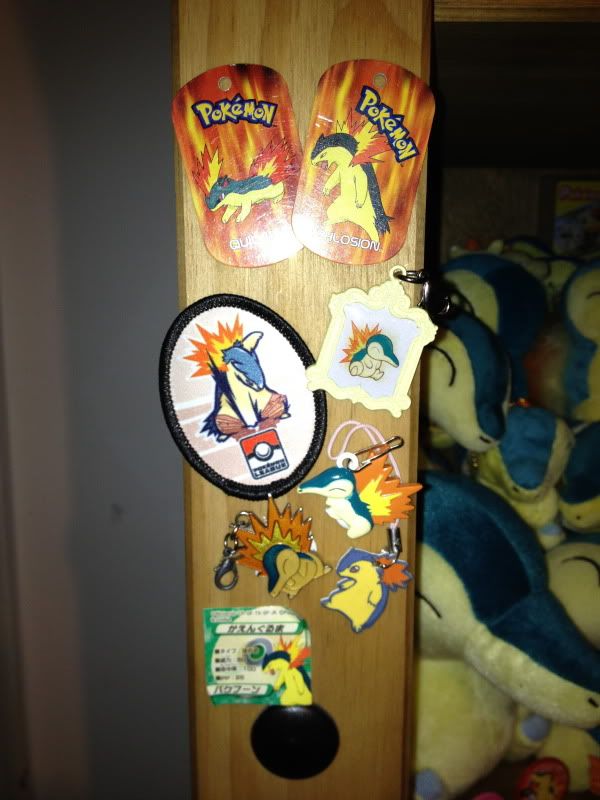 These are stuck to the sides around the shelf! I love the Canvas Charm! & my random other stuff!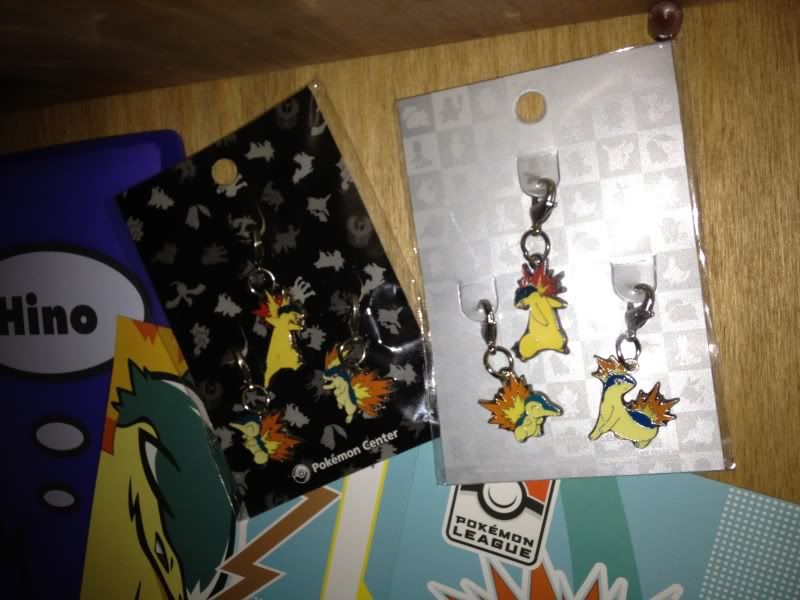 Another thing that make me happy is i finally got my 2011 charms! They look so cool next to my Johto dex charms! LOVE!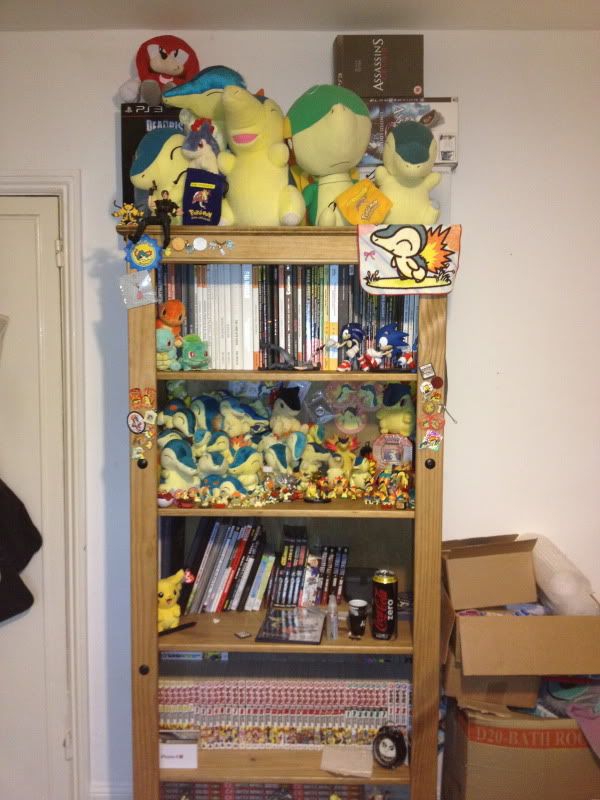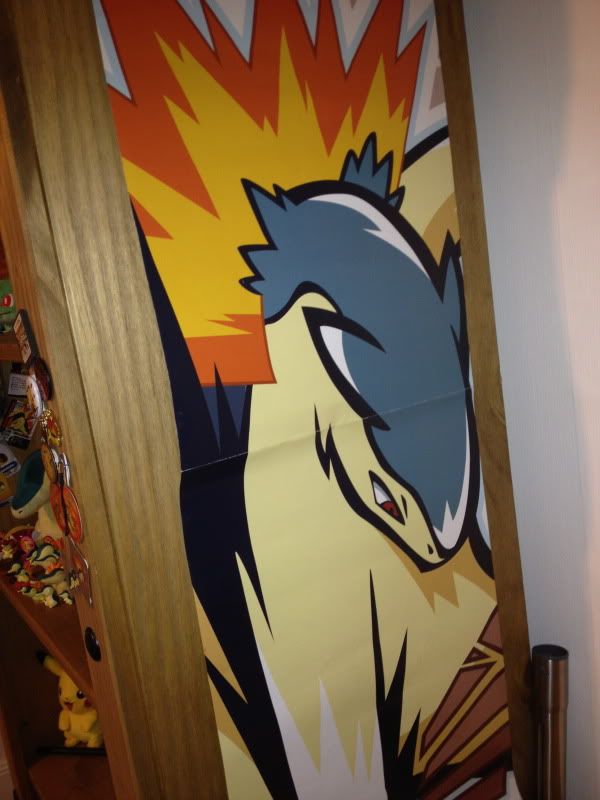 Here's what my bookself actually looks like! You can see my larger Cyndaquil Plush & Walky Washcloth now hanging at the top! My Typhlosion league poster hangs at the side next to the Boxes of junk that need to be sorted...

That's my Cyndaquil collection! Which is my main collection! I'm ALWAYS after Cyndaquil line stuff i dont have! I'd also love if someone would sell me Cyndaquil Pokemon Time Merch... Like the Strap/Clearfile/Notebook ;___;

Next Up! My Hitmonlee & Hitmonchan Collection! Which is my other Main collection! i Love them nearly as much as Cyndas!!


Gah! I love them so hard! I'll need a bigger shelf for them soon.. as they're starting to over flow alot.. Hitmonlee stuff takes up loads of room due to his legs.. I was also a tad disappointed with their 2011 dex Charms.. as only Hitmonlee was different =<


Hitmonlee <3 my favourite Kanto Pokemon! My favourite items are obviously My Hitmonlee Custom Pokedoll! & the Zukan!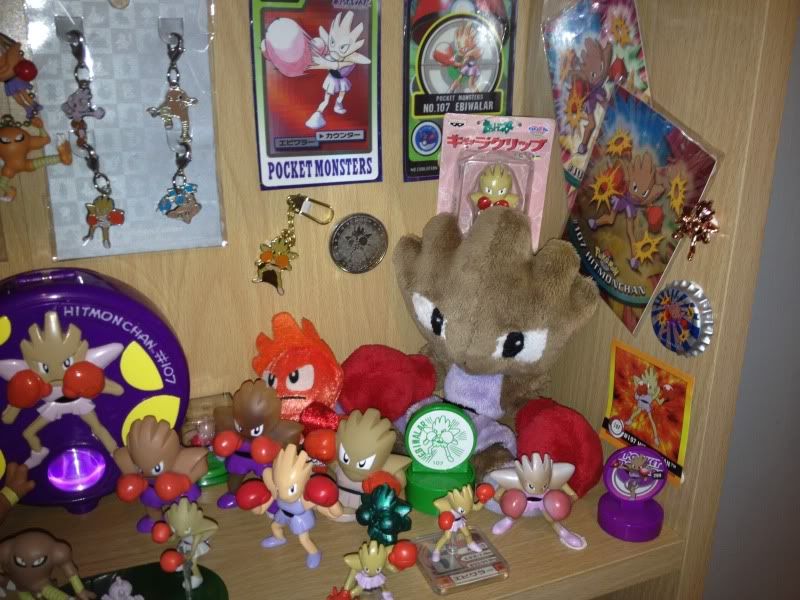 Hitmonchan side! My favourites are the BELL PLUSH <33333 & Custom Pokedoll XDD He's so adorable!! whats not to love! I also have his Play-by-Play plush, but he's far to big (and ugly) to fit.

Next Up my Side Collections! Which consist of The Magmar Line, Electabuzz Line (Including Lt.Surge) Sawk & Throh, Hitmontop & Tyrogue, Fighting Type Pokemon in General & Eeveelutions!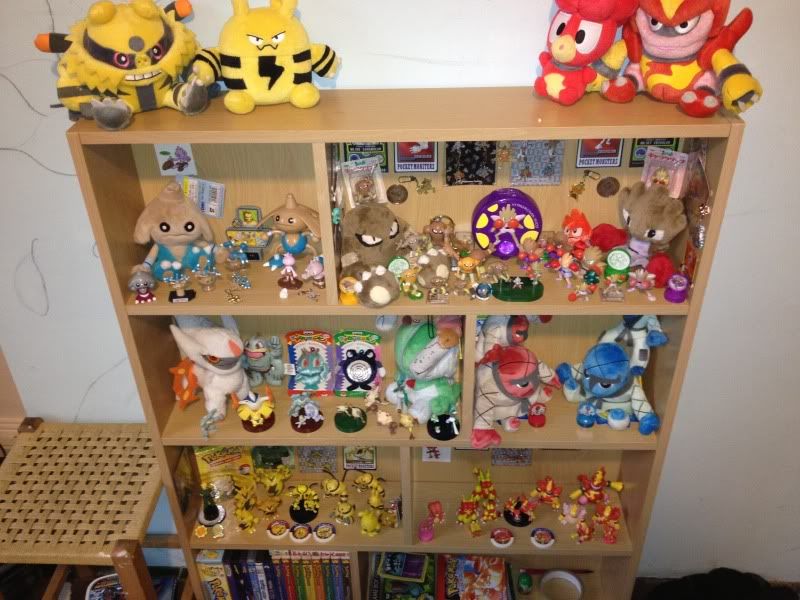 Here's my sides bookshelf (Besides Lee/Chan)! Vees are also located elsewhere! which i'll show later in the post!


Magmar Line <3 i love their Duckie Lips! I adore my Shiny Magmortar kid! and their Charms <3 Magby Pokedoll also!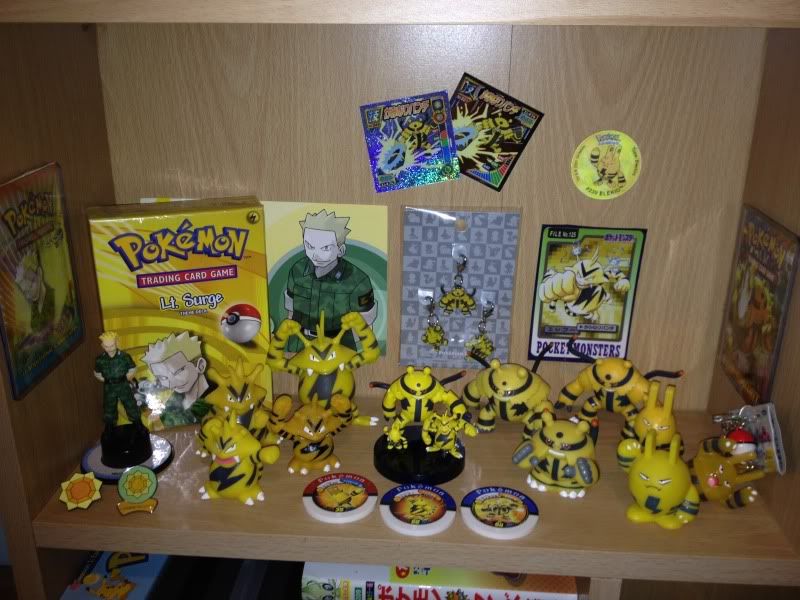 Electabuzz Line & Surge!, Surge is my favourite Gym Leader! And im so happy i got his TFG & Sealed Starter Deck (I have a Sealed Japanese one on the way from Japan too!) I also love their charms! Im obsessed with them atm XD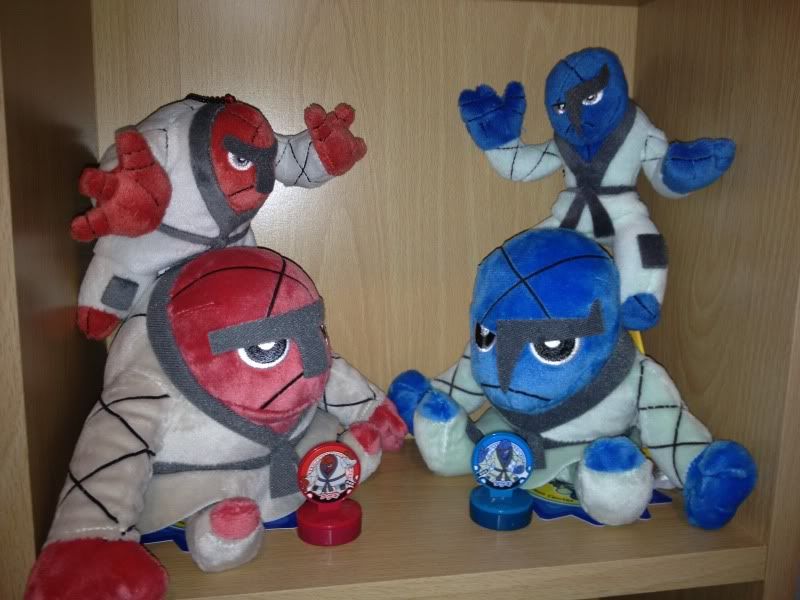 Burt & Ernie <3 Not much for these guys yet! (As there's hardly any merch!) but i have a mini stamper coming! Their plush are so cute <33 Grumpy Muppets FTW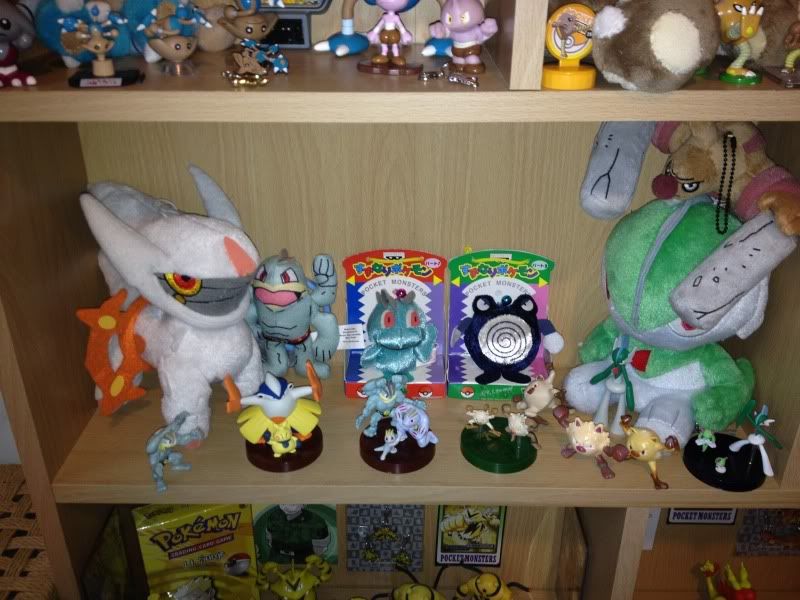 FIGHTING TYPES! I don't have much for these guys yet as it's more a general collection i get stuff for when i feel like i like something.. The Machamp Zukan though OMG so perfect! & the Bell Plush AHHH <33333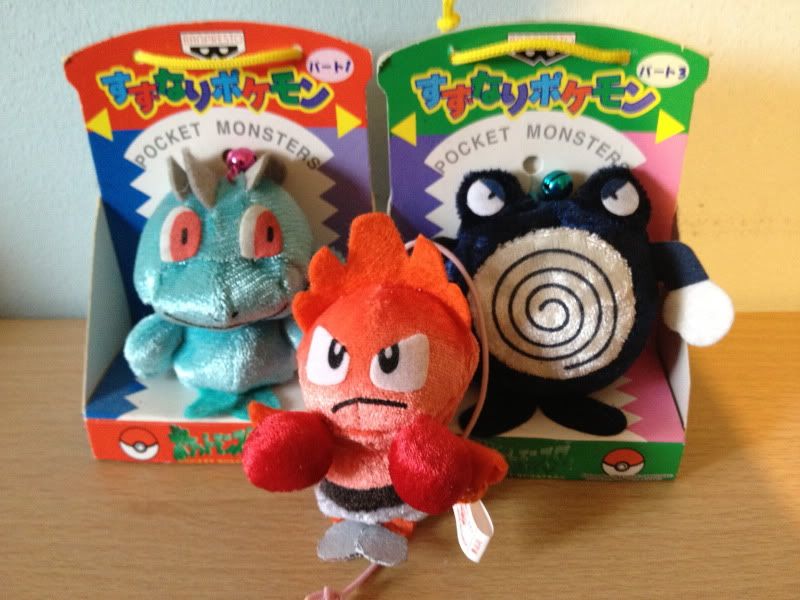 TRIVIA! There's only 3 Fighting type bell plush! and i have all three <33


Veelutions! I decided to only collect the Canvas, Minky Pokedolls, Jakks figures & Zukan.. now all i need is two Zukan!


Dat Zukan <3 Perfect isn't the correct word to describe it.. it's beyond perfection! All the plush! and the 1st Gen Jakks are the best of them all!


The other side! Umbreon's plush are my favourite! and Leafeons Pokedoll <33 But the Jakks figures... URGH! Ugly isn't the word..

And now just some other random Plush, My toy hammock! and some others!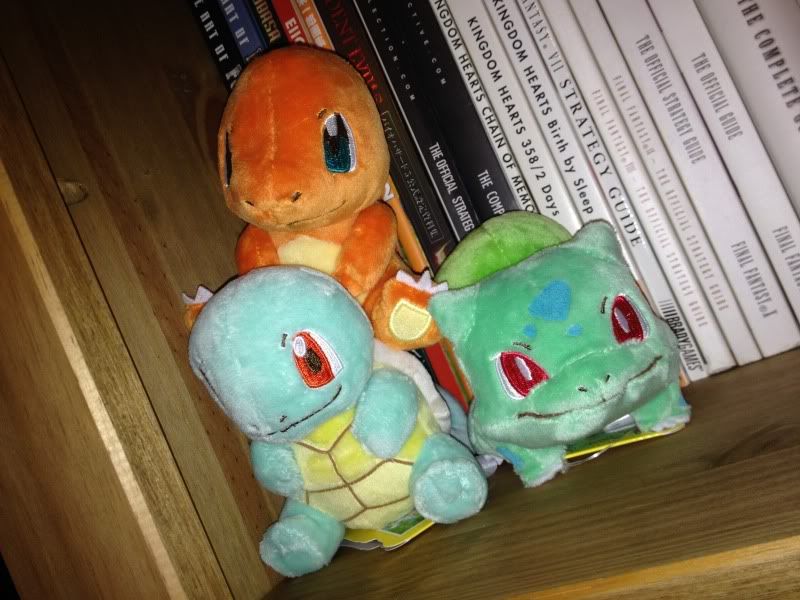 I just couldn't resist these.. Kanto starters have always been my favourite SET, Cyndaquil is my favourite starter, But i'm not to fond of the other two, while i love all 3 of these! The hardest choice i ever had to make was at the start of Red for the 1st time...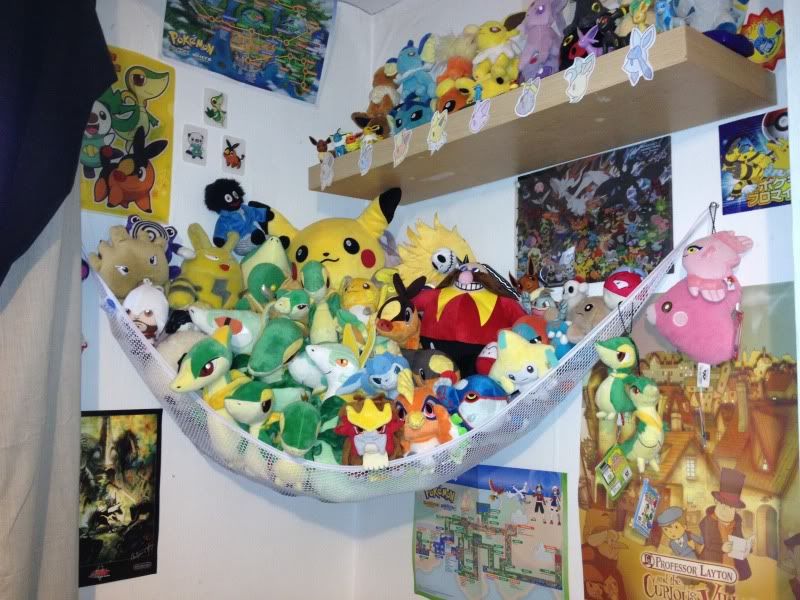 Toy Hammock! that holds most of my Snivy Plush (I only get plush of that line!) Ignore the Dr.Eggman.. he's a sneaky bugger...

So that's my collection! I hope you enjoyed looking through my post! here's to another year on the community! I'm waiting on so much atm so i'll probably do an update in february XD

As always i'm looking for ANY merch i don't have for my main Lines Cyndaquil Line & Hitmonlee/Chan so message me if you've got something (don't feel bad if i reject something, it might be it's something i've already ordered or not interested in at this time!) i'm also open to seeing what you have for my side collections too!

Until Next time guys!
Bon Voyage!