Hello and greetings from Michigan! I am krezajosh, and like many of you, I like to collect Pokemon. I've been into Pokemon ever since it first came out in 1999(usa), i fell out when the mainstream audience lost interest, but my love was re-kindled about my freshman year in high school, and I've been hooked ever since. I've missed a lot in that large gap, and I've spent quite a bit of time trying to catch up.

I found this site about a year ago, and got really into collecting plushies. I also have a small collection of the tomy MC figures, and I've tried to start a zukan collection, but plushies are my passion; and well, I'm a student on a budget, so most of my collecting finds go into plushies.

i have a few big plushies.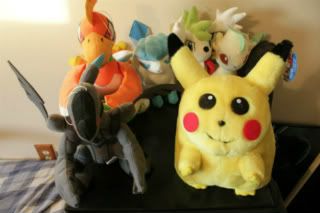 As well as many small ones!



I also have some cards. most of them are in storage, and are fairly newer, but I do have them more important one in my room, which are the one I received as a gift from my friend Micheal. Apparently he was a ruthless trainer back in the day, and told me that his set contained all of the pokemon available for the original Pokemon cards(the orignal trading card game, not the jungle and fossil expansions). I checked out the list and he was right! Here's a shot of the holo's and a few rares. I figured you guys would like those the best.



Now, on to the wanting. Out of all the plushies out there, my favorite to collect are the pokemon center canvas plushies. right now i'm looking at sdding some to my collection. More specifically, I'd like a Glaceon and Leafeon to call my own. Preferably ones with tags.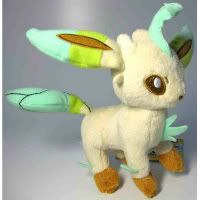 (images are courtesy of hardrock Pokemon)

Now I do understand that these are expensive and hard to come by. I do have the money to back up the want. If anyone has any reasonable offers, or any offers at all; if you are willing to bargain, i'd love to hear them and quite possibly do business with you! I have a price in my head for one, or both, based on what I have seen them go for on this website, and for what I've paid in the past. Also If you see something you like and wish to trade, Feel free to ask.

Well, that's all.I hope I did everything right. (pictures, html, manners, grammar, etc.) I look forward to hearing from you all and I'm happy to be a part of the community! Thank you for reading!