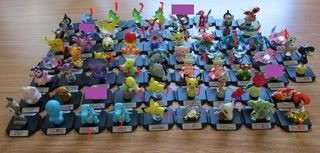 This GA is in, and ready to ship. :D ~


Current Totals:



Sorry for the delay. Midterms and a trip came up. x_x;
Let's make this simple!
Step 1: Check your location to make sure it's correct.
Step 2: If you want any extras, let me know what ones, then wait patiently while I adjust your total. :D
Step 3: send your payment WITH YOUR USERNAME and any notes I may need to know. (Like if you want it shipped to a different address, make sure to TELL ME.) Send to: deidarabang(at)yahoo.com
Step 4: Be patient and wait for your package~ They will be out as soon as possible. I'll probably only be shipping once a week due to gas prices though.


Important notes:
- All items are packed in new bubble poly mailers. If you feel you need more protection than that, let me know.
- If you want tracking…
- Domestic/USA: Send one extra dollar, and leave a note in the payment.
- Other: note me and I'll find out how to go about it. :'D
- If I don't hear from you, I'll start PMing people in about a week. :0 Don't make me come for ya~
- I matched the ones with bases to the right base. I have a nidorino and a slowking with wrong bases though if anyone wants them.


Now for extras~
Extras will be $0.25 (EVEN THE DICE!) each and may bump up your shipping.
Why $0.25? I will not be charging you for your bubble mailers. :D Any funds from the extras will go towards replacing all the bubble mailers I used from my personal stash, and to cover the extra $8 the GA cost me due to paypal's crappy currency conversion rates. If this is a problem, let me know.
(Seriously, that's a lot of bubble mailers though…)

All leftovers will be up for grabs after the GA participants have got what they want. :3
PLEASE FOR THE LOVE OF POKEMON PUT THE PICTURE NAME WHEN MENTIONING THE EXTRAS YOU WANT. D: I need something to work with.
(Even better, save the image, circle what you want, show me…)
I will give them names for this purpose.

So here we go~
(Edited pics with what's left for ease. :) )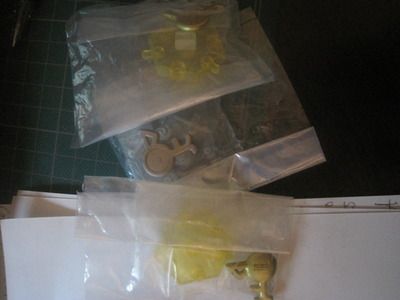 Unowns (1 gold left!)
Taken: 1 gold, 1 silver



Random (Mankey and machop line is free)
Taken: Mankey and machop lines are all adopted, hypnos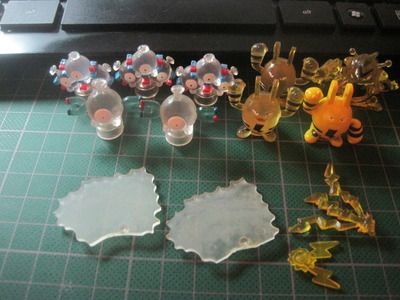 Electric
Taken: things on bottom, 1 magneton, 1 magnemite



Water (mostly)
Taken: tentacruels, muk, clear marill



Normals (mostly)
Taken: Nidorino, clefairy,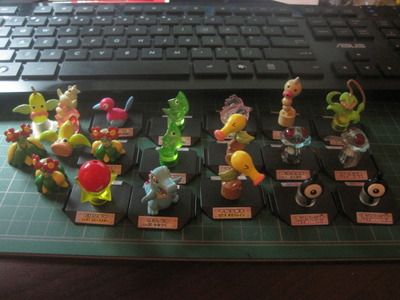 Bases
Taken: Nidoran, victreebell, all bellossoms

And that's it.
Thanks for participating, and let me know what you want. :D~

Edit: Offline for the night. Will be back and start making shipping labels tomorrow. :D Please be patient.