SOOOOO! Howdy all!

I just finished the week from hell at my job! :D Thank goodness its over..

I MAILED OUT PACKAGES FOR EVERYONE WHO BOUGHT KIDS FROM FERNCHU AND I! I ALSO MAILED OUT ANY CARDS TO PEOPLE I WAS DOING TRADES WITH! :D

FOR ANYONE LOOKING: TARGET HAS THE JUMBO DARKRAI CARD PACKS!!

That is the big bulk of my update.

ANNNNND TO WHOEVER AUCTION BATTLED WITH ME ON SMJ FOR THE GRIMER ZUKAN; THAT WAS A GREAT BATTLE!! [I'm assuming it was someone here cause who else uses SMJ that would want a grimer zukan! ] :D

I'm soo stoked! I'll be getting a Grimer/Muk zukan ANNNND a Shuppet/Banette zukan soon!! :3

Aside from that let's look at my fun new toys!!

Well at least some of them. I won't have time sadly to get pictures of all the new stuff i've gotten for a while [Our Pokemon TCG pre-release is tomorrow so that will take up most of my day] Then I have to work Sunday.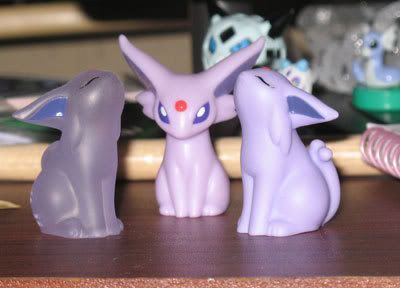 My pretty espeon kids <3<3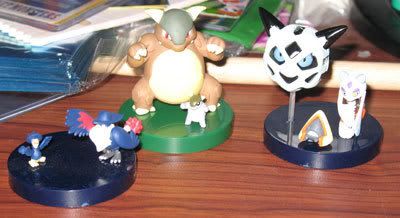 Some of my new favorite zukan!! Kangaskhan with kid outside the pouch is freakin' amazing!!

Some of my cute new Chou figures <3<3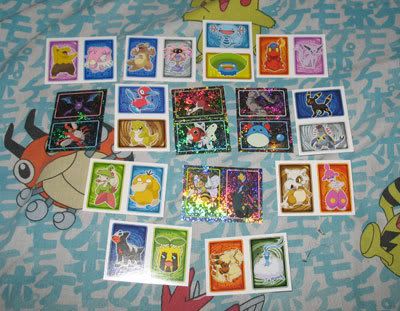 And while out shopping I founf some Pokemon Ultimate Sticker Collections packs... at 1.00 a pack I figured I couldn't go wrong... So I picked them up and here are my favorite pulls!! Of course Lotad/Seviper/Breloom/Umbreon all go to miss fernchu. ^^;
Ugh. I have SOOO much more to post. Just not time for the pictures. ^^;
TO ANYONE WHO I SAID I'D LOOK THROUGH MY COLLECTION FOR CARDS I WILL DO SO! Hopefully on Saturday after the pre-release! If not I promise it will be done on my next day off! Sorry for the delay. ^^;;;
Thanks for looking :3