EDIT: Thanks every one for your help! <3 I decided to use the pillow case method since these were very used plush and they had a funny perfume smell. Put plush that had like colors into a pillow case, using a top loader washer. Used the most delicate setting, and normal delicate setting. Didn't see a difference(Spinda had a hole in it before the wash, and it did NOT get bigger--yay!). Left them in the pillow cases and put them on Air Dry in the dryer for 30min. each. After words, the embroidery parts were still wet, so I left them outside in the sun to dry for an hour. Then I got a tiny tiny bristle brush, and brushed all the dolls. I will post pictures here on Sunday/Monday to give people more of an idea. (moving Saturday and maybe Sunday) Everything turned out great! And no smell! :D

I know, I know people have asked before how to wash plush, but I have specific questions! >:
-Can you put two plush in one pillow case? Or is is better to have two separate pillow cases in the washing machine?
-How much detergent do you guys put in there? Like a tiny bit or what the bottle says for the smallest amount.
-Is it better to try to dry it in the dryer or let it sit out to air dry?
-Oh and what are the "DO NOT DO"s of plush washing machine/drying?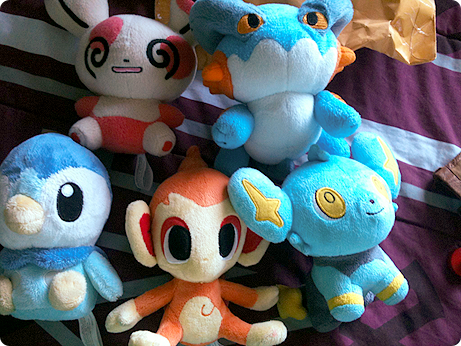 Thanks :D