Couple o' thaaangs!
- Sorry about my shipping delays from my last sales post. I had jury duty so I could only make very small runs on the short break they gave us. ;__; Anything that did not include a tail charm should be at their destinations now (or if you are out of the country you should receive it any day now so as long as customs doesn't hold it up!). ;D I apologize again for the hold up on my end. ;_; I am usually very prompt when I ship!
- Tail charm people~! I'll be knocking them out this weekend~! :D Thanks for hanging tight bros. <3

- Kay! Now onto some new Sales~~ ♥





♡ U s a k o ! S a l e s ♡

T E R M S

♡ Will Ship world wide!
♡ Buyer pays all shipping costs~ Mostly everything will go out in a polymailer unless you ask otherwise. Just be aware it costs more to ship in boxes~~~
♡ If you would like to pay for insurance for your package, peep up~ ♥ They don't come with insurance otherwise~~ I am not responsible for the post office derping out on your package.
♡ I accept Paypal and Money Orders~!
♡ Holds will be a case to case basis. I don't like doing them for long periods of time.
♡ People ready to pay get priority over people asking for quotes on items.
♡ Payments in USD only
♡ All items are 2nd handunless otherwise stated~ Please keep this in mind while shopping~
♡ Feedback Thread → w3rd.
♡ I joined the community when it was first created so Sale Permission was not required when I joined. xD;;
♡ Trades? Only looking for Retsudan Stamps of Pachirisu and Phanpy! Also Metal Phanpy charm! ♥
New with Tag Pokedolls!
$20 each (I have was able to snag two Cyndaquils so a second is available~! :D Just have 1 left.)

Japanese Togekiss Pokedoll $30
Everything else is $20 each (Mantyke - no tag)
Pokemon Bat-trioo
Hologaphic Leafon is $5
Everything else in this picture is $3.50
Any Battrio in this picture is $2 (except Chimchar who is $1)


Any Battrio in this picture $2.00
Any Batrio in this picture is $1
Stickers!
Pokemon Mystery Dungeon Sheets $5 each
Everything else is $1 each
Sho pro stickers $1 each
Sho pro Stickers $1 each




New in Package Bottle Cap Figures
$5.00 each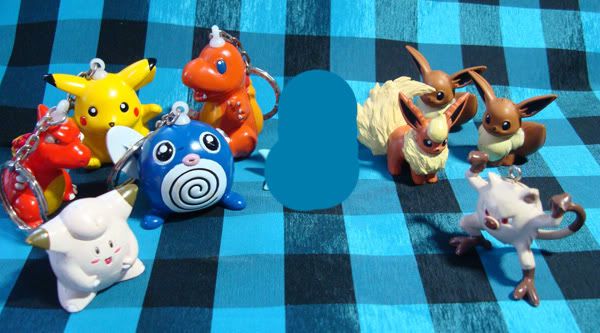 Keychains/Figures
Flareon Tomy Keychain (Minus the keychain! 8D;;) $12
Vaproeon Tomy Keychain (Minus the Keychain) $10
Eevee Tomy Keychain (minus the keychians) x2 x1! $6 each
Hollow Keychians $5 $4 each



Tomy Figures (Mudkip and Umbreon SOLD!)
$ 5 each $4 each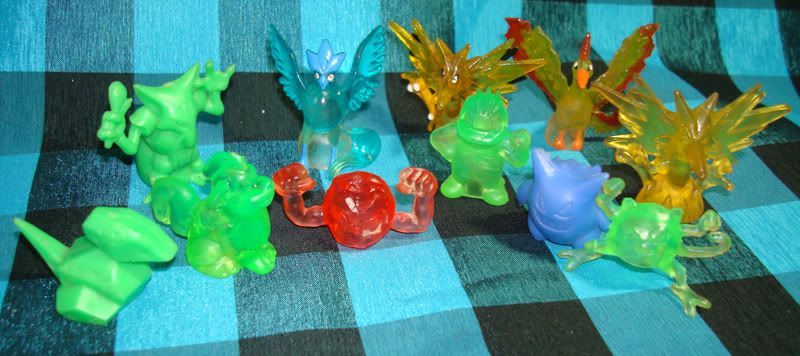 Mini Model Figures + Clear FCS Figures
Growlithe $6 all other Mini Models $3 each (Kadabra SOLD!)
Clear Legendary Bird FCS figures (no bases) $5 each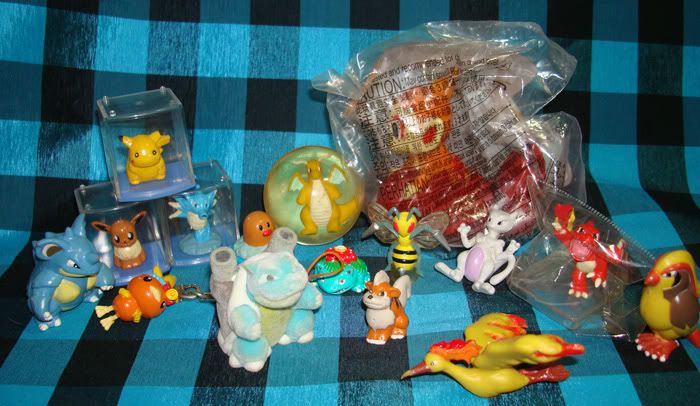 Misc Figures and Things
"In Case" Figures - $3 each (Eevee is $10.00)
Nidoqueen Tomy Keychain (minus the keychain) $6
Dragonite Ball $2
Torchic Charm $1
Fuzzy Blastoise $3
Diglet 151 Stamper - $1
Unknown Growlithe Figure (FCS?) $10
Unknown Venusaur Figure $3
Moltres Figure (I think this was also apart of the Tomy Keychain line) $1 (no tail/beak missing some paint)
Pidgeotto Figure (I also think he's a Tomy Keychain minus the keychain) $3
Charmeleon Dex Figure $3
Mewtwo (I think he's also part of the Tomy Keychain line minus the keychain) $6.00
Beedrill FCS figure (no base) $3.00
Chichar McDonalds Figure $1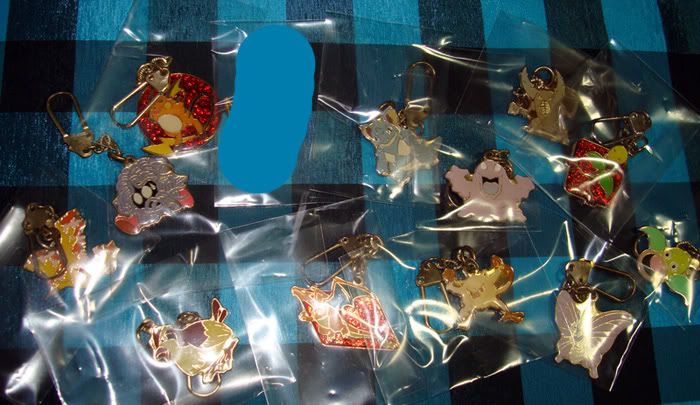 151 Metal Swing Series Charms
Charizard $15 $12 $10
Raichu $15 $12 $10
Eevee $15 $12
Moltres $10 $8 $6
Nidoqueen $10 $8 $6
Pidgey $6 $4
Pinsir $6 $4
Mankey $6 $4
Bellsprout $3 $2
Weepingbell $3 $2
Tangela $3 $2
Venonat $3 $2
Muk $3 $2





1998 Wooden Block Stamps! - Clean and unused/in new condition! $10 $7 each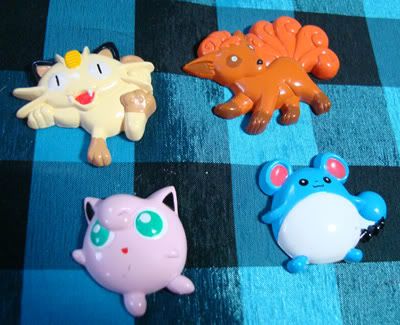 3D Plastic Magnets
Vulpix $10.00 $8
Meowth, Maril, $3 $2 each
Jigglypuff (scuffed) $1 .50 cents

Coloring Books $3.50 each





Magnets $2 each



Magnets $2 each



Magnets $2 each



Magnets $2 each



Complex Paper Crafts (unused! :D) $3 each
Simple Papercrafts $1.00each

Simple Papercrafts $1.00each




Stationary Cards $1.50 each (bigger than a normal sized Pokemon card~! :D)



Window Cling Hard Color Form thingys $1 each




Misc Items
Tepig/Pokabu Coin Purse $5
Muuna and Pidove Retsudan stamps $3 each
Reshiram Tour Pins $1 each
Reshiram Mc Donalds Toy $1.00
(New in package) Nurse Chansey Tin $10
Unknock Digital (watch?) Pokeball. I dunno if this works or not. $3
Soft Pink Pokeball $4

Rare Japanese Chirimin Fabric Plush
~ In Like New with all tags! ~
Chirimin fabric is a high quality Japanese traditional fabric with a gorgeous texture.
$15 $10 each $8 each



MINI BAT-MEMO Notebooks!
These are totally cute little ancient notebooks featuring Sugimori art of the first generation~!
I have doubles of a few so if you see someone you wanted was claimed, I might have another. :DD
Overall the notebooks are in great to excellent condition/no writing. But there may be a few with a page or two loose since they are so old.


Top row two rows $8 $6 each (except Ninetails and Nidoking)
Bottom rows + Ninetails and Nidoking $12 $10 each - everyone but the Ninetails are holographic or changes picture~! :D
here's a close up of the mew and charizard's alt picture if held at the right angle~~ xD




Any in this image $4 each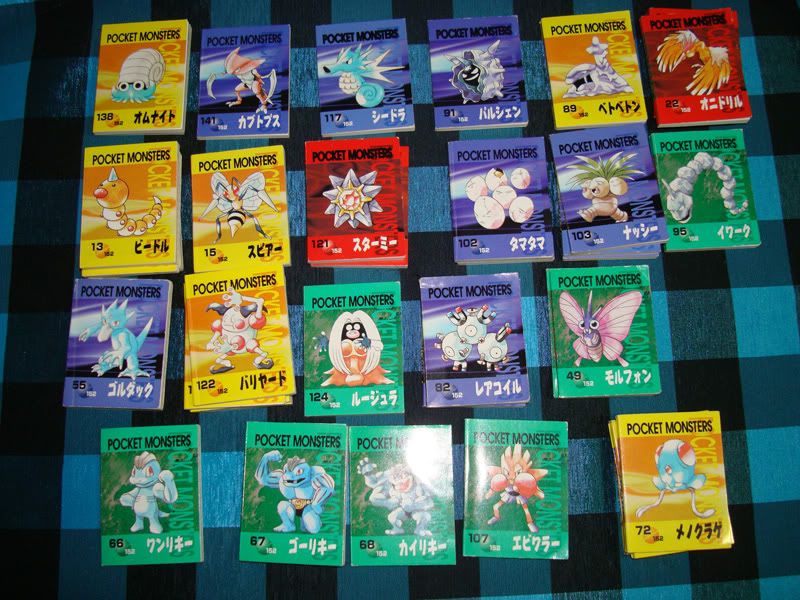 Any in this image $4 each




♥ And that would be it~! ♪ Thank you for looking~~! ♥