I have some neat things up for sale/auction today, including several figures, plush, a legendary birds lunchbox, and some very cute playing cards from Taiwan :D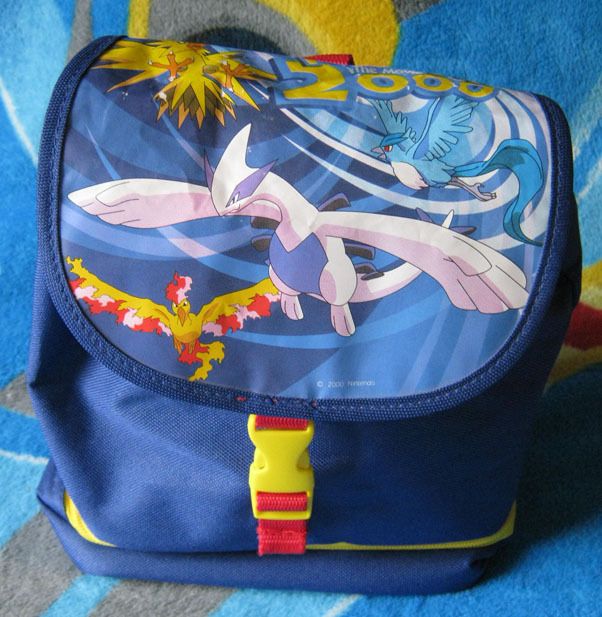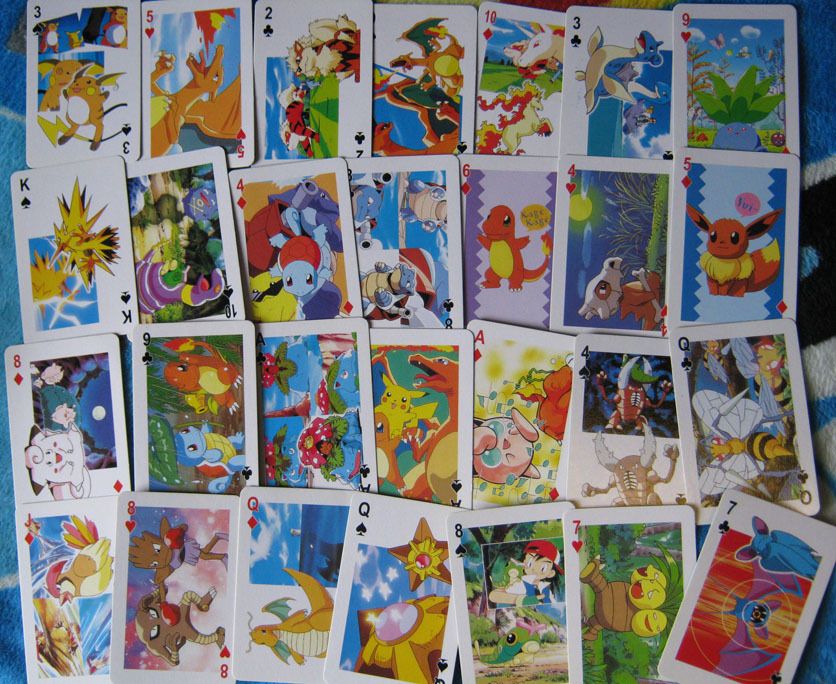 I lied! First is the tiniest of collection updates - spot the newbie!


The mini doll is just precious *u* Emonga rules!



I got a Jakks Porygon in a lot the other day and he's lovely! Porygon is super cool.



And a strange question! Are there two releases of the Jakks Riolu, or is the guy on the left a bootleg? He has a wider muzzle, different eyes, and skinnier legs than my Riolu on the right. Strange!


Okay now it is sales time!

First up is this lovely Legendary Birds lunch bag!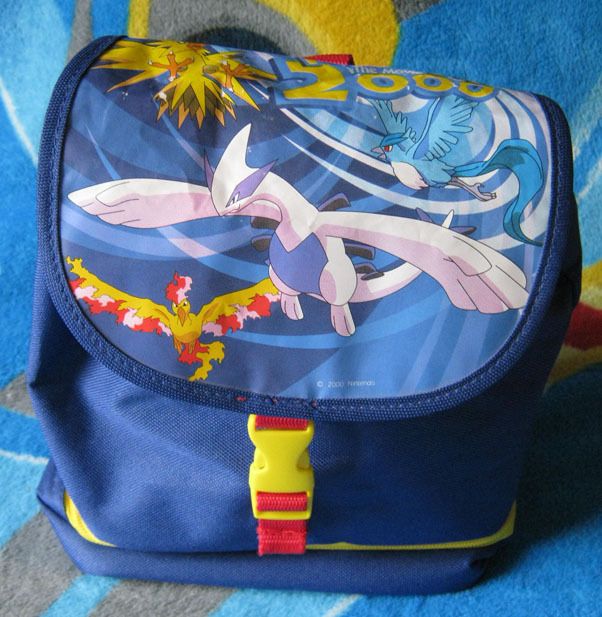 Top, front, back, and inside (Emolga doll for size ref!)
The picture printed on the top has some damage, mostly on the logo and Zapdos (detail here.) Otherwise it's in fantastic condition with its tag inside. It's a drawstring bag with a zipper pouch on the bottom - the bag is about 11 inches tall, 6 inches wide and 7 inches long. Pretty roomy! The inside fabric is lunchbox insulated type stuff, but it could be used for other purposes easily.

Starting it at $5!
I'll end this on Friday the 18th at 6 PM EST.


Everything else here is for direct sale!



$9 mint with tags Oshawott, Tepig, and Snivy Pokecen plush, Zorua pokedoll
$12 minky Darkrai pokedoll (no hangtag, has some loose threads on his eye but they look like they could be snipped and be just fine) (on hold!)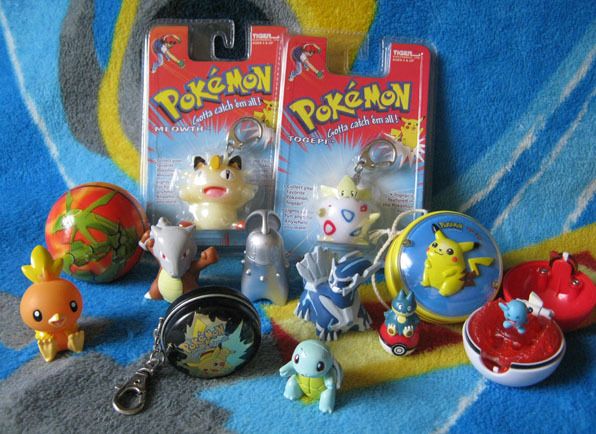 $1 Munchlax, Squirtle (has marks), metal Pikachu tin keychain, yo-yo
$2 Torchic, Dialga, Marowak kids
$3 Rayquaza ball, Wobbuffet pokeball toy (closeup), silver Chikorita
$4 MIP light-up Meowth and Togepi keychains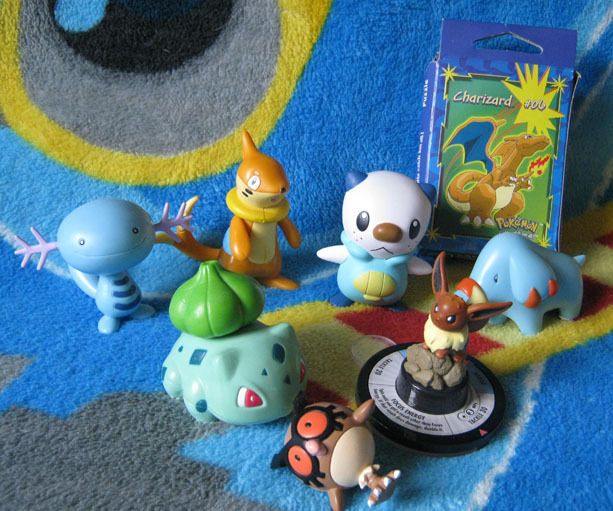 $2 Charizard puzzle (box is old and dented but all pieces are in there!), Jakks Buizel, Oshawott, Hoothoot tomy
$3 Eevee TFG, Jakks Wooper and Phanpy
$5 Thinkchip Bulbasaur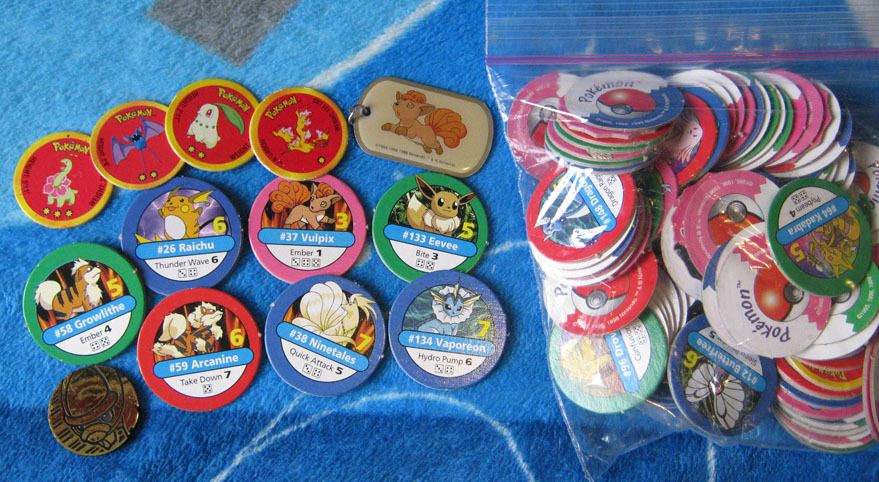 $.50 each - pogs/coins
$3 Vulpix dogtag
$6 bag of pogs from the Pokemon Master Trainer game. Not a complete set, doesn't include any of the pogs on the left, most are in excellent condition. I'd be happy to split this if you're only interested in a few, let me know which gen1 Pokemon you're after and I'll check!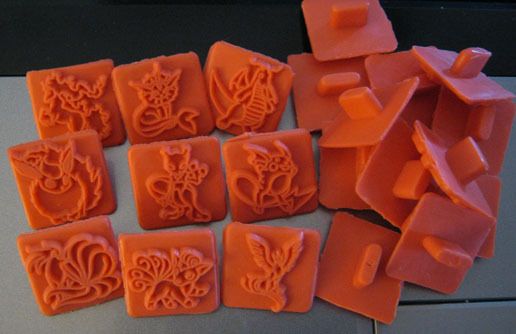 Small rubber stamps! I have about a hundred of these (all gen1) so just let me know what you're looking for and I'll tell you if I have that Pokemon or not.
The ones pictured are $1 each, and all the rest are $.50 each.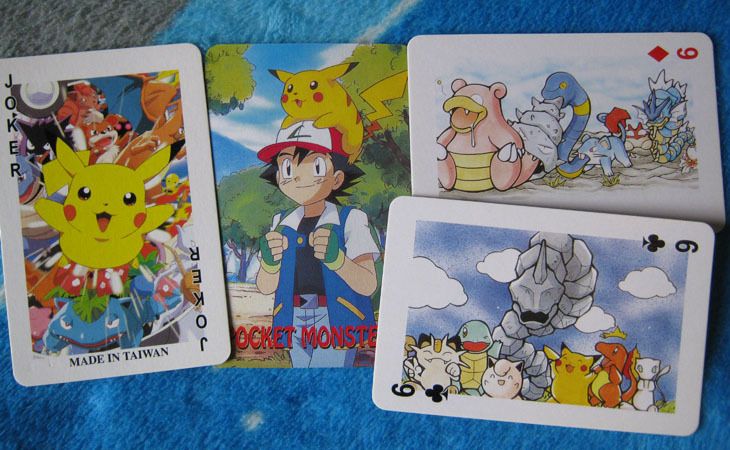 Cute playing cards! Apparently from Taiwain - I'm not sure if these are legit or not, but a lot of them have some really adorable artwork from books or the anime. The Ash/Pikachu card is what all of the backs look like.

$1 each! If you can, let me know the number and card suit to make things a bit easier! (ex Pikachu 2 of diamonds, 3 of hearts water Pokemon scene etc)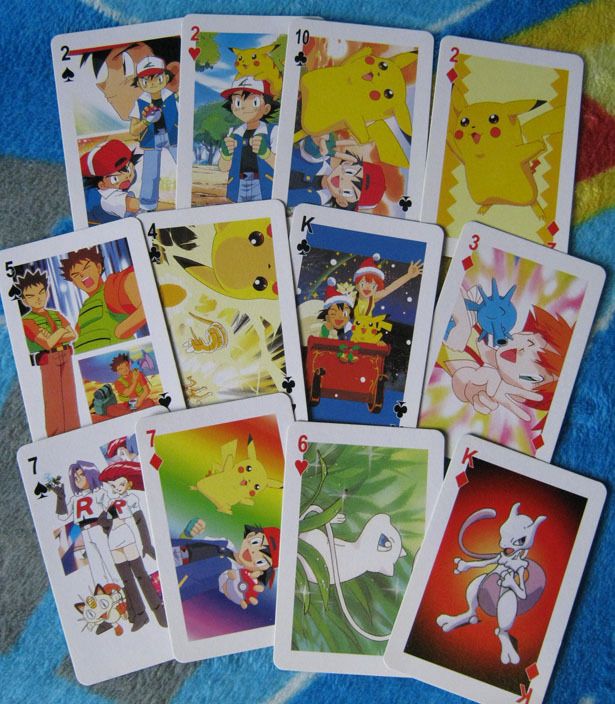 (click for larger version!)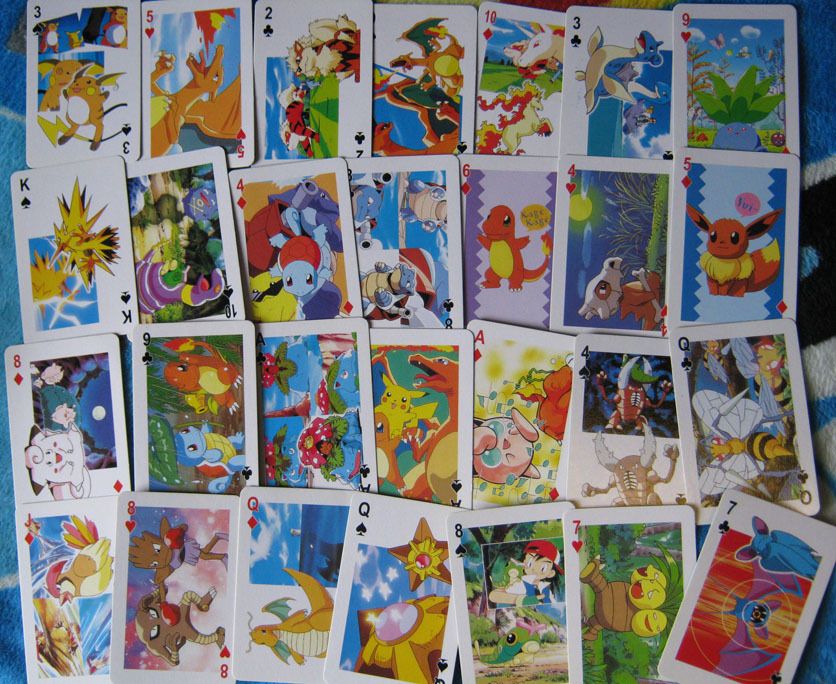 (click for big!)



(click for REALLY big because i forgot to resize this one oops!)

The following cards are SOLD:
Hearts: 3, 6, 10, Jack, Ace
Spades: Jack
Clubs: 6, 9, Jack
Diamonds: 4

Shipping on just cards should be about $1 in the US or $1.50-$2 international! I'll send them in a plain white envelope unless you request a different shipping method.



I've also updated my main sales post and dropped prices/taken new pictures of plush, so check that out! Feel free to combine with anything from this post. I'm looking to cut down on stock so you're absolutely free to make offers or haggle, or buy a bunch of stuff for a bulk discount C: Thanks for looking!