Hello, everyone! When I was younger, I found a lovely Pokemon shoujo manga at Barnes and Nobles. I read it over and over again, but unfortunately, I lost it... I still have occasional fits of tearing up my house looking for it. But after 10 years of having no idea where it is, I've decided that it's just time to replace it, and perhaps buy some more to complete the series. I've bought 2 off of Amazon, but I'm hoping that someone in the comm has several of them, so that I can accumulate more than one at once. Does anyone have a set of these that they'd be willing to sell? I'm specifically looking for Volume 1, Chapter Six, "Christmas Wishes" (pictured below).
Please let me know! I'd love to find the favorite book of my childhood back on my bookshelf!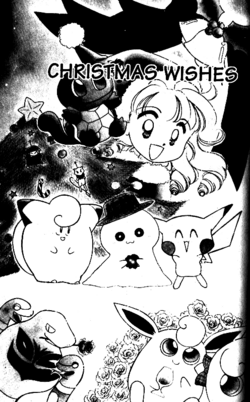 This is the one that I'm looking for the most, but any would be appreciated!


And a question for all of you: What other hobbies do you have, other than Pokemon? Pokemon has got my wallet so dry that I find it hard to balance it with any of my other interests, but it's all worth it! What else do you guys like?