It's time for New Keldeo things, Dialga, Pansage, and Tepig collection viewing whatever. And also the plush I've obtained over the years. So prepare for a lot of images and stupid commentary ahead, sorry.


The one Tepig near the front is a glass chopstick holder, it's really pretty.


I don't like figures as much as I do plush, but the pineapple riding Tepig is one of my favs. It's just so weirdly cute. Who rides on a pineapple over the seas? Tepig Firepants~


My Tepig laptop bag. I don't take it out much, so I don't worry much about the Tepig getting damaged. The Type Focus and Mini-Pokedoll plush are too darn cute.


Pile o' pigs, with Babe~


Talking Tepig together. I couldn't bring myself to take them out of the packaging.


Newest plush is the prize plush Tepig, next to the SonoKong or "floppy ears."


MPC, canvas, Ty Beanie, backpack buddy.


These are my favorite guys~ 7-11 Ichiban Kuji, Large TOMY, DX Chibi, shimmery, and big pillow.




Pokemon Cafe things I really wanted, namely that mug~ Cork board I need to hang someplace, but I'm afraid to stick pins in it. :S


I really want to use it, but maybe I should save it for decoration? idk If I can ever find the kettle to go with I'll have a matching set.


I think I have all the Pokemon Kids with the clear and the pearly special ones. I thought Pansage was adorable ever since the image of their first Kid leaked.


Broccoli Mountain~ I know I'm missing the MPC and there's another bigger Banpresto out there I don't have. But these are all relatively small plush.


To get a bigger plush, plant Pokemon in pot and give TLC, sunlight, regular waterings with Wailmer pail, and quality mulch.


And in a few weeks, see how your Pokemon plush has grown. Warning: Only try this with Grass Pokemon.


Lord Sage Sovereign of Plush... Normally he lives in the desk chair, there. I never thought I'd get one of these, but he really is a super gorgeous plush. ;u; Although now I'm bummed I don't have the giant Tepig to go with him...




My Dialga collection isn't as impressive as many, but here it is. The art is from an art community request thing. Two of the things I asked for were Dialga or Prof. Oak and they just got put together.


Inflatable Dialga is losing some of his pizzazz.


The one on the far right lights up, I so should've turned it on...


Small Dialga cubby, with mascot Oshawott and Booteus.


Large fuzzy Dialga UFO next to Bulbasaur Hill and dust covered Old Chu.


Ring, ring, ring, ring, ring, ring, ring, Bulb-Bulba Phone~ I don't normally keep that plush on there, but it is cute with the Pokecen strap. Also, Keldeo Kid!


Shimmering Dialga and Oshawott live in the toy net.


Pokedolls~ And Banana Chin, Chatot, and TOMY Buizel.


Meowth twins and awesome Pokemon Cafe and Wailord pillows. Poor geriatric Meowth needs fixing, I know. ;-;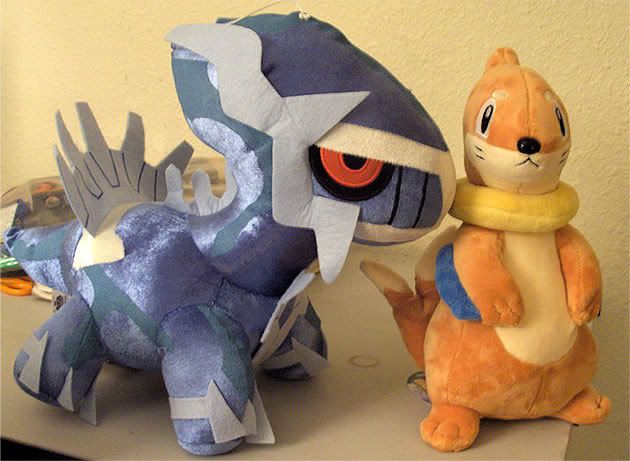 Better shots of Shimmery Dialga and TOMY Buizel when I first got them~ They're still precious.


Dark Pokemon and Lamp live next to the spooky books. WOOooOOOooOOooo~


This hangs above my bed. One night I fear it will fall and crush me. But I needed a place to shove most of the bigger plush. :Ia
There is a giant Jakk's Dialga in the back that I didn't want to drag out. Also two Banpresto Buizel and a Reshiram. I'm a lazy plush shower, sorry.


My fav baby Floatyface~ Also Stunky and Heracross are plush I'm really fond of. I take them on journeys sometimes.


These guys usually hang out in this box, here, idk.




Pokecen and TOMY Keldeo with large Dialga TOMY. And pretty new hand towel.


Close up. I really love the design of this.


My 3DS is majestic now, yay~ The cartridge case doesn't actually fit in the pouch, but it's still useful for holding games. I adore the stained glass looking theme.


I love the coin purse thingie, it's so darn cute. I need to clip it on something.


The other side is lacking Tepig, which is a total travesty, but it's still cute... Also there's the Pokecen and Simple straps and a light up Oshawott.


► On a sorta OOC note, I may have some cool Keldeo stuff, but I don't actually have one on my Black game. If anyone has an extra, I don't suppose you could trade me? ;~;

●●► Other Collection Post! ~ Mostly Emolga, Deer, figures, and Bugs. :O Thanks for looking~