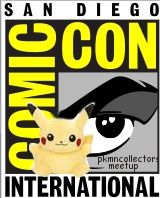 Hey everyone!! Before I head off to make plans and reservations, I would like to make sure everyone's aware that this meetup is open to all pkmncollectors that will be in the San Diego Area on Friday, July 13th. So far, the only thing I've thought of is going out to dinner after most panels at the convention are over..but I'm completely open to suggestions as well as restaurant recommendations in the downtown area.
A few people have shown interest in having a meetup Saturday as well. Unfortunately, the nighttime will be difficult for me as I'm spending time with a friend.. but maybe a few of us could get together for a little while during the convention on Saturday! (Hey, it's an idea!)

Otherwise, here is the current list of interested members as of my last post:
lucklessprince,
tsuki_no_eifie,
natsu_neko,
slothyshroom,
chickadee115,
euripus, (maybe)

Please just leave a comment if you'd be interested in joining in on this bonanza, and I'll happily add you to the list!! I'll hopefully be making a reservation within the next two days :)

Thanks for reading, and keep an eye out for a followup post right before the convention!!


EDIT 7/11/12 8:54 AM PST: Sorry for the lack of update guys! I got in contact with a restaurant that does take reservations (you'd be surprised by how many that don't!), and will be hearing back from them around 10:30 am. Just know for now that it will probably be around 7 PM hopefully at Sammy's Woodfire Pizza in the Gaslight district. Feel free to bring along a little pokemon travel buddy (I'll be carrying one of my canvas plush) or any pokemon games of your choosing. It'll be fun!
Keep an eye out for an update later today!