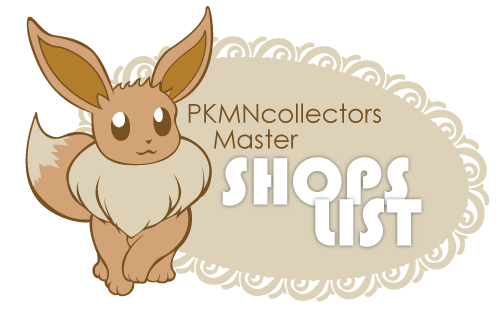 Credit to
dakajojo for the format of this post and creating the first MCSML.

rules
This post's purpose is to archive a list of community member shops! All we ask is that you follow the rules below and submit your shop in a comment.






Shop Name: Put the name of your shop here.
URL: Put the URL (link) of your shop here. (Permanent sales posts are also allowed!)
Status: Please put what the current status of your shop is, be it open, on hiatus, etc.
Tags: Put up to 10 tags here. Choose any Pokemon or Pokemon Trainer. If you only sell pokedolls, zukans or tcg (for example) you may use these terms as tags instead of specific Pokemon or Pokemon Trainers.
Banner (optional): Put a link to your site banner here. Must be 200x40.


This list is open to anyone who is a member of our community so long as your shop is focused mainly on Pokémon and is compliant to our community guidelines. NoteThat if your permanent sales are on the community rather than your personal journal, non-Pokemon merchandise is not allowed.

Please go here to review our community guidelines.

Your shop must be working and active (hiatus is okay as long as you plan to open again sometime in the reasonably near future). Random reviews will occur and if your link is found to be dead or inactive it will be moved to the revoked status for 30 days and you will be notified. If no action is taken on your behalf to make your listing active within this timeframe it will be removed from the Member Site Master List and you must reapply if you want your shop or permanent sales post to be relisted.

What makes a shop inactive? If it has gone a long time without updating or declaring hiatus status, has broken images, ect.

don't have a shop banner?
You can easily make your own shop banner by saving this template to your computer and adding your own images and text with your favorite photo editing program.




listing status key
Open - The shop is currently open.
Coming Soon - The member has indicated that the shop is under construction, and should open in the very near future.
Hiatus - The member has indicated that the shop is on hiatus, and should reopen in the very near future.
Closed- This shop site is currently closed.

application response key
Approved - Your shop or permanent sales post has been reviewed and will be added to the Master List.
Denied - Your shop has been reviewed and is not eligible to be posted on the Master List. A reason will be provided.
Revoked - Your shop has recently been reviewed and no longer meets eligiblity requirements. You have 30 days to respond with a working and active link or your site will be removed from the Master List.



(

Member Shops ListCollapse

)