Im happy to do holds/payment plans and im open to
reasonable
haggling
Please check the cut for the images and prices.
Also, has anyone seen a Virizion gif image I can use from the movie? I know there arent many yet but there has to be at least ONE gif made from the movie trailer? ;~;
Prices are based roughly on those of ebay/other sites online, if you feel my prices are too high then please just comment, I need ALL these cards to sell. Some prices are based on what I paid so some prices I wont be so willing to budge on. Hope you understand!
All cards are shipped in toploaders! Ill put upto 2 cards in 1 toploader, if youre not ok with this please just say but do be aware that a number of toploaders may increase your shipping.
Only comment if you are serious about the purchase too.
Top Row (from left to right)
Raikou 13/64 1st Edition, holo: $17Raikou 22/64: $4
Rockets Raikou Holo 094/141: $25
Second Row:
Raikou Skyridge Holo H26/H32: $30
Raikou Skyridge 28/144: $9
Bottom Row:
Rockets Raikou EX 108/107 Holo: $10
Raikou POP2 3/17 Holo: $4
(left to right)
Raikou 16/132 holo: $3
Raikou SL9 Holo: $6Raikou Promo HGSS19 Holo: $3
Entei Top row (left to right)
Entei Holo 6/64: $3
Entei: 17/64: $3Rockets Entei 095/141 Holo: $15
Top row:
Entei Star 113/115 Holo: $35
Entei POP2 1/17 Holo: $2
Crystal Towers Entei (10th Anniversary): $25
Second Row:
Entei Lv: 43 4/132 Holo: $3
Entei BSP HGSS20 Holo: $2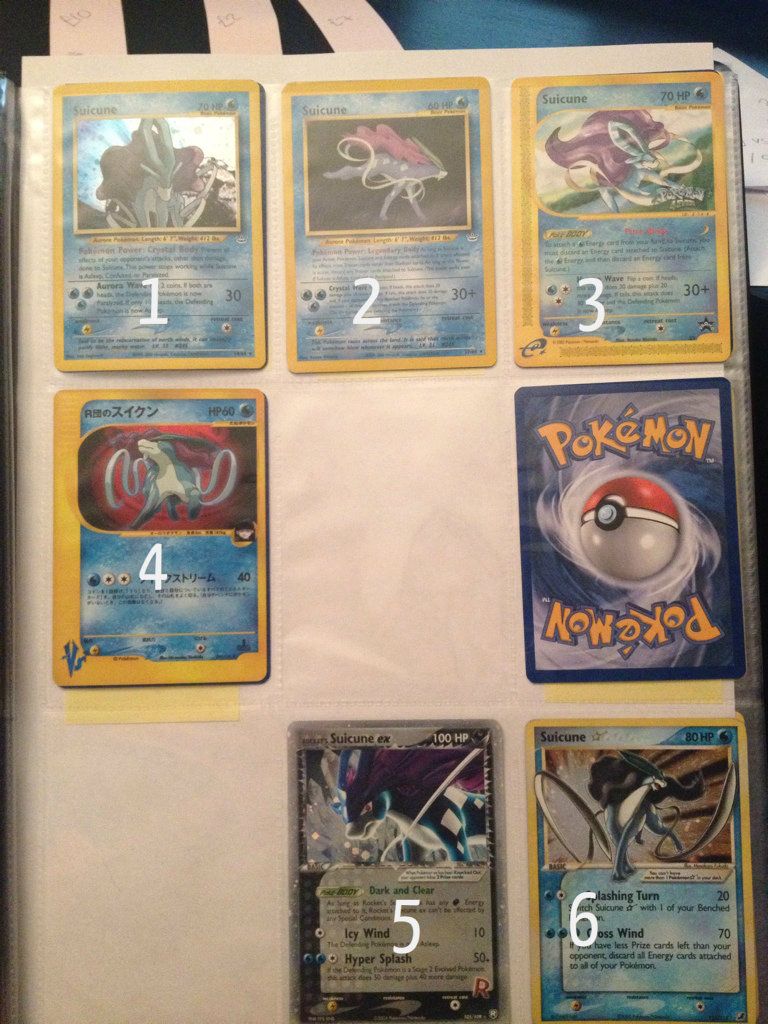 Suicune:
top row (left to right)
Suicune Holo 14/64: $20
Suicune 27/64: $3
Suicune Promo 53: $3
Second Row:
Rockets Suicune Holo 096/141: $25
Bottom Row:
Rockets Suicune EX Holo 105/109: $20Suicune Star Holo 115/115: $30
top row (left to right)
Suicune POP2 holo 4/17: $2
Pokepark Suicune 039/PCG-P: $5
Suicune Promo Holo 030: $5
Bottom Row:
Suicune Holo 19/132: $2
Suicune Holo HSSS21 BSP: $3