Hi again, community! Sorry for yet another meetup post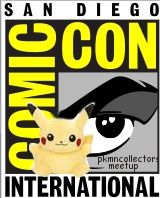 And sorry for the late notice, but here are the final details for the SDCC/San Diego meetup:
What: A pkmncollectors meetup!
Where: Sammy's Woodfired Pizza, Gaslamp district, San Diego, CA (phew)
When: Friday, July 13th. 6:30-6:45 pm
Why: Because yes

Unfortunately, most resturants will not be taking reservations due to the convention, so we may have to wait outside for a little while before getting a table. But hey, you'll be with other pokemon fans.. so how bad can it be? Just please be on time so we can have our numbers ready by the time we get a table! Just look for a girl holding a canvas plush (likely to be raichu or totodile). :)
Feel free to bring along a little pokemon travel buddy (like my canvas plush) or some portable video game (black/white battle, anyone?).


I can update this message with a map once I have access to a computer (typing this from my phone, phew!).

I hope to see you all there!


EDIT 7/13: Map is here!