Hey y'all. It's been awhile. BUT I come bearing a collection update that I've been anticipating for aaagggeess now. And it all begins with





So I was getting ready to go to TRU for Darkrai, but when I went into the living room to get my shoes, I discover my SMJ box had finally arrived! Excitedly, I go get Alma, who instantly grabs a pair of scissors.



Naturally, she threatens me with them again. She wants new friends; She hadn't gotten any since the Darkrai in my very first SMJ box.



"It's awfully deep," she concludes, and almost gets lost in the packing peanuts. So I rescue the poor thing. But then...



"A friend! Two friends! Three friends! ... Woah." So finally, Alma is content, happy with her new friends. C:



Aoi the Salamence: "I CAN'T BREATHE. D:"
Alma the Mew: . _.;;






The entire contents of the box. The bubble-wrapped stuff are all zukan and were really tough to find. I had to dump out half the packing peanuts to find some. 8|

I'm happy with the Deoxys army. They all were about $20 shipped but I'll be selling the double of the Banpresto one. And Salamence is for my best friend, but I severely underestimated his cuteness and now I want one. D:



The seller of the Deoxys also included a bobble head. :>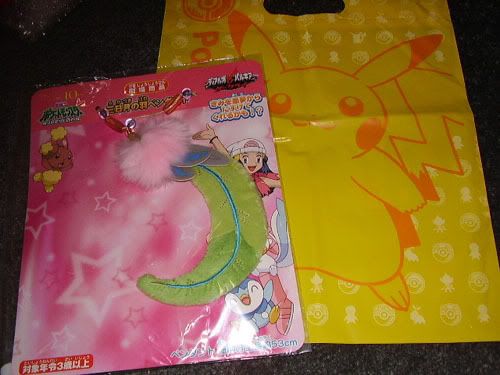 Lunar Wing! And a Pokémon Center bag~. Funny enough, originally, when I saw that the seller had charged me ¥700 to ship the ¥300 Wing, I was very irked. But now that I see the size, I can understand.



I wasn't expecting it to be so big! @ 3@



Happy Time Pony and LadyLegs! I thought I had gotten Darkrai for a deal at ¥165 BIN, but then the seller charged me ¥900 to ship. I was not pleased. xP



Finally! ♥ Every time someone here was selling this zukan, I always got beat to it. And then I found it for ¥1000 BIN and snatched it up. I love Flygon~~~ BUT the best part is yet to come...



OOOOOR8y75734dthuhgvd *Spazz.* A NIP Ninetales+Vulpix zukan and Torcoal zukan~~~~~~~~. Originally, I was stalking the other one another comm member had managed to get a few months ago for ¥2100. I was sad to see it go, but if it came up once, it can come up again. And then THE very next week, this baby popped up! And I managed to get her for about ¥1300 (¥1600ish shipped) with minimal bid war. My day was made instantly.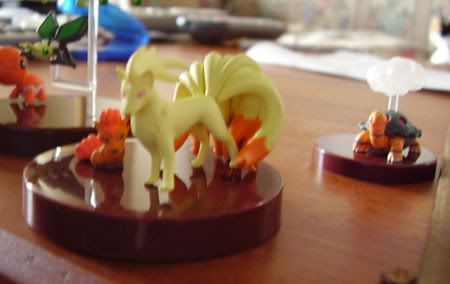 SO PRETTY. ♥♥♥♥♥xbajillion. I could care less about Vulpix and Torcoal, but for completion's sake, I'm keeping Vulpix. HOWEVER I have no desire to keep Torcoal, so I WILL be selling him off in my next sales post in the near future. If you're interested, please let me know so I know whether or not to auction him off or just give him a set price. :3


And these next pretties aren't from today's box. They're actually from last Friday, but I wanted to wait and post them with the SMJ box.



From
tortoises, I do believe (I have a terrible memory, I'm sorry! D: ). Like Flygon, I've been after Articuno for awhile, but kept getting beaten/outbid. So I was very happy to finally snag him. It's such a beautiful zukan and I eagerly await the matching Zapdos. :>



This and the next pictures are from
pheonixxfoxx. C: It's a sticker field guide featuring Ho-Oh! The inside/back: X X X. Unfortunately, it's missing a sticker (upper right corner on the first inside picture), but oh well.



♥ I love Lugia, too. It's only a shame I was way late in snagging his Ho-Oh counterpart. :C But one day...



And lastly, stickers~! Unfortunately, one features my pretty in her typical pose, but beggars can't be choosers, I suppose. xD




Okay, enough collection. Now for something more serious.

So I graduated last Friday. And as a gift, my ex-boyfriend
albowsmit bought me a giant lot on Y!J of Full Color Stadium figures with a few other miscellaneous figures. Only, even between the both of us, plus two of my friends, a huge majority of the figures are unwanted, so I've decided to sell them. But I'm not sure to auction them off or put them at a set price, so I was wondering if you guys could help me out with an interest inventory?

Pictures and details are under the cut. If you're interested in a figure or so, just comment with which one/s. CC:


NONE OF THESE ARE FOR SALE AT THE MOMENT. I do not have them on hand and will not for a few more weeks and **I will not take dibs/claims/reservations**. Popular figures will be auctioned off, and set prices will maybe start at $3 ~ $4. Prices are tentative, either way.

FIGURES NOT FOR SALE: All legendaries (with the exception of the Articuno Kid in the second picture), all Scythers, all Raichus, Ninetales, Arcanine, Snorlax, and one Starmie.






Today was a good day. :3