I'm sorry, that's a terrible pun.
Anyway, due to the unfortunate fact that my brother has been fighting a severe illness for the past 3 years (but thankfully is in recovery), our family qualified for a program called Papi's Pals, sponsored by David Ortiz ('Big Papi') of the Red Sox. Every year, Papi donates dozens of tickets to Boston hospitals, to be given out for free to the families of sick kids. Mass General Hospital in Boston granted us not only tickets to our first Red Sox game, but also the chance to meet David Ortiz, one of our favorite players. :3 Of course, I had to bring Mewtwo along. Most of my Mewtwos don't care much for sports, but this little guy is an exception...
Mewtwo:
I wish this car moved faster. I probably could've flown here in half the time.
Me: Shush, we're almost there. And you would've died the without air conditioning, anyway. (Seriously, it was over 100 degrees in Boston and the air quality was terrible).
Mewtwo:
I suppose.
*waits impatiently*
A little while later we arrived...an hour early for the photoshoot/meet and greet XD (Mom had anticipated that we'd have trouble finding a parking spot, but we happened to find one only a few blocks away. Still, the game wasn't for another
4 1/2 hours
and already nearly every parking lot near Fenway was full. That's Red Sox fans for ya! :P)
Mewtwo:
I'm going to go find my seat.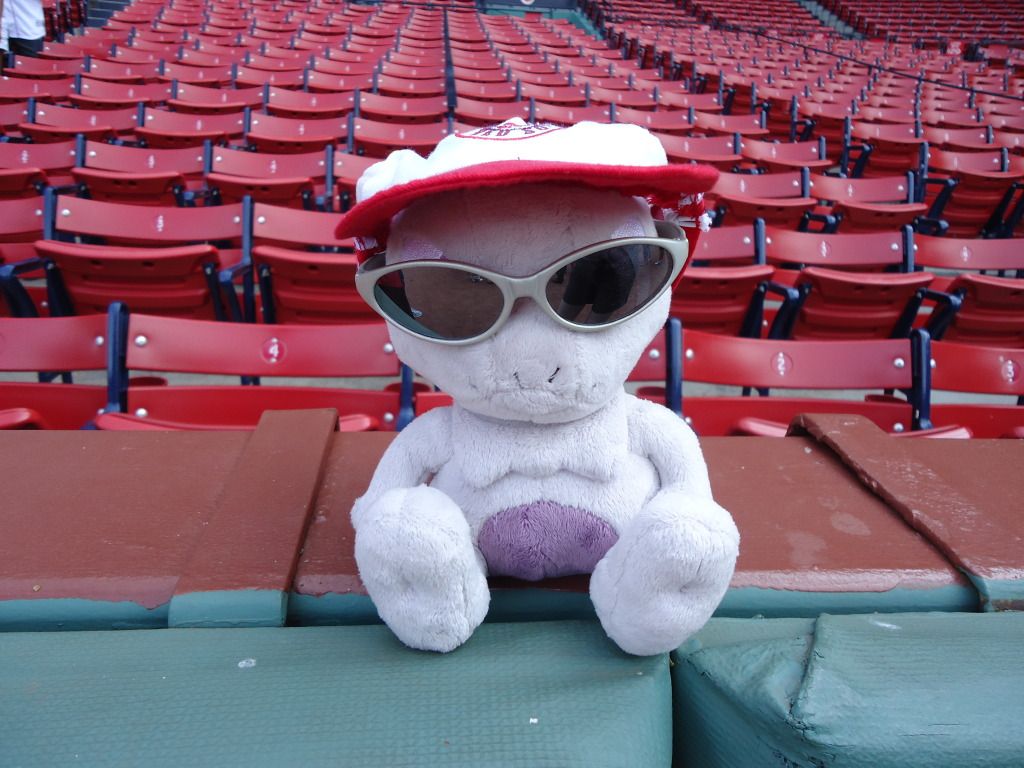 Me: Mewtwo, that's not a seat.
Mewtwo:
It is now.
(I was so excited to find a Red Sox hat at Build a Bear, especially one that fit Mewtwo's...odd shaped head.)
As VIPs, we got to watch batting practice from the warning track (aka on the field). We stayed back for safety reasons (don't wanna get hit with any balls), but Mewtwo got a ball signed by Pedro Ciriaco, which made him happy.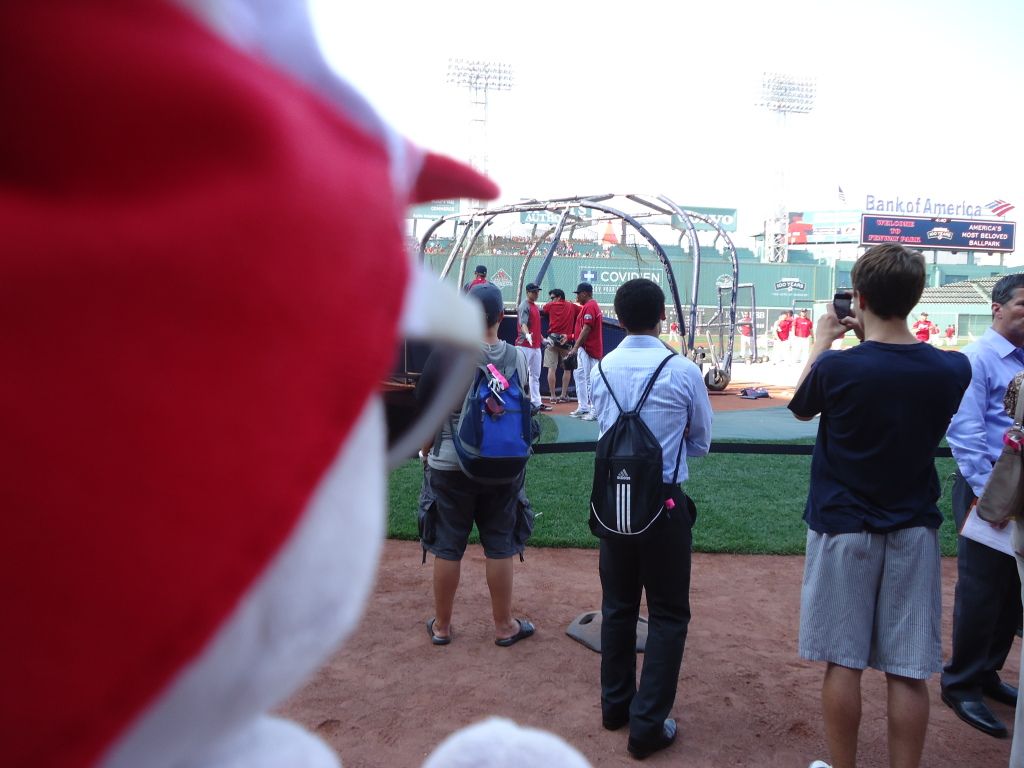 Mewtwo:
All these humans are in my way.
Me: Don't worry, your cuteness stands out. I'm sure they'll see you.
(A few minutes later...)
Mewtwo:
Did you see that? He signed my ball! It looks like it says P Egg though...
Me: I think it says P C 77. That's his jersey number.
Mewtwo:
I can't unsee 'P Egg'.
Me: ...Me neither.
Our contact (basically, the guy who organized the group of Papi's Pals and led us through the park) inquired about Mewtwo, saying he'd never seen "a Red Sox bear like that before". XD I told him it's not a bear, it's a Pokemon. He had no idea what I was talking about. >.<
Mewtwo found a display of old Sox stuff, commemorating the 100-year anniversary of Fenway Park (it was opened in 1912). He insisted I take this picture, though I've
no idea
why... ;D
You heard it here, folks.
Mewtwo is a genwunner.
Mewtwo:
I could commandeer this vehicle for my own, if only I weren't so very small.
FINALLY, after much waiting and anticipation, David Ortiz showed up. His shirt was hilarious. (it says "I Still <3 White People). They made him cover it up after the photoshoot, haha.
As I waited in line to get a photo and autograph, Mewtwo suddenly declared that he no longer wanted Papi to sign our baseball. Instead, he wanted Ortiz to sign...him!
(Unfortunately we had to rely on my brother's iPod camera to take this photo, so it looks kinda grainy)
Papi held tiny Mewtwo in his huge hands, smiling and asking "Who is this?" Rather than launching into the gospel of Mewtwo, I took the simpler route and just said "A fan of yours." He broke out into a big smile, and signed the brim of Mewtwo's hat. Mewtwo stayed quiet, but afterwards he wouldn't stop bragging.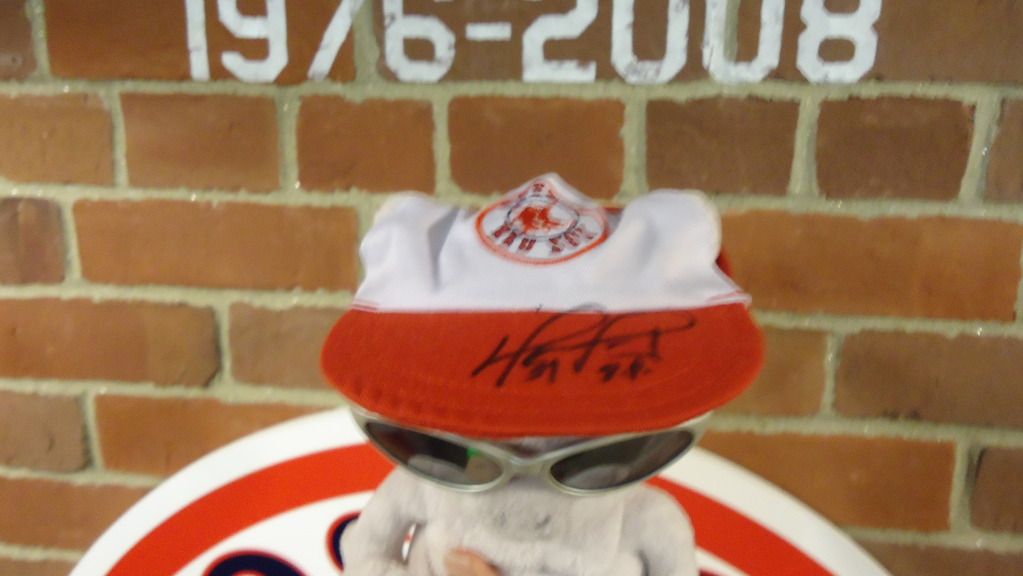 Mewtwo:
Swag.
Me: Do you even know what that means?
Mewtwo:
Of course I do. I learned it from Rainbow Dash.
Crush. Kill. Destroy. Swag.
Me: Arceus help us.
Eventually the game started, and we settled into our seats to watch.
Mewtwo:
I can't see over these humans. Pick me up.
Mewtwo:
That's better.
(I love that you can see the diamond reflected in Mewtwo's glasses). c:
So that was that. Unfortunately, the Sox lost, but we had a good time anyway. Mewtwo and I shared a pizza and some lemonade, and I struck up a conversation with the girl beside me about Pokemon (she hadn't played since she was a kid, but thought my Mewtwo was really cute and said she loves taking her Domo plush around and taking pictures of it).
Before I wrap this post up, I've got one final picture...my
pkmncollectors Summer 2012 Contest submission
! :D (You can click on it to see it in full size - be warned, it's probably huge).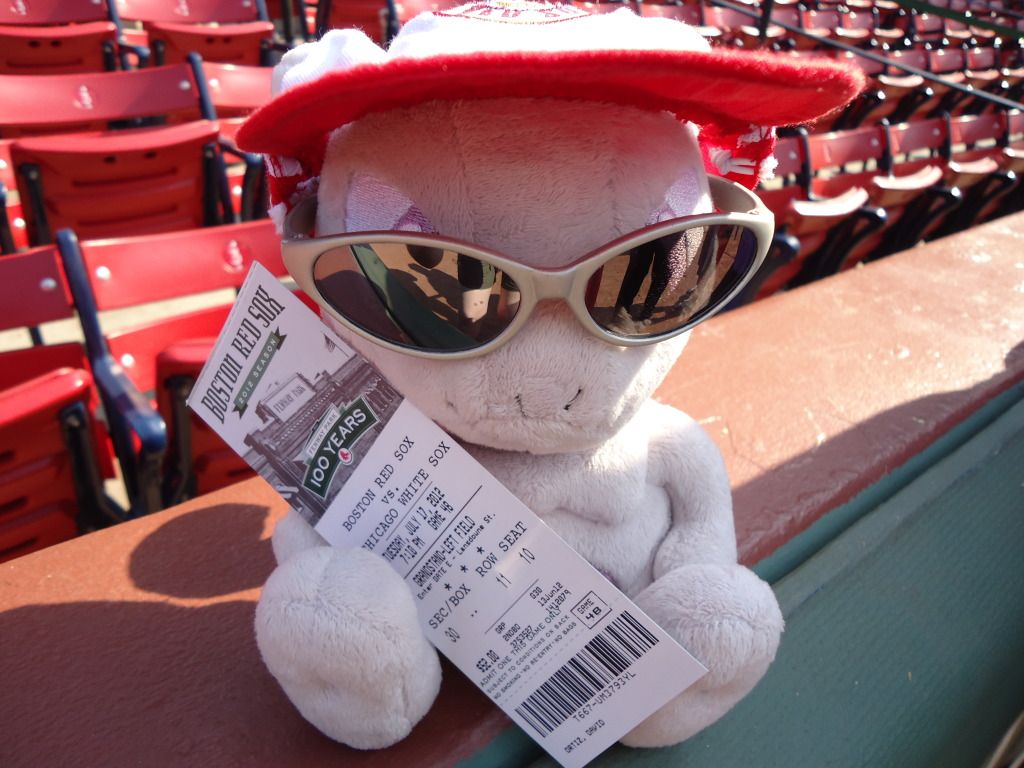 My brother and I had such fun going to our first baseball game, and so did Mewtwo. c: The best part was, my brother didn't even feel sick or weak once throughout the whole thing. It's funny how stuff like that, little things you'd otherwise take for granted, mean so much when you've been through hell and back. The road to recovery certainly is a long one, and we may not have a perfect record, but every day he feels healthy counts as a win in my book. :)

I hope you guys enjoyed the pictures, I loved taking them. Stay tuned for my next post (due sometime next week probably), where I chronicle some awesome things I've gotten lately, including a couple of quite rare Mewtwo items. ;D See you then!