Hey, everyone! Another hobby of mine is lolita fashion (it's a wonder I'm not completely penniless between Pokemon and lolita), and a lot of my loli friends buy some of their dresses from a Japanese site called Mbok, which is pretty much the same as Yahoo! Japan Auctions. The thing is, I never hear any of you talk about Mbok and I was wondering why. I wanted to order some lolita stuff off of there as well as some Pokemon stuff so that I didn't have to pay deputy fees for both Mbok and Yahoo! Japan, because then I really would be penniless. ): Do you guys not use Mbok because:

-You've heard back things about it?
-Or you've never heard of it period?
I'd rather ask you guys before I order anything Pokemon off of there. I figure if there must be some kind of reason, right?

also, today was a good day for both of my hobbies! I went to a lolita meet AND there was some nice merch waiting for me when I got back home! :D

I'm on the left, and my friend Holly is on the right! It's my first real coord, so don't laugh! ;P I'm looking forward to finding some cute Pokemon fabric one day and having some dresses made from it. I'm trying to think of the best Pokemon to get a plush of and take pictures of for lolita... I'm thinking Meloetta, maybe? What do you think?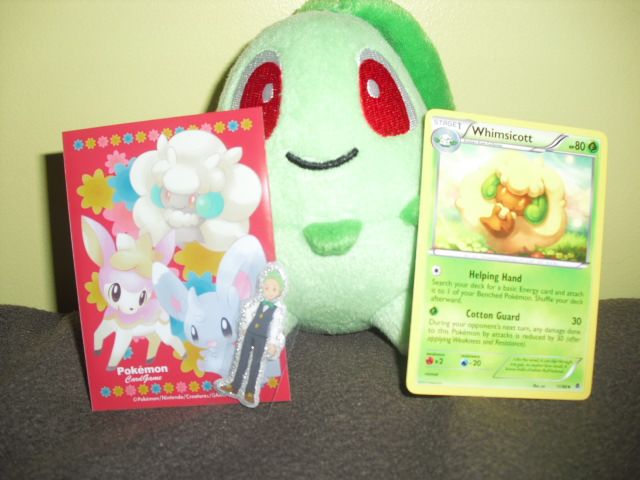 And THIS. All of this came today! I need to post a collection update, but I also need to do some rearranging...it looks like a tornado came through my room. Anyways, I ordered this Chikorita Pokedoll the other day, and it got here really quickly! Chikorita holds a special place in my heart since it was my first Pokemon ever, way back in Gold and Silver. The Cilan sticker came from a GA that hebitheivan hosted a little while ago, and she was kind enough to include the Whimsicott card AND the little card cover thing that features Whimsicott. I don't know if I brought up how much I LOVE Whimsicott while talking to her, or if she's just psychic. Either way, it made my freaking day. LOOK AT THAT CUTE BALL OF COTTON. <3