I thought to wait for my next collection update with this too, but it won't happen this week. So I might as well post it now.

My friend hicke_chan was doing a collection weeding and I got some very nice buys from her, including tomys, shiny beast charms (I have the full set now~!) and a small Eevee plush. She also had another very cute and interesting plush, which I had admired and longed before joining this community, but I already had bought it here. Then she suggested that I could do a little customization to it, since it didn't have its tush tag. So I bought it anyway and made another shiny custom of my favorite shiny.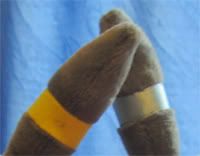 Yeah, another blue Umbreon. :D
Only thing I did was add new stripes around his ears and tail and re-embroidered the rings and eyes, since the fur of Canvas Umbreon is already closer to that of the shiny than normal Umbreon. Rings and eyes are definitely not flawless, because I'm not very good with embroidery, but it turned out pretty cute anyway and will be much loved add to my growing Umbreon collection. <3

I also have some Yanma wants I could as well add here; Does anyone happen to have the tomy figure, clear kid or Jakks throw ball plush up for sale? They are pretty much only non-flats I'm missing from my Yanma collection. Or does someone know, if there is a mini model or metal figure of Yanma?