AAAAAAAAAAAAAAAAAAAAAAAAAAAAAAAAAAHHHHHHHH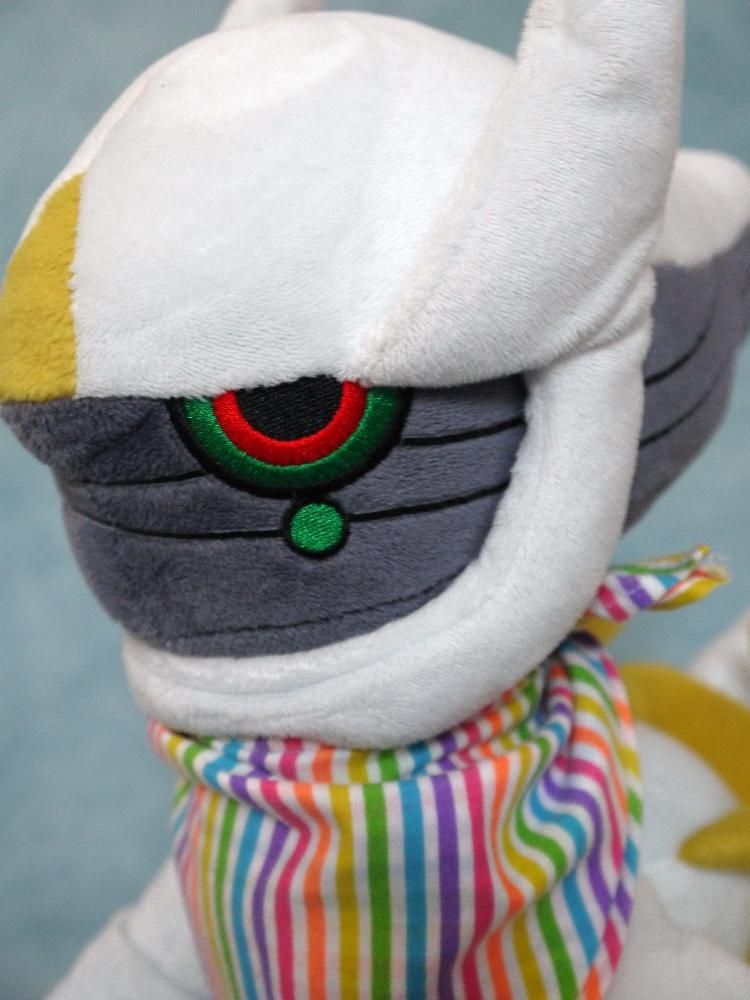 I really, really never thought I would get one of these beautiful babies. I had quite a traumatic time with DX Arceuses.

I scoured y!j every day for months, hoarded all my money and crossed my fingers. And one came up. Starting at 1 yen! I squealed and got excited and sent my deputy all my money. All was good! The auction even ended in the day (UK time) so I could watch it finish instead of waiting up all night. My lovely lab partner let me sneak onto the pc so we could watch (he has no idea about Pokemon, but is still such a sweetheart). Less than 5 minutes to go. Watched the clock count down. 150 yen! I should win! SO EXCITED! :D

...Except no. My deputy didn't bid.

Yep, you read that right. They had an "error in their snipe bidding system". I sent them many, many thousands of yen and Arceus went for 150 yen. I wish I was kidding. I sulked. I cried. I clutched at straws. He had a reserve, so I told myself that if you wanted to set a reserve, there'd be no point setting it at 150 yen, right? That's barely worth the extra fees! Days went by, and the user didn't receive any feedback for Arceus. Hope still remained. I checked the user's listing every day. Several times a day. A month later, still no feedback. I started to give up hope. ): Other people on the comm posted with their Arceuses. I sulked even more.

Unbeknownst to me, my bff
eeveez was also scouring y!j and eBay every day to try and find me my Arceus. Just before I was about to go to bed, she pops up on my messenger and shouts "IS THIS THE RIGHT ONE? :D" And indeed, YES IT IS! :DDDD I never, ever expected to find one on eBay. No extra fees = bonus! This one ended early morning UK time, so I placed my max bid and crossed all my fingers and toes and clutched baby Arceus tight. And. I. Won. For $67. I couldn't believe my eyes. Small panic right towards the end when someone tried to outbid me but I knew this one was going to be MINE. <3 <3 <3 I spent a week as a bag of nerves when he was in the post, but he got sent EMS and the seller was absolutely lovely. He arrived a while back (just before the Diamond Jubilee, he was most bemused at the fuss the whole country made for his arrival) but I got a lovely shiny new super duper camera for my birthday (love you boyf! <3) so I wanted to wait to take awesome photos!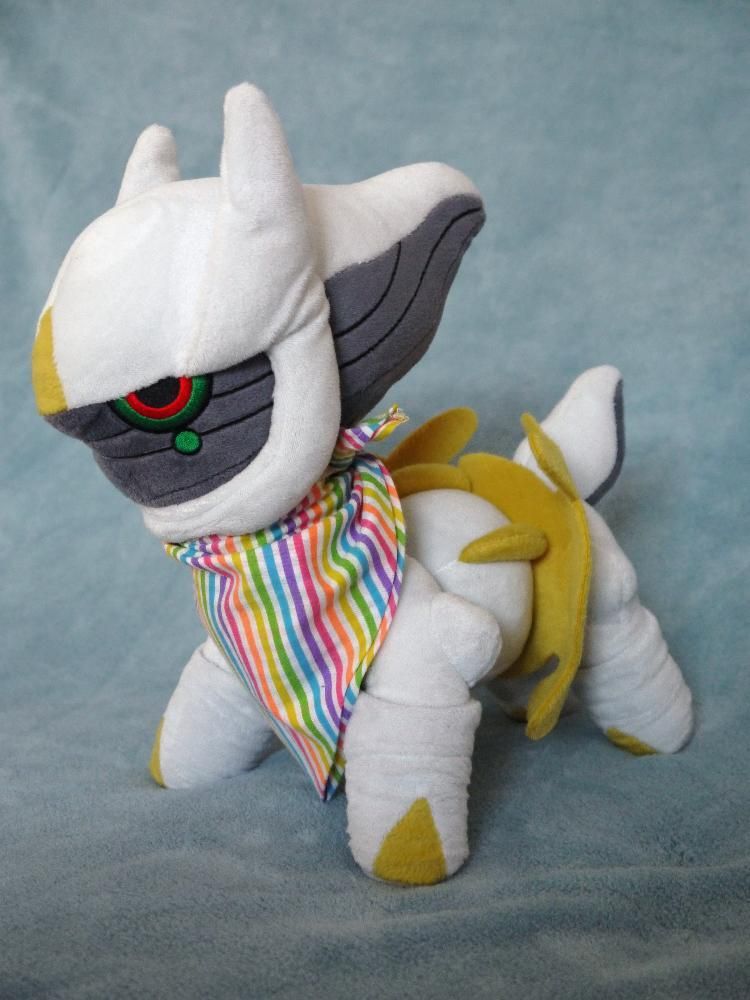 I am still so unbelievably happy.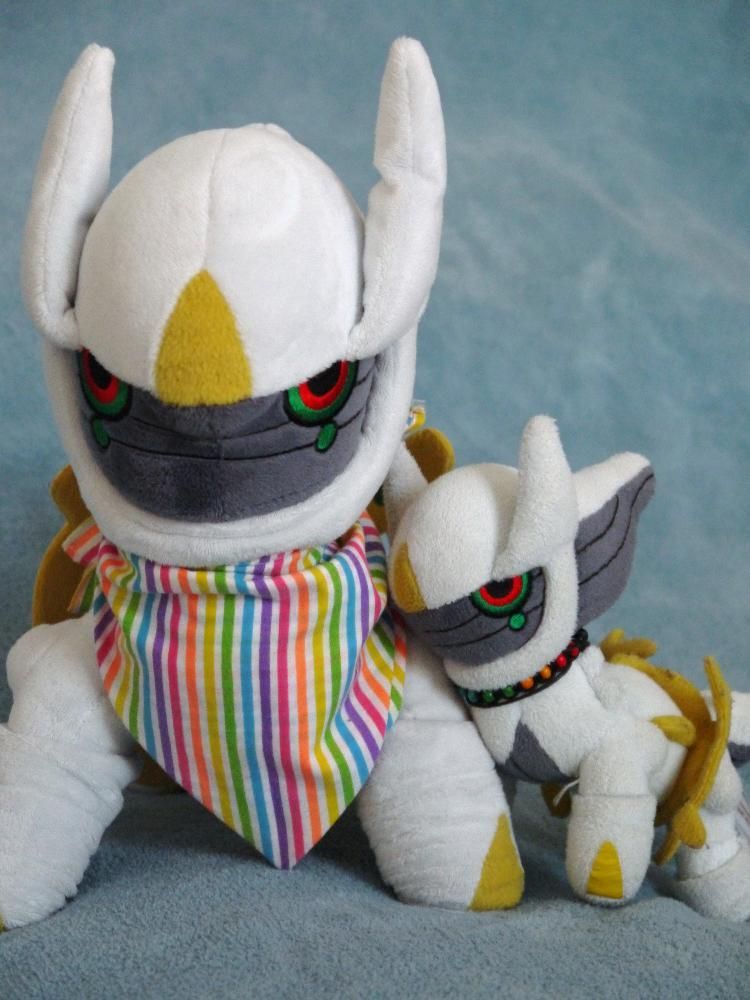 Baby Arceus looked after big Arceuses bandana for him until he got here. He's super pleased to have a big brother. (Note: this is what SUPER loved minky looks like)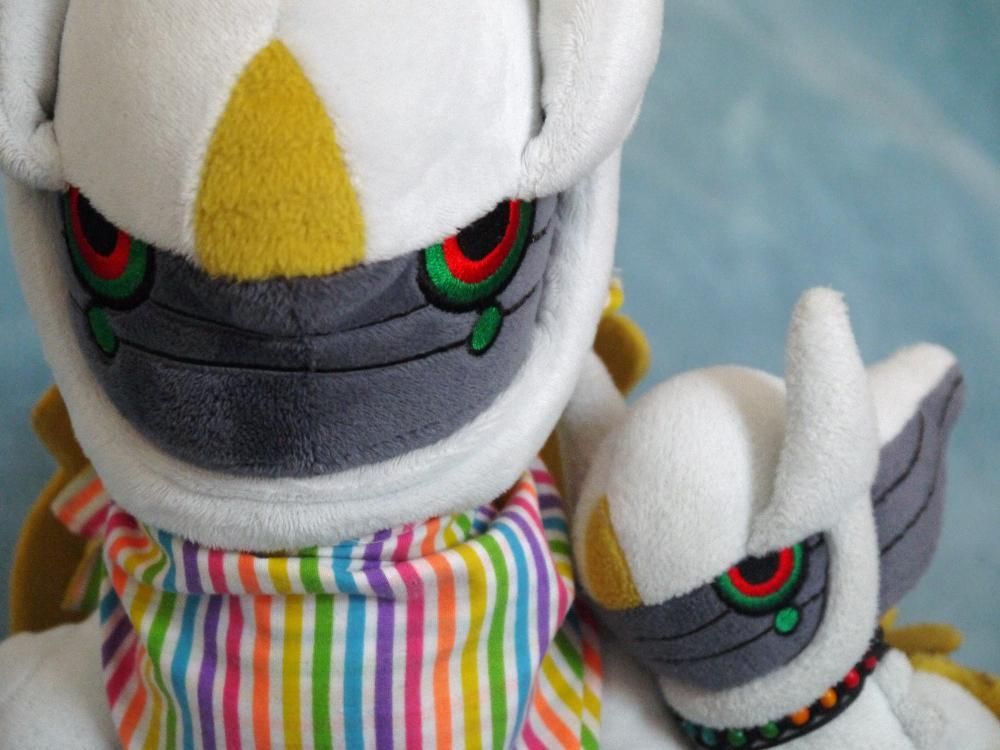 I haven't the heart to kick him out the bed yet (I know some people will be horrified that I let my collection in my bed) but I am just so attached to this guy. <3 He's shush don't tell the Mudkips one of my most favourite plushies ever.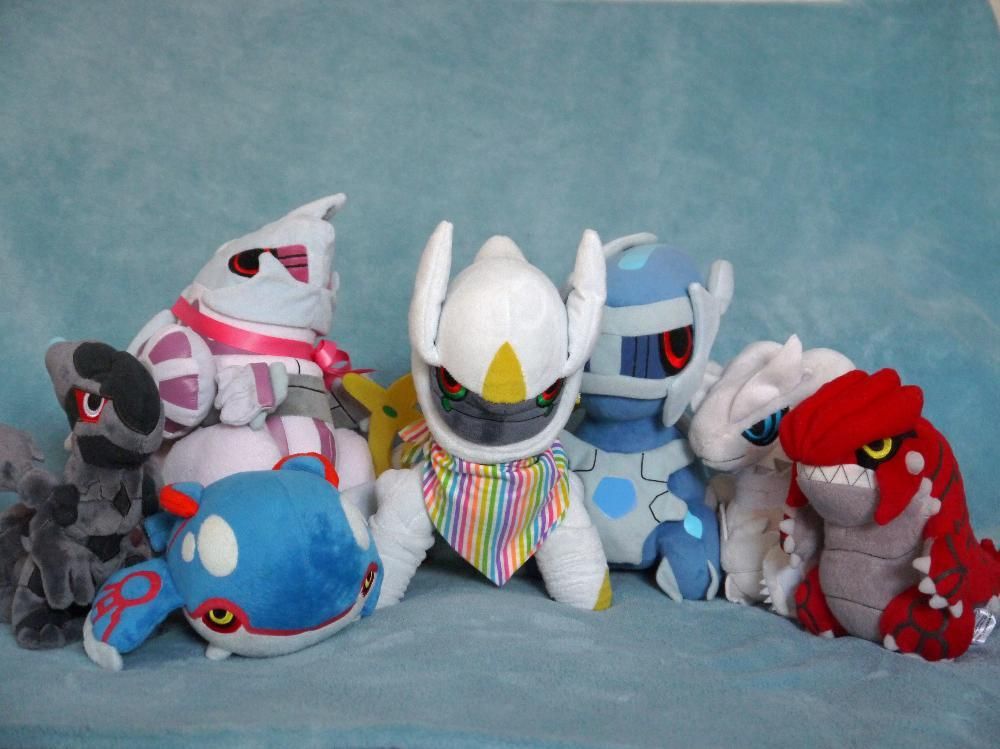 He also completes my family! (Along with a couple other recent additions, oversize Groudon and Kyogre!)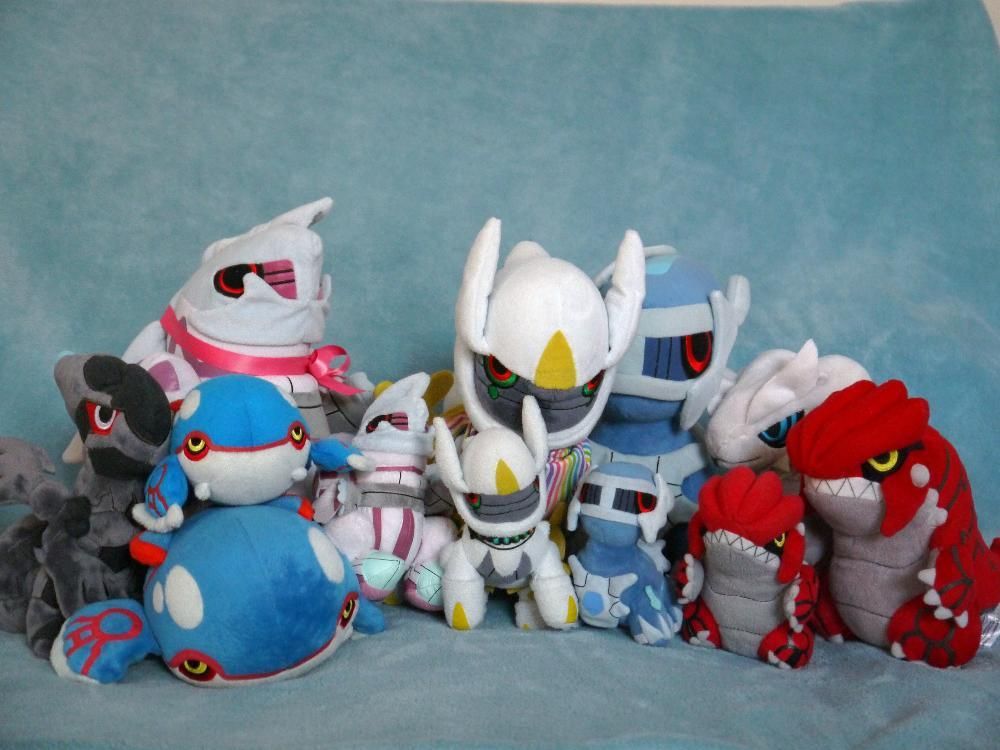 And then with their respective babies. <3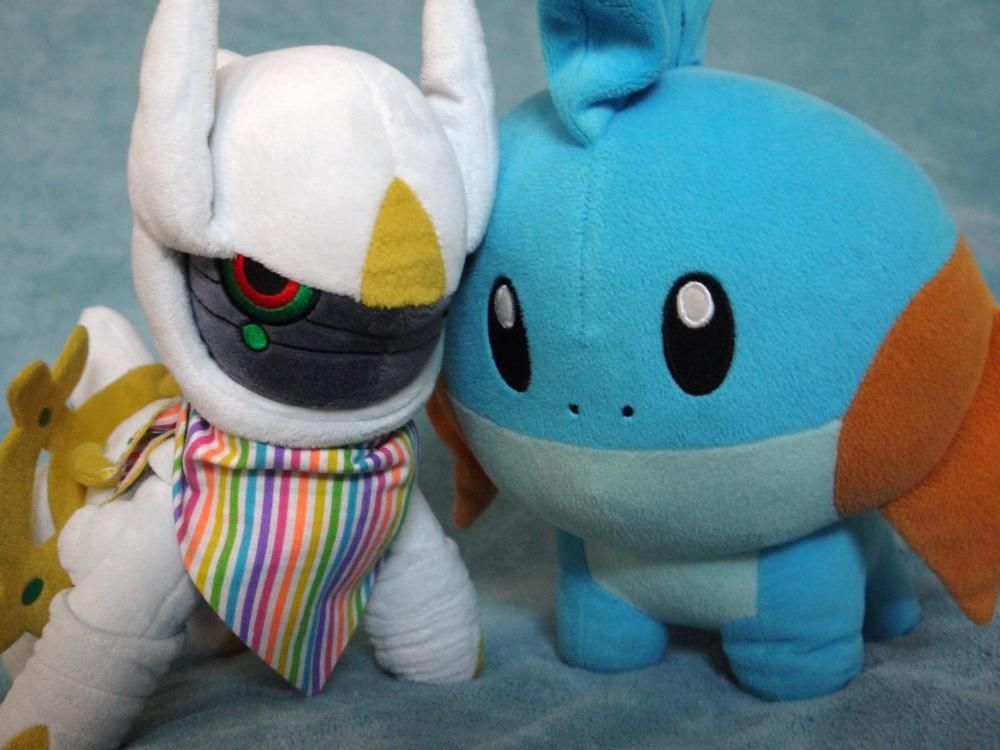 2 grails together. <3 <3 <3 Only problem is...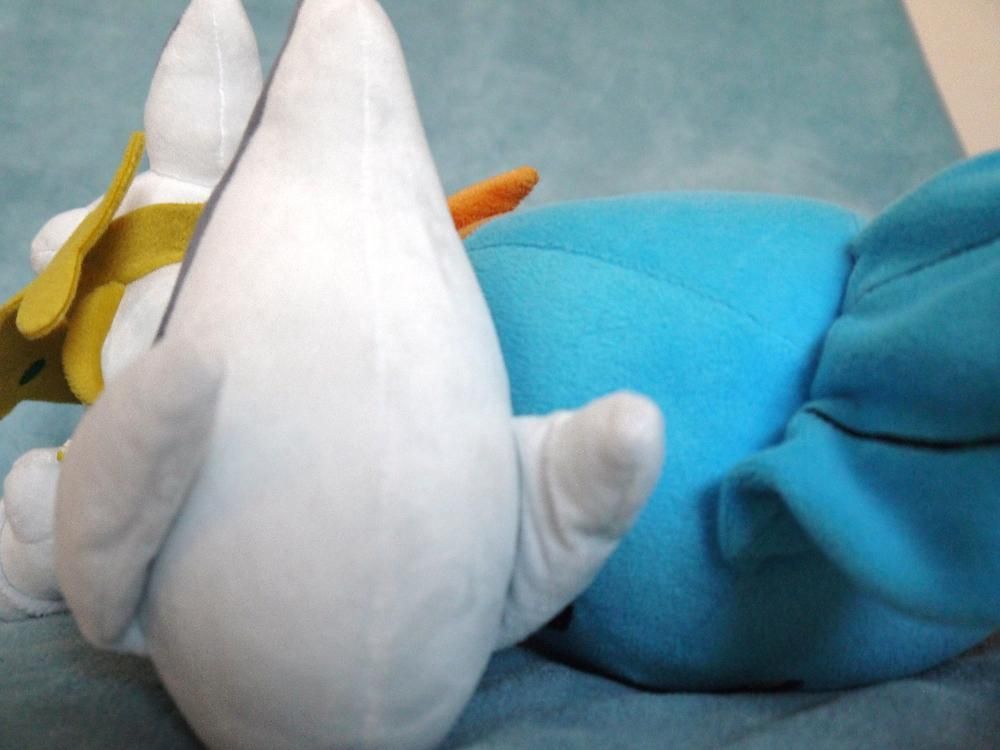 They have a tendency to faceplant. XDDDDD



I have also done a massive sales update! Click under the fake cut for a shiny Entei Pokedoll, Eevee Canvas, rare Pokedolls (including Houndour, Blaziken and unofficial DX Lapras), Pokecen Arceus plush, Vaporeon and Cobalion lots and much more!

( sales this way! )

There's also a little bit of a wants list there too if anyone fancies taking a look. :3

Coming soon: A late 2nd anniversary collection update! I have had some AMAZING parcels recently, including 2 big boxes of pure Mudkip joy and a very special Swampert. :D And I recently finally got some display cabinets, hurrah! :D