Good morning, pkmncollectors! (it's morning here, anyway)

Today I bring you some quick pan sticker sales. The first four gens are featured (sorry, no 5th gen, but I'll have some soon since I needed Tirtouga myself).

Preview: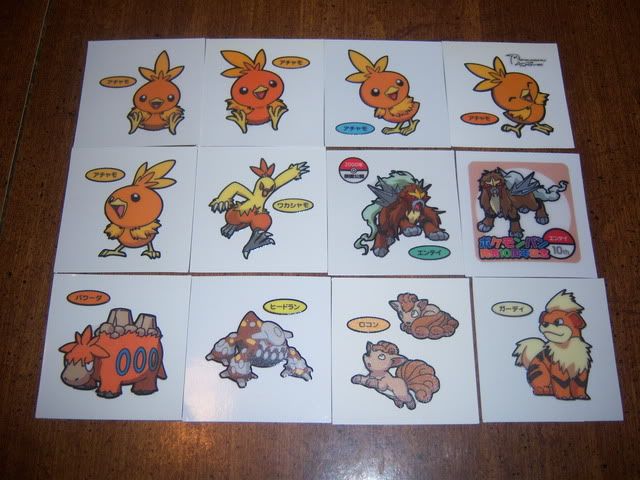 Sales permission granted by
astralvulpes in 2009

I ship from the United States. I do take international orders but understand that they may take 2-3 weeks to ship due to my schedule (this only affects sticker orders if you get so many I have to use a bubble envelope)

I prefer Pay Pal for payments. Payment should be made out to degulover@gmail.com. When paying, please put your username in the memo along with what you're buying. Not doing so can delay your package.

Payment must be sent within 24 hours or I will leave negative feedback. Sorry, but this rule has become necessary :(. I do occasionally hold items if more time is needed, just ask :).

I will be shipping these in toploaders so they'll arrive safe and sound :).

If you buy something, please leave feedback here: http://feedback.pkmncollectors.net/feedback/view/__sasami__/

Prices do NOT include shipping. Please comment with your zip code so I can figure out the shipping charge. Shipping for stickers starts at $1, international orders will cost more to ship.

My house is pet-friendly! Keep that in mind if you have serious allergies to dogs, rabbits, or hay. All merchandise is kept away from the animals, however.



PLEASE READ: I will have limited or no Internet access from August 15th until August 17th so I will be slow to respond to comments and PMs during that timeframe. If you want to know if your order shipped, check your e-mail, I always mark items as shipped on PayPal and they send an e-mail automatically :). If it didn't ship, it's probably going out Monday or Tuesday.






$1.50 each
HOLD: Anorith, Armaldo (both)




$3 each: Vulpix, Growlithe
$1.50 each: Everyone else
SOLD: Combusken, Heatran




$2: Charizard (HOLD)
$1.50 each; Everyone else




$1.50 each
HOLD: Delibird
SOLD: Regice, Froslass (second one)




$1.50 each
SOLD: Drifloon




$1.50 each
SOLD: Poochyena (both), Sneasel, Sneasel and Weavile
HOLD: Stunky, Skuntank




$1.50 each




$2 each: Spheal, Milotic




$1.50 each




$1.50 each
SOLD: Bulbasaur




$1.50 each
SOLD: Both Skymin, Roselia, Budew, Roserade
HOLD: Shaymin, Celebi




$3: Leafeon
$2 each: Breloom
$1.50: Everyone else




$1.50 each




$1.50 each


$1.50 each
SOLD: Both Croagunk




$2: Raikou
$1.50 each: Everyone else
HOLD: Both Rotom, Luxio
SOLD: Both Pachirisu
HOLD: All Pikachu




$3: Raichu
$1.50 each: Everyone else
HOLD: All Pikachu




$1.50 each
HOLD: All Pikachu




$1.50 each
SOLD: Both Togepi, Hoothoot
HOLD: Both Arceus




$1.50 each
SOLD: Happiny, both Munchlax




$1.50 each
SOLD: All Happiny




$2.50 each: Latias, Latios, Salamence, Flygon
$1.50 each: Everyone else
SOLD: First two Dialga
HOLD: Dratini




$2.50 each: Flygon, Altaria
$1.50: Palkia




$2: Gardevoir
$1.50 each: Everyone else
SOLD: Ralts, Kirlia, Gallade, both Deoxys
HOLD: Chimecho




$2: Mewtwo and Mew (HOLD)
$1.50 each: Everyone else




$1.50 each
SOLD: Magnemite




$1.50 each
HOLD: One Swinub, Piloswine




$2: Lucario:
$1.50 each: Everyone else




$2 each: Humans
HOLD: Cassidy, Ash/Pikachu
SOLD: Both Dawn




$2 each: Pairs
HOLD: Suicune/Celebi, Lucario/Mew