Hay hay hay Pokeyman~collektorz~

I have some completed hoodies to show (and to pick up of course!)~ ^^



Slowbro for
girlunoriginal

Espeon also for
girlunoriginal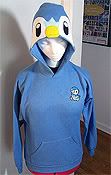 Piplup for
xinliyoushu

I also still have a~
Poochyena for
happyjolteon~~ ♥


If everything looks good to go let me know~! Also please confirm your shipping addresses for me when you get a tic! bunnieofthemoon (at) yahoo (dot) com ~! I will be making a HUUUUUGE trip to the post office on Monday as I neglected to go last week due to Volkswagan problems and my friend's graduation~! So if you are waiting on something from me it will be on the way first thing on Monday! ♥

COMMISSIONS ARE OPEN AGAIN~!
Prices, Quotes and everything else can be found here~!

This next batch will be done for July/Aug~ :3

I will only be accepting the first 4-5 people to pay~! Commissions will be reopened again after those are completed.