Howdy comm!
I come to you today with some CHEAP SALES! Everything must go!
There are some kids, tomys, jakks, a plush, a tin, and more!
YOU GUYS ARE THE GREATEST






Sales permission granted on 4/2/12 by
entirelycliched. My feedback can be found here: http://feedback.pkmncollectors.net/feedback/view/dearballadeer/

All community rules apply.

All sales are final.

I ship from Florida, and ship worldwide.

All items come from a smoke-free apartment and a dog-friendly apartment. He's hypoallergenic though, and goes nowhere near the merchandise!

Prices DO NOT include shipping unless stated.

I ship EVERY DAY OF THE WEEK (except when they're closed)!!

I am NOT responsible for items that are lost or damaged during shipping (though I am willing to work something out!).

I accept Paypal (preferred) and snail mail. Items won't be shipped until payment is received.

Holds are okay, as long as they're not ridiculous. Please inform me beforehand if you plan to hold!

This is the best community!!

SPECIAL RULE JUST FOR THESE SALES: Everything is OBO! EVERYTHING MUST GO! Don't be afraid to haggle or shoot offers (as long as they're not ridiculous)!

PREVIEW!





HERE WE GOOOOOOOOOOOOOOOOOOOO




Pansage Reversible Plush ; Turn it inside-out and it becomes a Pokeball!
$3



Kids! $1 each




Jakks! $1 each
Ho-oh has a black scuff mark on something on its left wing (you can see it).
Suicune is straight from the package, and had some small paint scuffs, but it was packaged like that.




Tomys! $1 each.
Pikachu and Charizard are dirty/have marks, so are 50 cents each.



Straps! $1 each

Arceus Poster! $3
Is naturally creased from original packaging. Super cheap to ship if you want it by itself; $3.75 shipped in the US for the poster alone.




Random 'Dragons Exalted' cards : $1 each
BUT!!!! PKMNCollectors deal, 2 FOR $1!
Includes; Hydregion, Deino, Trubbish, Magmar, Nosepass, Gabite, Aron (normal), Aron (reverse holo), Lairon, Whatever kind of Energy card that is.
Pokemon Online card free if requested.




Little in-case Lapras thing : $1
Do you see me taking the picture? Lol.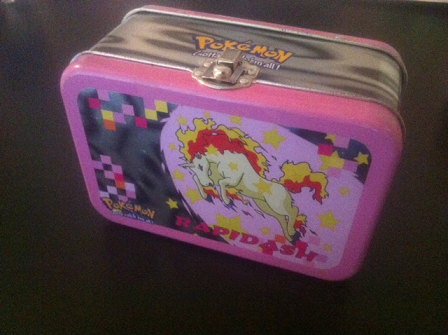 Rapidash Tin : $5
Has some wear and tear because of how old it is, and some random stamp markings on the inside, but nothing that can't be taken off with some elbow grease. If you want more photos of its condition, let me know!




Motion Sensor Talking Mew : $5
Pretty neat and old school little guy! I just tried it out and it KINDA works, it barely says 'Mew, Meewwww', but it DOES work! Just needs a new battery.




Charizard Marble and TINIEST VAPOREON : $1 each
Charizard is a bit faded, and the vaporeon was pried out of a bouncy ball long, long ago. Walrein for size reference, he's the best helper and needs a new home!




EXDragon Rulesbook and Cardlist : $1 each

MISC : $1 each
Raichu doesn't light up and is missing its tail, Mantyke is a little dusty, CROCONAW AND SKARMORY ARE BOOTIES AND ARE 50 CENTS EACH!, and Grimer is helping keep the ball up and is also the best helper and needs a new home!