Wow sales!! I have a couple neat things up for offer today along with lots of direct sales :D Newest cool stuff is under the cut, but you can also check out my main sales post - I really need to clear out some of these items, so feel free to make an offer/haggle on anything!





I ship from the US! Shipping on US things will start at around $2.50 while shipping international starts at a dollar more (flats would be about $1 US or $1.50 international!) I'm not really looking to trade at this time, but haggling is welcome! Full sales rules and such can be found in my sales post link above!

I'll end offers in a few days!

Most of my photos are shrunk down - drag them to your address bar to see a bigger version!



OFFERS START AT $70 - reply in the offers thread below!
Swampert Pokedoll! Here's a side and tag view. He's in pretty excellent condition overall, no rips, stains, etc. His tag looks like it's been pulled on/someone's tried to rip it out. I'll ship him for free in the US and I'll knock $3 off the shipping price for international buyers! Tracking is included for US buyers.




OFFERS START AT $8 EACH - reply in the appropriate offers thread HERE!
Mini Tomy people+pokemon figures! These are adorably small - Vulpix kid is for size reference! The cardboard backing is slightly bent and the plastic displays are a bit squished on some, but all are still sealed/mint in package. Here's a closeup of teeny tiny Arbok and Scyther - let me know if you'd like a closer picture of any of the others!




$30 shipped anywhere!
Espeon V-trainer! Unfortunately the paint on her eye and gem is a bit scratched as shown in the first photo, but other than that she's perfect. Very cute and tiny!
Sold!



$1 Pikachu x2
$2 Pichu
$4 Raichu, Teddiursa, Charizard
More V-trainers! Most have slightly worn edges, like on ear tips and toe claws. Raichu's poor nose is partially rubbed off but it could probably be fixed up with a Sharpie! He also has wear on his tail.



Trainer .. boards? are $2 each. V-trainer electronic games on the right are free but will probably raise shipping!
The boards snap onto the electronic game, and you can snap one of the Pokemon figures into the middle to play/battle the trainer on the board. The electric-print game works and has batteries, red ones don't have batteries but I was told they work. I have two Falkner boards! There's also a second Norman, but the stickers are peeling - it's free if you want it!




$1 - Wurmple, Silcoon
$2 - Vulpix, Ninetales, Linoone
Staks/magnets from Europe! These are about an inch and a half tall, and have some slight peeling on the edges but nothing serious. I can ship these for $1 in the US or $1.50 anywhere else!



$8 Donphan lot - includes plastic Peru standee, mini lenticular activity book (cover is mint, inside has some marks), and rare Johto metal swing keychain.



$4 each - Entei bottlecap figure, Arceus preorder figure
Great condition, minor scuffs. Entei's back spikes are slightly warped.




Note the DS game cases for size! Large figures are hollow plastic/pvc while the small figures are rubbery and about the same size as a kid figure.
$1 small rubbery Pikachu x2, small Clefairy
$2 small Charmander, small Oddish x1
$3 large Clefairy (dirty, needs cleaned)
$5 large Charmander (stomach paint is thin in some places, has minor marks)
$6 large Oddish, large Squirtle



$5 Hasbro? Talking Marill (kid for size ref!)
This guy's pretty hefty, so shipping may be high.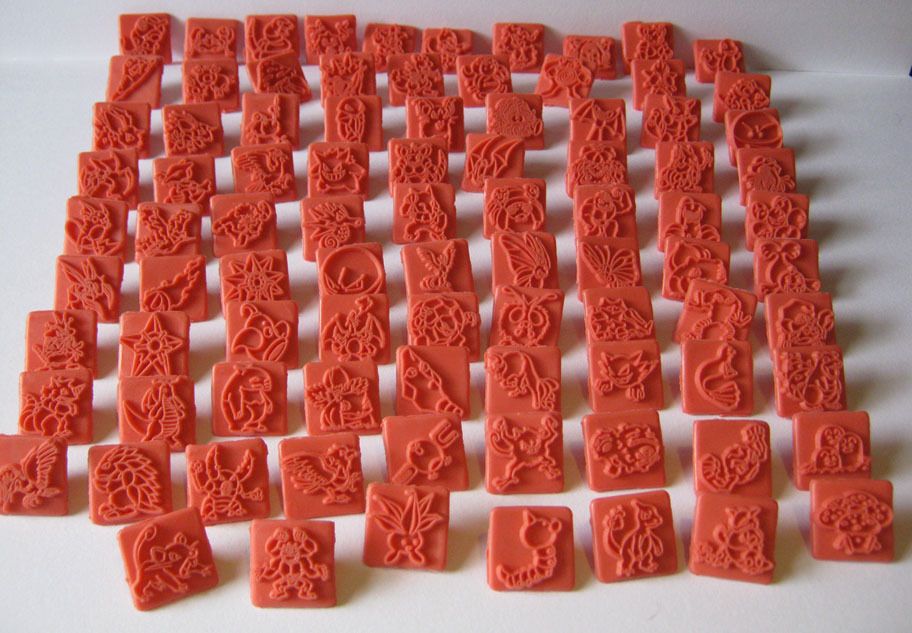 Roseart rubber stamps - $.50 each or buy the entire lot for $10 + shipping! Larger photo HERE.
These have little grips on the back, so I can't ship them as flats (unless you want me to cut the piece on the back off?)
SOLD!




$.50 each or buy the lot for $6 + shipping! Used but good condition - may have small scratches/etc. Ask for individual condition!
Sold: Articuno



Clear bootleg Tomy figures - top picture $.50 each, bottom picture $.25 each
These are absolutely not official 100% totally fake bootlegs, but.. I have to say they're kind of cool bootlegs! Some Pokemon are painted but others have different pieces made of different colors of clear plastic.
ALL SOLD EXCEPT: Pupitar, Gengar, Aipom, Bulbasaur, Psyduck, Sandslash, Granbull, Hypno

Thanks for reading! :D As always I'd be happy to combine anything here with things from my main sales or non-Pokemon sales.