Hiya! I hope everyone is starting to settle with getting back to school again! My lesson will start this Friday, definitely not looking forward to that on top of my full time work. But you gotta study if you want a better salary >u>

Anyway, I find myself wanting to try doing some more pokemon in bottle, so I would like to try auctioning off one slot as a trial (: Slot will be for one simple custom pokemon of your choice :'D





(P.S. to those who have commissioned me for mini scenarios, this wouldn't affect your commissions as they will be finished before the auction here ends :P )


Added: Two premade pokemon in liquid in Bottles for auction too!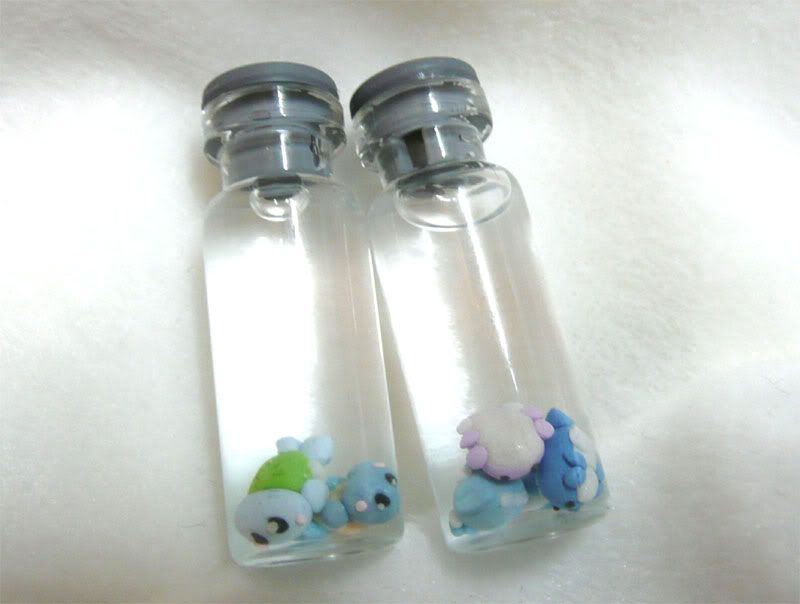 Bottle of Squirtle and Bottle of Wailords! at a even more tinier size :'D




Before Bidding, please read the following:

**********

Custom pokemon in bottle commission slot:

- The bottle measures 3cm tall with a 3cm diameter, which is the same as the one Charmander is in
- I sculpt with coloured clays only, which are usually a mix of Fimo + Sculpey Polymer Clay
- I will do one simple pokemon of your choice, + a simple "base" in the bottle
- Since the bottle only has an opening of 1.5cm diameter, I can only be fairly simple pokemon. I will try to keep them as detailed as I can but bare in mind I might simplified some details if needed
- Please ask if you have concerns whether I can do your pokemon or not, I don't want to disappoint people if it turns out I am unable to do the pokemon you choose :( I should be able to do most pre-evolved pokemon though
- I would recommend a sleeping pose or pokemon that stands on four legs since the bottle is not very tall :P


Sorry I haven't done many pokemon in bottles, but you can see my style of work in my DA gallery (:

Please bid in the "All bids go here thread" for the custom slot XD;


**********

For Premade Custom bottle of Wailord and Squirtle: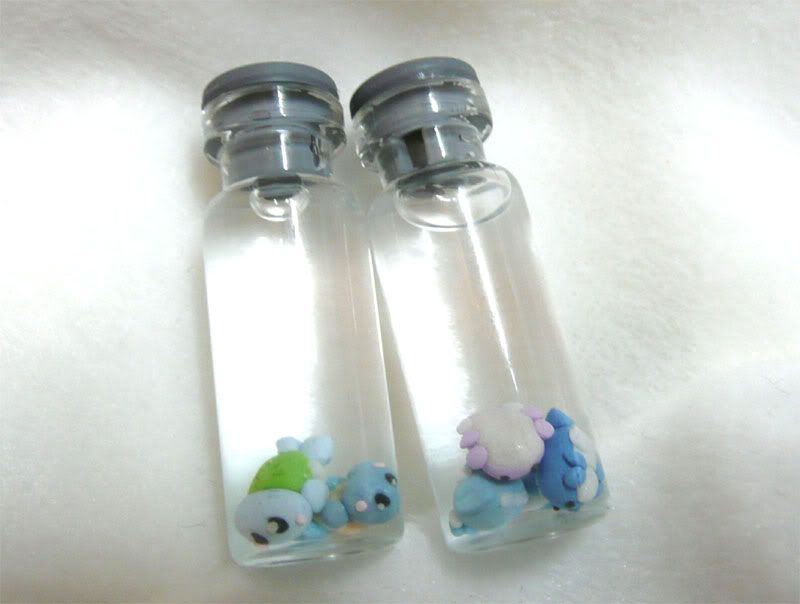 - They are stored in 1.4cm diameter, 4cm tall bottles, with a 0.6cm diameter opening. So hence these are smaller than the custom slot I am auctioning off :P
- The bottle has a rubbery/plastic-ish lid. It's not sealed so that means you can empty out the content. But I think the lid is pretty secure and air-tight even without being sealed with a sealant.
- The liquid filled is a mixture of distilled water + glue. I have done this before and it worked pretty well, but if you have concern, I can empty the liquid out and clean them before sending them to you, and you can fill the bottle with something else (I heard Glycerin works well too). I will be honest, since I haven't had any of these in liquid bottles shipped overseas, I don't know if it's better to empty them out or not :x
- Please understand as this is really tiny work, and I am not a professional, these are not perfect, they are seen as in the photos

Anyway, moving on to more specific details about each piece.
You can see the Woobat kids as a size reference.


There are 4 wailords in the bottle, 3 normal ones and one shiny (: The normal ones all have different tones of blue to make the bottle look less boring.
Each wailord is about 0.5cm tall/ 0.8cm long.






For the squirtle piece, there are two squirtles, one normal and one shiny. I apologize that there are some dusts on the shiny one, but it's too late ;-; At least it's not very noticible (due to the size) unless you stare very closely at them.

Each Squirtle is about 0.4cm tall/ 1.2cm long.


**********

Applies to ALL AUCTIONS here:

Auction price will INCLUDE AIRMAIL SHIPPING TO ANYWHERE, but excludes pp fees. I ship from Hong Kong, and if you want tracking, please add an extra $2.



Auction ends next Wednesday 12 noon GMT +8 time at 12th September, 2012. I will require full payment in 48 hours after the auction, but if you think you need more time, let me know before bidding (:


Bidding starts at $10, and please bid in minium increasement of $1. All pkmncollectors rules apply, include no sniping.


Thanks all!



****************


Added 2:
A premade Zapdos in bottle for straight sale at $10 shipped airmail anywhere!



His details, he's the bigger Zapdos in the photo below




All other details about the bottle and the filling is the same as the bottle of squirtles and wailords, except I also added some plastic jewel beads to make the bottle less empty.