FINALLY, I've gotten around to posting my collection!

I mainly collect cards. I love the art, and love building decks around my favorite cards to kick some ass! ;D

I loovvveee Mudkip and Typhlosion! I also collect some Team Rocket and Eeveelutions. My minor collectings include Clefairy/Clefable, Nidoking, Zangoose, Charizard, Feraligatr, dark and fire puppies, and .. a few more that I can't think of. xD I'm also trying to start a Voltorb collection.

But enough of that! Onto the PICTURES.


First off, EEVEES.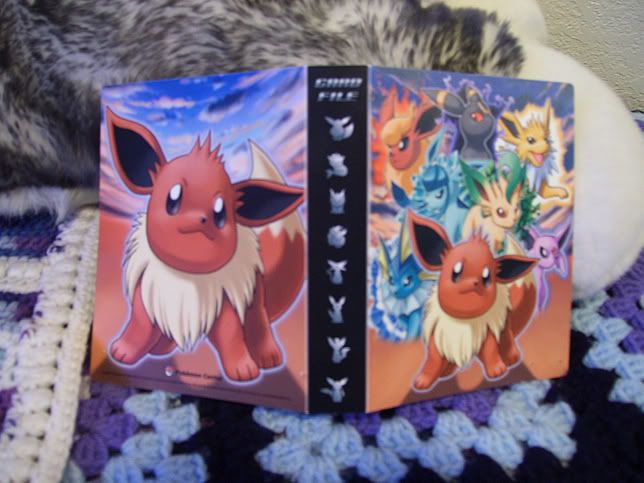 This is the Eeveelution binder I bought from
ravestars85! Inside are my Eevees, duh! I also keep my Mudkips and Typhlosions in here. (: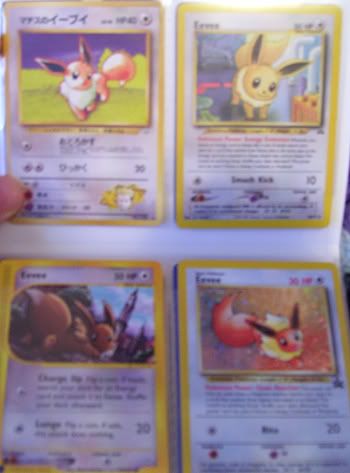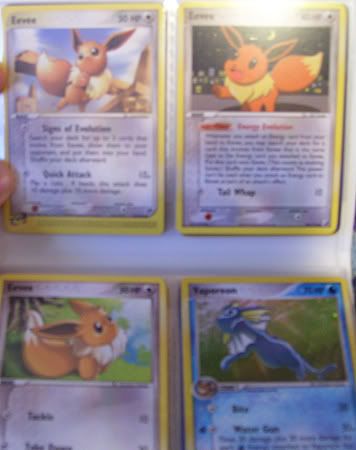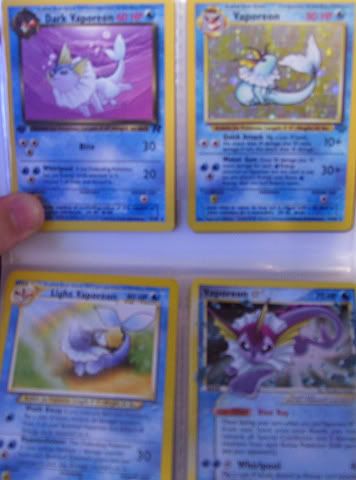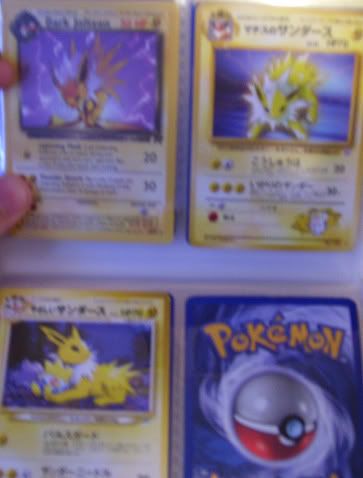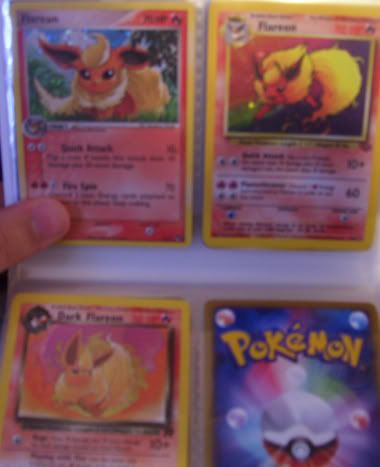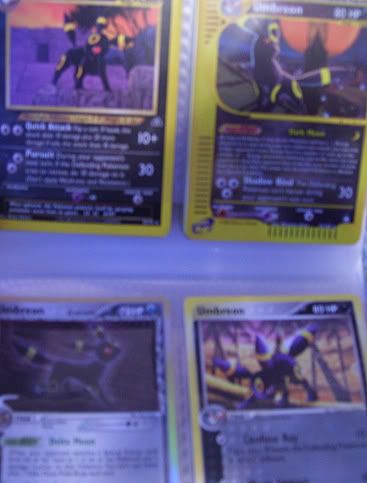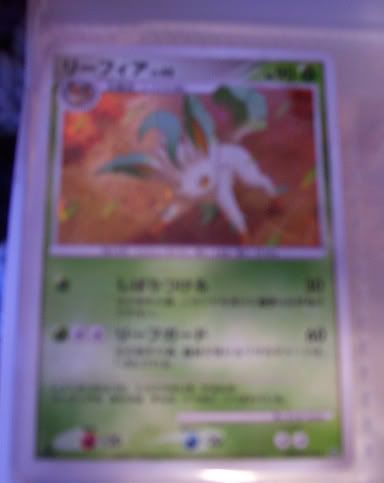 I bought a Majestic Dawn booster last weekend after I took these pictures and managed to pull another three cards to go in my collection! I got this Glaceon, non-holo, this Eevee, and Dawn Stadium, all in the same pack! Along with a bunch of REALLY cute Pokemon! I was very surprised that there wasn't a SINGLE card in the pack I didn't like! :D What luck!

That's it for the Eevees, now onto the TYPHLOSIONS.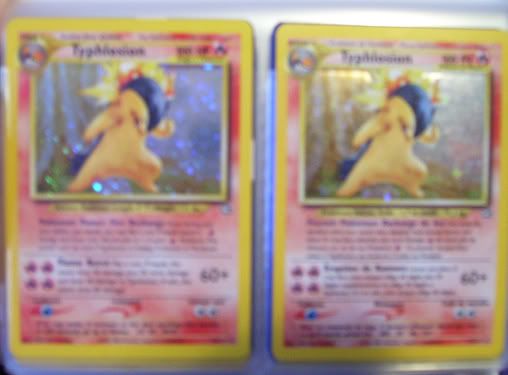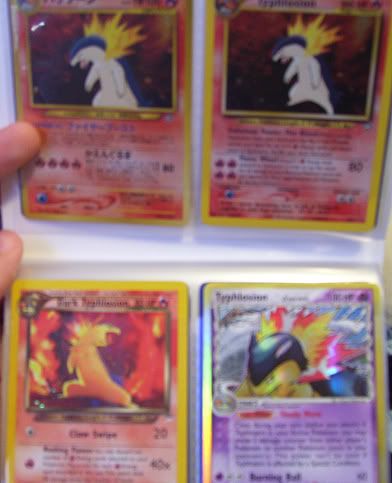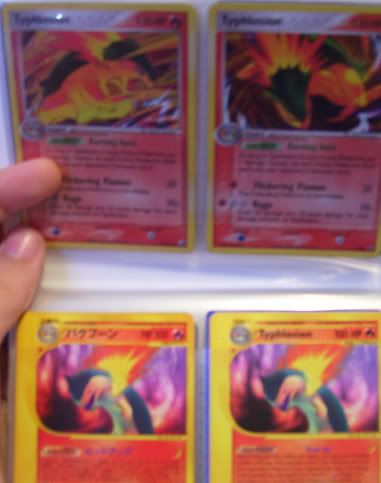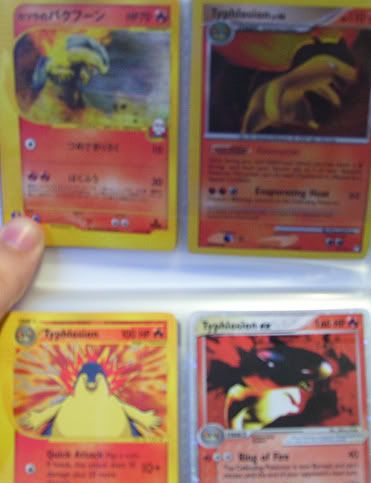 I'm missing Typhlosion Ex, but as far as I KNOW, that's the only one I'm missing. If anyone knows of any others, please let me know!

TOYS!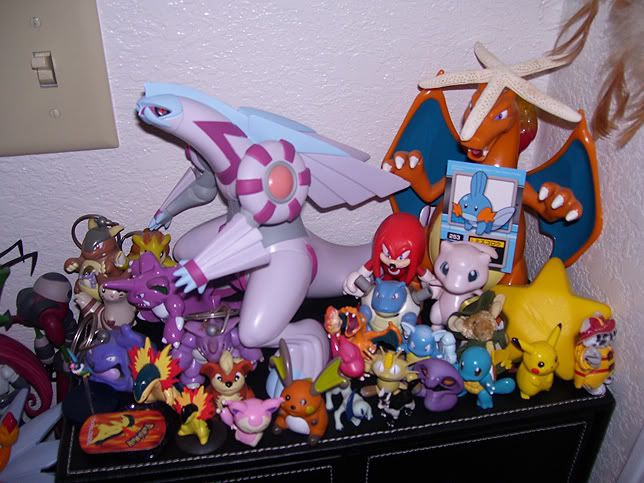 Ahah! You can see my tiny Typhlosion collection. XD Along with a bunch of other random Pokemon I adore! The darker colored Nidoking is wind-up! He was featured in the EPIC BATTLE video I made with
wolvenillusion as he fought her wind-up Mewtwo!

And I know Knuckles isn't a Pokemon, but I don't care! It's KNUCKLES. SRSLY. HE'S JUST AS AWESOME.




And bwahaha .. I almost feel bad for Dialga. But not really. (: He's being controlled by my wind-up Charizard, who is trying to protect him from the MUDKIP ARMY! BWAHAHA.

.. and don't mind Tallest Red chillin' in the back, he's just chattin' it up with Team Rocket. (:

But now .. time for the MUDKIPS. OH GOD, THE MUDKIPS.

First, CARDS.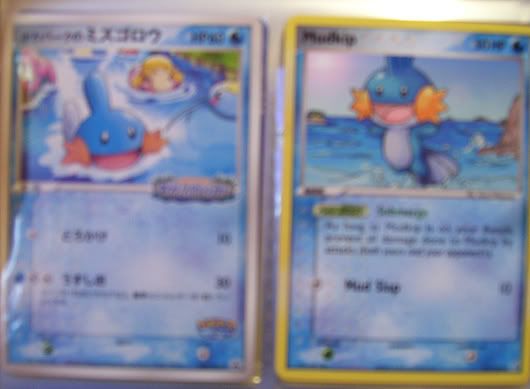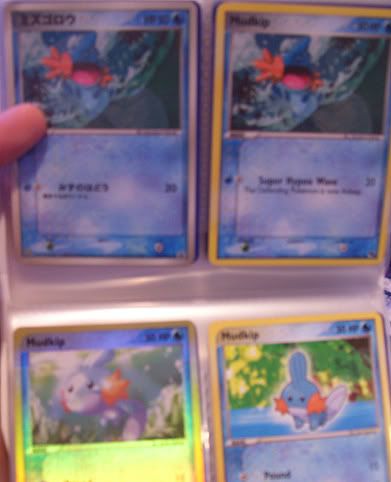 It ALL started with that first card, the PokePark one! It was TOO cute for me to resist buying. As far as I KNOW, I'm missing FOUR Mudkips (Shiny Team Rocket, WB's Create-a-Card, Brock's Mudkip, and another PokePark one?). Please, please let me know if you have/know where to get/know of any other Mudkips I'm missing! :D

And now, TOYS.




O LAWD!! :D

And this is actually outdated; I bought the Mudkip Battle Spinner from .. . . oh god, I can't remember. . . . . DD: FDSLFJ. I BOUGHT HIM FROM SOMEONE HERE WUT.

But YES. HERE THEY ARE FROM LEFT TO RIGHT ::

1. Mudkip PMD house from
sugargerbil, ONE OF MY GRAILS, YAY!! <33 It's so perfect, too, since my team on PMD2 is Mudkip and Cyndaquil! :D
2. Mudkip UFO plush
3. Mudkip Tomy
4. Mudkip Jakks
5. Bootleg Mudkip phone charm; it broke the day I bought it. :| Now it just looks like he's pissy because he has a bolt in his head.
6. Mudkip v-trainer
7. Mudkip pencil topper; he's probably my happiest Mudkip. JUST LOOK AT THAT FACE!
8. Mudkip spinny top from McDonalds; even the spinner stick is shaped like Mudkip!
9. Mudkip kid
10. Mudkip TFG
11. Mudkip figure .. I don't remember what brand it is, but it came with an Absol, it's official. He's a very PISSY mudkip. I think the phone charm is a bootleg off this, since they're both pissy, though the charm is bigger.
12. Mudkip bobblehead from
yaoi_queen
13. Mudkip sticker from the kid
14. Mudkip Advanced Generation plush

NOT pictured is my Mudkip Advanced keychain! He actually hangs in my car on the rearview mirror with five other keychains: Meowth, Buizel, Chatot, Poochyena, and Pikachu. (:

I also had a smaller Mudkip plush, but I gave him to a friend. D: OOPS.

AND THERE YOU HAVE IT. MY OBSESSION ... WITH MUDKIP. D:

I LIKED MUDKIP BEFORE ANON DID. D:< I DON'T WANT ANY 'SO I HERD ...''S, OK? ;~~~; YES I LIKE MUDKIP, IT'S QUITE APPARENT LMFAO.

Anyway, yea, .. finally, I have a collection post up .. *collapses* Hope you guys enjoyed! C: