First and formost this is a small collection update. Shopko was clearing out its pokemon stock for cheep so I finally got a Reshi Jaaks figure to match Zekrom. There's a few other gets as well. Reshi is finally making a small comeback to Char and Zekrom collection XD.


Collection update:

Jaaks: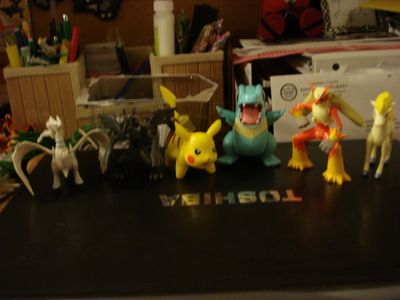 Reshi. I wish there was a Kyreum one, then the set would be comeplete. Plain Kyreum needs more figure stuff.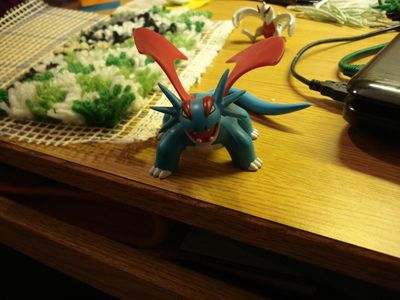 I forgot to add Salemence into the Jaaks' figures when I took the picture. Here he's reminding me He's still here.I find it funny that it does look like he's yelling at me.
Tomys: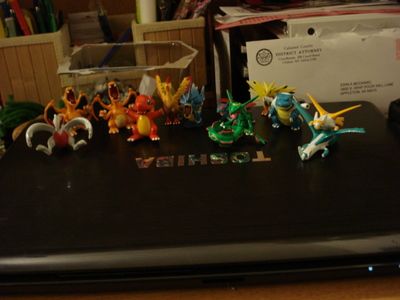 Blastoise is new, Lugia was scratch up so I repainted him as shiny (Closer pictures are down below). The second charizard I plan to make into a clone Charizard. The latios and Latias in the picture I did today as well, however they are booties, or so I believe they are.
Kids: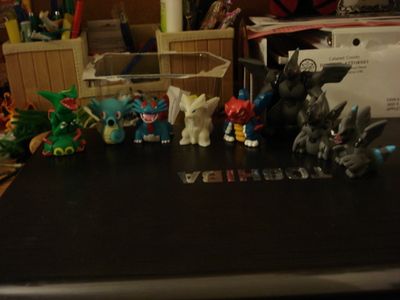 I love kids they are so adorable looking.
Bottle Cap Figures:


Finally got the Reshi one. Dragon set is complete. I was sad when black and white Kyruem boxes were canceled. I was looking forward to having all five of them.
Repaints
Did these today, also took some wip pictures to show how the process works.


Base Coat: I normally coat the entire thing in the main color of the pokey, in all three of the ones I did today it was an off white color. Latios and Latias are just featured above.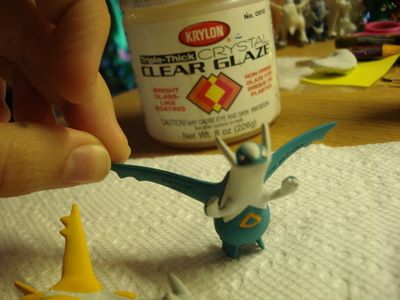 Then we add the color details, making the eyes last. Also you can see how the acrylics give the piece a dull and flat look. Lugia is sitting on top of what I coat them with to seal/ give them the shiny effect to them.


Finished product. Latias decided to sit about in my pens. Latios in my dragon pens. And Lugi is just chillin

N and Bulba?
So here's another project I have been working on. Latch hook Pillows based on Pokemon and characters. N, is currently in the works for I started him this week. Bulba was just a sample to see if I could do it, Still need the stuffing. All of this is done by hand, sewing and such.


I really do love how N is turning out. the background on Bulbas was too much so I decided to do a checkered theme with N's background. Bulba also looks funny because I didn't have the correct color of yawn I just used what I had and went with it.
</lj>