Hey guise :D

As some of you may know, I moved out of my old apartment in February and have been temporarily staying in school housing while waiting for a dorm to accept me. It has taken longer than I thought, so my collection remains packed up, but since moving in I have amassed quite a bit of stuff, so I have photographed most of it (minus a few things + flat items) and thought I'd post it, since I haven't made a collection-related post since Idunno last December 8,D. I have never actually posted my entire collection, but am planning on doing so when I get moved in and unpacked.

For the record, I collect Linoone, Kadabra, (top 2 favorites <3)Piplup, Manaphy, Spinda, and Spoink mainly, and a little bit of this and that here and there. :F Sub-collections include Buizel, the lions, Nosepass, Shaymin, Finneon/Lumineon...etc. XD;

So yes, this is basically more or less what I have amassed since the end of February.

At the bottom of the collection pictures will be a tiny sales post full of useless crap and more pan stickers 8,D.

*Note: Sorry my image size sucks. My computer doesn't have photoshop so I have to use photobucket's crappy editor which either makes my images too big or...this size. ...XD My lief.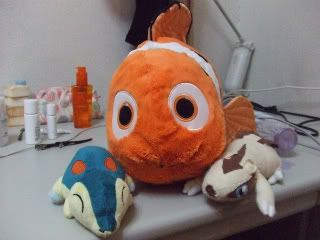 OMG OMG WHO DOESN'T BELONG LOLOLOL D:!

Warning: image heavy



Story of this Nemo: I am usually really cheap about plushies, but I saw this Nemo at the Disney store on sale for $6...or so I thought. B| Who can pass up that deal? So I went to buy him and found out that he was actually $13 and angsted about my purchase because oh teh no my life is hard I spent a whole 13 bucks. But I have grown to love him to death <3 he is friends with Gingersnap the Linoone (who most people have seen but yanno. He's a little bit of a camwhore 8,D) and Saragao the Cyndaquil (Pokemon Center 10th anniversary Pokedoll). Saragao was a present from Gin 2 weeks ago because I was having a bad day. <333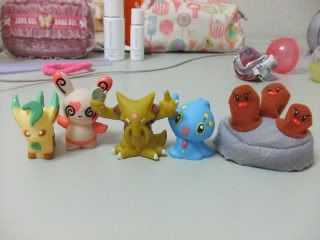 Leafia kid, Spinda kid (a little loved by some Japanese kid, but still good. Yeah. Still good.), Kadabra renewal kid (Finally! I have wanted this sucker for 10 years. ;-;), Manaphy kid (so cute <33) and DUGTRIO. PLUSHIE. Oh yeah. You know this is probably the coolest thing you have ever seen. It's a finger puppet.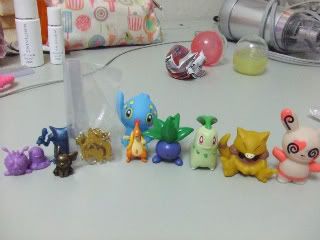 purple Venonat, purple Diglett, blue Kadabra, metal Pikachu, Kadabra keychain <33, Floatzel chou ghetto, Oddish keychain, Chikorita TOMY, Abra kids which I took out of my personal collection to sell but it didn't so I am returning it to my collection, and another shot of the kids from the last pic.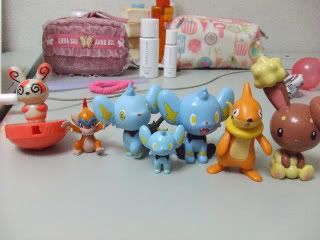 Spinda McDonald's toy, Monferno (this is a super rare Europe only release. It came with that swanky flying Staraptor of Gin's. I don't collect Monferno, but this figure was so cute I had to have it), Jakks Shinx, Shinx TOMY, bobblehead Shinx (hello accidental Shinx collection. I wasn't going to buy the bobblehead but it was on sale for $2 at my local grocery. It's so cute, how could I pass it up? :3), Jakks Buizel, Buneary bobblehead.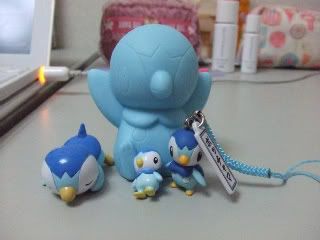 PIPLUP <3 Hatsuyume sleeping figure, big eraser, KESHIPOKE OMG (this bitch be rare. Hi, I really am capable of speaking eloquent english. 8,D No really.), phonestrap.

And as a bonus, some of the newest Pokemon pan, featuring everyone's favorite moviestars :D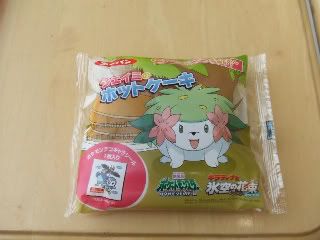 Shaymin hotcakes. The taste was mediocre compared to some, but the cute packaging made up for it <3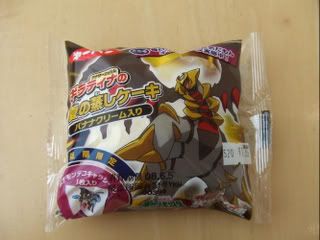 Giratina steamed banana cake. Now THIS was good.

----

SMALL SALES

Sales policy:
-No holds. First come, first serve.
-Paypal only.
-Items shipped from Japan, I am not responsible for lost/damaged items that have not been insured.

All prices include international shipping from Japan to anywhere in the world (hence why the prices seem kinda expensive at first glance)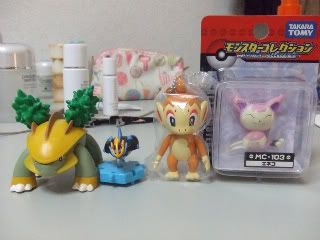 Jakks ..Torterra's pre-evolution. I forget the name because I'm lame like that. $6
Empoleon chou ghetto. $4
Chimchar keychain. $6
Skitty TOMY MIB (make offer)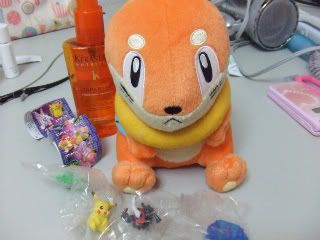 Pikachu chou ghetto. $5
Darkrai chou ghetto. $5
Buizel plush (from the promotion that ran this past December, the one with Luxray and all them. I'm asking $16 for him because shipping is kind of high, but I might be willing to go slightly lower.)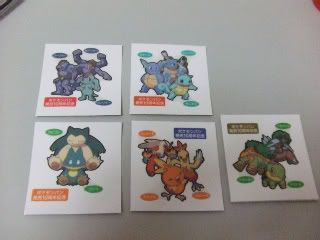 Pan stickers: (all stickers include shipping...just to reiterate XD;)

Machoke line. $3
Squirtle line. $6
Torchic line. $6
Turtwig line x4 $6 each
Munchlax line. $6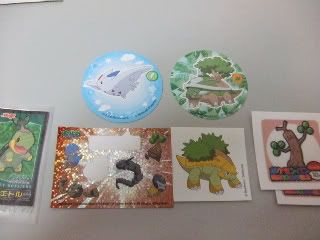 Freebies; one free with purchase. (I am totally aware that this stuff is just junk. Plz take my junk away from me D:)

Turtwig sticker (from candy bar)
Discs from McDonalds x2 (back has Togekiss, front has Torterra)
Sticker sheet from Dominos pizza promotion (I um, used 2. XD;)
Torterra pre-evolution sticker
Sudowoodo pan x 2


Thanks for looking!