What is this whole "I ♥ Eevee" promotion?
I ♥ Eevee is a series of Banpresto UFO catcher prizes that in began back in October 2012 and will continue at least through early 2014. Along with I ♥ Pikachu, MPCs, and other similar lines, the I ♥ Eevee series consists of high quality goods intended for adults (part of Banpresto's "Pokemon for Adults" marketing scheme).
What plush are available in the promotion?
Right now Banpresto has released three separate plush lines: standing Keychain Plush, Super DX Plush, and Regular UFO Plush. A new set of Sitting Keychain Plush with card motif charms are scheduled to be released in November & December 2013.

There are also two Eevee-only plush separate from the above lines: sitting HQ Eevee Plush and Lying HQ Eevee Plush (to be released in January 2014). An incredibly limited Lotto Eevee Plush was also available to 10 lucky people back in 2012.


Is Sylveon included in the I ♥ Eevee promotion?
At the time of writing (Sept. 2013) there have been no announcements of adding Sylveon to the promotion lineup.


How do I get them?!


With the exception of the giant Lotto Eevee, all I ♥ Eevee goods are standard Banpresto UFO prizes. They are prizes in UFO catcher machines (Japan's version of a crane machine game) and are not available for pickup in Pokemon Centers.

However, various stores have access to Banpresto stock (hobby shops, anime stores, etc.) and legitimate Banpresto goods regularly turn up for sale all over Y!J, eBay, and even Amazon!!

Because I ♥ Eevee goods are arcade prizes with no shelf price, we will not know their average value until they are released.




**IMPORTANT REMINDERS**
This is an exciting promotion but PLEASE do not forget our community rules!!


Do not post asking members for pickups! If a member has access to Banpresto stock to sell to the community, they will post! Please do not ask people to get I ♥ Eevee goods for you.


Do not post requesting a GA or asking for Y!J middlemen! When I ♥ Eevee plush start to show up on Y!J, you may only post asking for a Group Auction/Group Buy helper if you are willing to co-host. Otherwise, posting asking for someone to purchase a Y!J lot for you or to start a GA is not allowed.


Do not clutter the community with pointless posts! This includes posting solely to ask questions that are answered here.



**Please note that this informational post covers the I ♥ Eevee series only, not all upcoming Eevee merchandise! For a full list of new merchandise, please reference the following page: Upcoming Eevee & Eeveelution Merchandise



★☆★☆★☆★☆★☆★☆★☆★☆★☆★☆★☆★☆★☆★☆★☆★☆★☆★☆★☆★☆★☆

I ♥ Eevee Plush:

Keychain Plush (Oct-Dec 2012):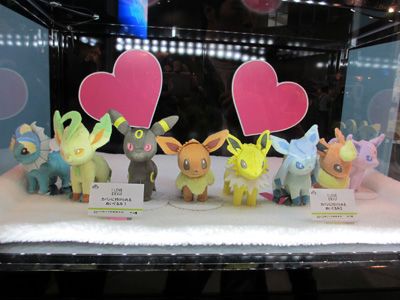 (Source)
These plush are about 4.5 inches (10cm) tall and come with a ball chain for attaching to your bag. There were several releases last year:
October 2012: Eevee, Vaporeon, Umbreon, Leafeon
November 2012: Jolteon, Flareon, Espeon, Glaceon
December 2012: Eevee, Vaporeon, Umbreon, Leafeon (re-release, same as October), Jolteon, Flareon, Espeon, Glaceon (re-release, same as November)


Keychain Plush w/Card Charms (Nov-Dec 2013):



(Source)
A new set of keychain plush will be released at the end of this year. These plush are similar in size to last year's keychains (11cm/4.5inch) but are in a sitting pose and come with card motif charms.

November 2013: Eevee, Jolteon, Glaceon, Leafeon
December 2013: Vaporeon, Flareon, Espeon, Umbreon (not yet pictured)

Super DX Plush: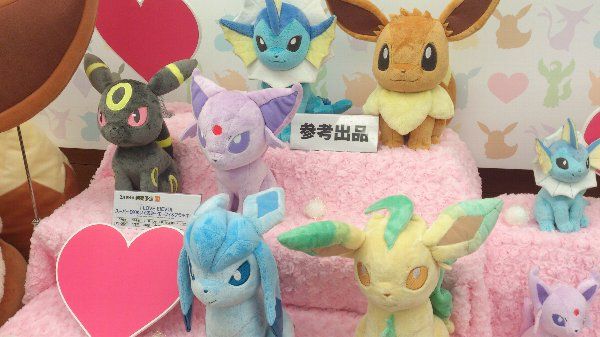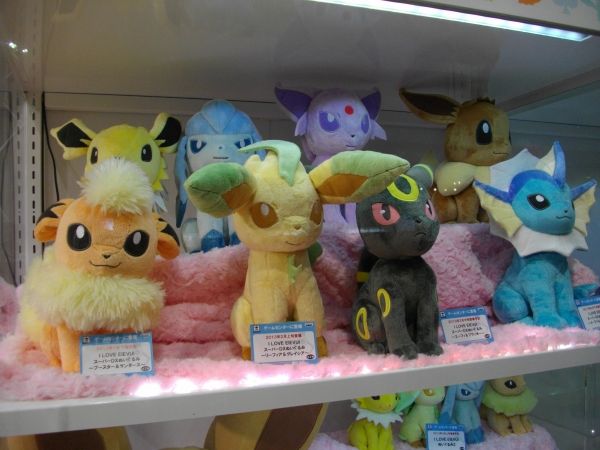 (Source | Source)
These large plush are a nice 10 inches (23cm) tall and were released in separate four waves:
January 2013: Jolteon & Flareon
February 2013: Leafeon & Glaceon
March 2013: Espeon & Umbreon
April 2013: Eevee & Vaporeon

**Note that the Super Eevee DX in April is not the same as the HQ Eevee, which is discussed below.


Regular UFO Plush: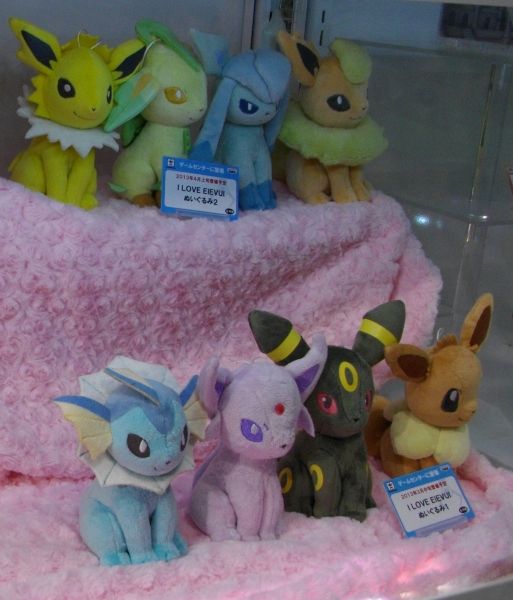 (Source)
These are standard Banpresto UFO catcher size (~6 in/14 cm) with a string loop on their heads, and were released in two waves:
March 2013: Eevee, Vaporeon, Espeon, Umbreon
April 2013: Jolteon, Flareon, Leafeon, Glaceon


Sitting High Quality (HQ) Eevee Plush: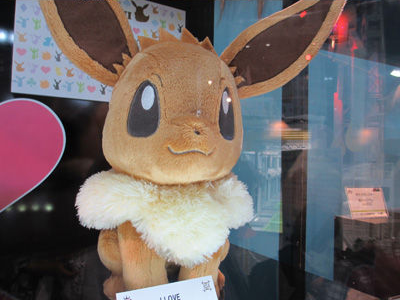 (Source)
The HQ Eevee was released in October 2012 and is roughly the same size as the Super DX plush (about 10 in/25 cm). The HQ Eevee has a similar size and design as the Super DX Eevee but is made of softer, higher quality materials.


Lying High Quality Eevee Plush: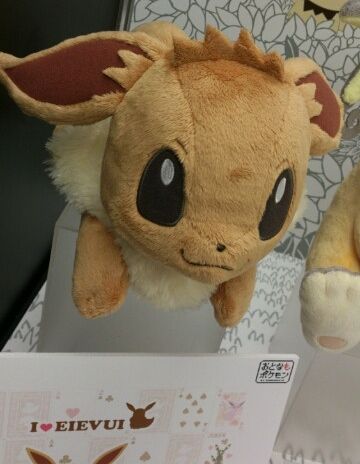 (Source)
Another HQ Eevee plush made of soft, high quality material will be released in January 2014. The new HQ Eevee will be in a lying pose.

★☆★☆★☆★☆★☆★☆★☆★☆★☆★☆★☆★☆★☆★☆★☆★☆★☆★☆★☆★☆★☆

I ♥ Eevee Cushions:

Eevee Face Cushion: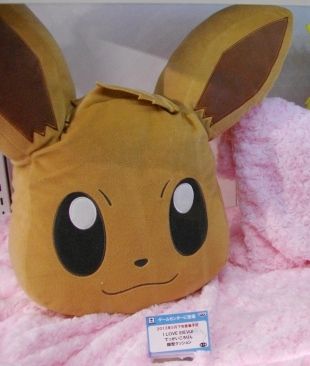 (Source)
This Eevee face cushion was released in May 2013 -- the cushion is 6 inches (15cm) thick and over a foot (30+cm) wide!!


Eevee Die-Cut Cushion: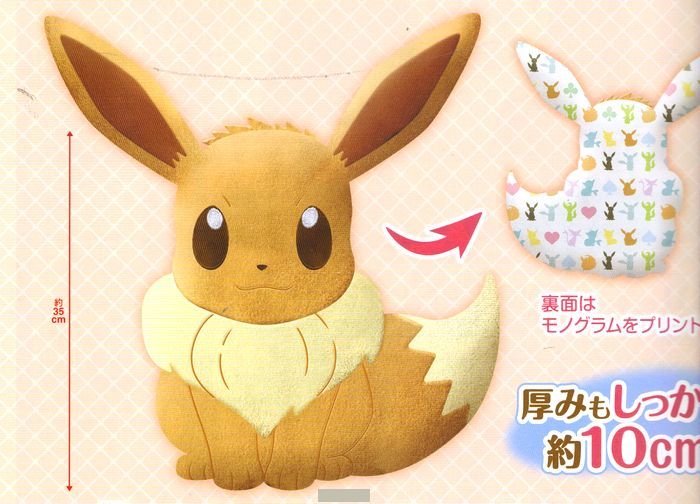 (Source)

The second cushion of the series will be released in November 2013. This cushion will be 35cm tall (not including ears) and 10cm thick, with a card motif pattern on the back.

★☆★☆★☆★☆★☆★☆★☆★☆★☆★☆★☆★☆★☆★☆★☆★☆★☆★☆★☆★☆★☆

Pouches and Other Items:

Square Pouches: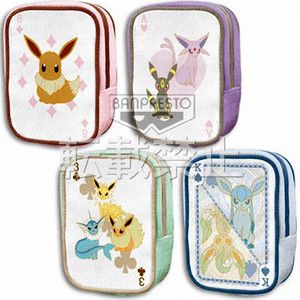 (Source)

Long Pouches & Standing Mirrors: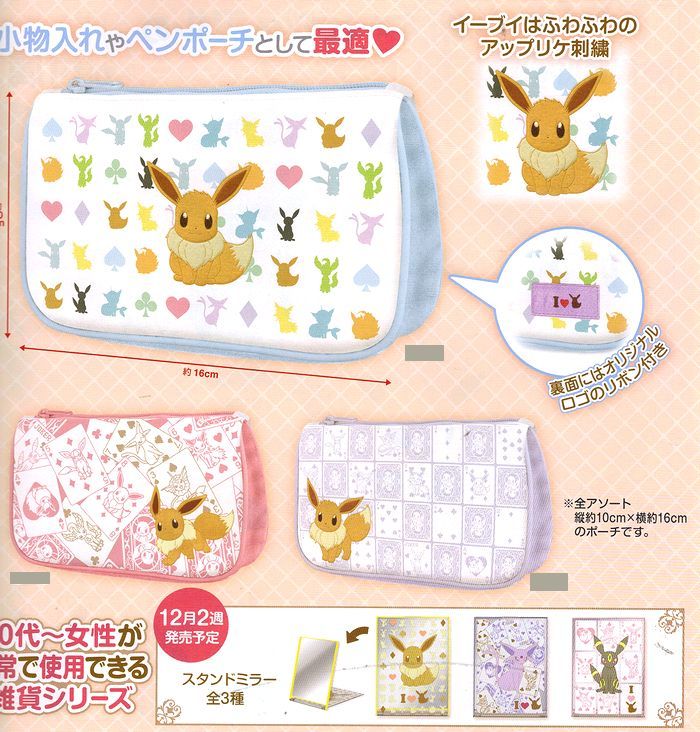 (Source)

★☆★☆★☆★☆★☆★☆★☆★☆★☆★☆★☆★☆★☆★☆★☆★☆★☆★☆★☆★☆★☆

Special Lottery Item:

Giant Lotto Eevee Plush:



(Source)
This massive Eevee is almost 3 feet tall (2 ft 8 in/86cm) and was released in extremely limited quantities - only 20 total are available! Unlike all other I ♥ Eevee goods, this plush could be won only through lottery. From October 1st through December 7th, 2012, participants had a chance to win one of the 20 giant Eevees by scanning a QR code on their phones.

Given it's popularity and obscene rarity, any Lotto Eevee that happens to be put up for auction/sale will fetch a very high price (in the thousands of dollars). Prepare your wallets!

★☆★☆★☆★☆★☆★☆★☆★☆★☆★☆★☆★☆★☆★☆★☆★☆★☆★☆★☆★☆★☆




The purpose of this post is to provide a central place for all I ♥ Eevee promo discussion - you may comment here to ask any I ♥ Eevee questions that have not been answered above.

(Please also comment if you think I may have gotten something incorrect. I got my information directly from the sources linked and Banpresto's I Love Eevee page but my Japanese is far from perfect!)